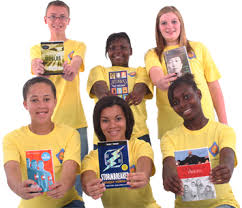 Yes, there really is more than one Summer Read going on at Westmont Public Library. Besides the fun that is going on with Invent Your Summer where the entire family can participate (in person for children up to 6th grade, online for teens and adults), we also have the required reading lists from a large number of the surrounding schools. Those schools are Westmont Jr and Sr High, Holy Trinity, Notre Dame, Downers North and South, Hinsdale Central, Herrick Middle School and O'Neill Middle School. We  strive to have as many of these books as possible, either on the shelf or as part of our digital collection.
To find the required summer reading books for your school, please come upstairs to Youth Services. We have a display set up next to our YA department. We also have a binder containing lists from the schools in case you aren't sure what you need.
If you do not see what you need, please ask us. We will be happy to look for it, place a hold for you or search the digital collection for you. If you are interested in the digital editions of the books, please go to westmontlibrary.org then click on the Digital Branch. You will be able to look for the books in either Media on Demand or 3M and download it directly onto your device if it is available.
Remember that the "other" Summer Read books are popular so don't wait until the week before school to try to check them out. Be proactive and get yours today!
Share this post: