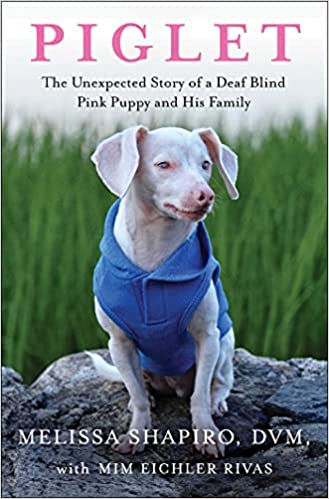 Dr. Melisa Shapiro knew one thing from an early age. That her purpose in life was to care for animals. During the first few chapters of the book, Dr. Shapiro acquaints us with her early animal advocacy efforts, vet school experience, and her family, both two and four-legged. When Dr. Shapiro agrees to foster a blind, deaf, one-pound puppy who came from a hoarding situation named Bart, the agreement is that she and her family will foster him for, "no more than two weeks, max."
That all changes when Piglet gets his telltale name. As Dr. Shapiro helps Piglet gain confidence and guides him to make sense of his world, Piglet grows a strong bond with his new family as Dr. Shapiro figures out ways to communicate with him using no visual and audio cues. Wanting to keep her friends and family up-to-date on Piglet's adventures with his pack, Dr. Shapiro puts a few posts on Facebook. Little does she know that soon Piglet and his indomitable spirit for life will inspire millions. What can a dog with no hearing and sight teach people about an eagerness to learn, overwhelming odds, love, and kindness? It turns out, quite a bit. 
This is Dr. Shapiro's first novel. Dr. Shapiro also creates and publishes all of her social media pages that feature Piglet. Both poignant and funny in equal measure, this book is not only meant for animal lovers but for anyone who is looking for an uplifting, heart-warming read. And find out the question that Dr. Shapiro often found asking herself, "How much trouble can a one-pound puppy be?"
We love helping people find books, movies, and more.
Tell us about your preferences, and our librarians will create a list of titles selected specifically for you.