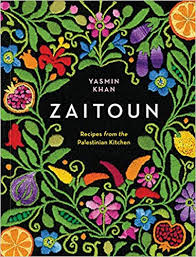 Yasmin Khan, a human rights campaigner who likes to immerse herself in different world cuisines, has recently introduced her cookbook "Zaitoun: Recipes from the Palestinian Kitchen."
Her visit to Israel to harvest the recipes for this cookbook was not without a price: she underwent extensive questioning at immigration, since she is a woman of Iranian-Pakistani heritage. After an extensive delay, she was finally able to begin her culinary journey into Palestinian communities within Israel.
Khan was met in her travels many times by the greeting "ahlan wa sahlan", translating easily into "welcome" – but she explains that the meaning encompasses so much more: "May you arrive as part of the family and tread an easy path as you enter." And indeed she felt welcomed as she entered the humble kitchens and helped to prepare the local fare.
With photos of the people as well as the delightful dishes, Khan states that "The thread running through all my work is a fundamental belief that humans, wherever they are, have more to unite us than to divide us."
She has organized her cookbook into sections that reflect the meal group – such as "Mezzeh" meaning "small plates." These dishes are for informal dining or easy entertaining, and she has added commentaries on the cities where she stayed. For Mezzeh, she visited coastal cities of Haifa and Akka in the far north part of Israel, where the hummus and flatbreads are described as essential part of life in the communities.
Just browsing Zaitoun's pages you may find yourself yearning to create a colorful salad or begin a soup, such as Red Lentil and Squash Soup with Za'atar Croutons – a real delight. The Palestinian herb mixture "Za'atar" is a mix of wild thyme, sesame, sumac, and salt that enriches and deepens the flavors in the dish. To obtain this spice mixture locally, international sections of urban markets carry a variety of items found in Palestinian cupboards.
May you also feel 'welcomed' (Ahlan wa sahlan) as you enjoy the various cuisines or perhaps have a wonderful interaction with someone as you shop in an international market for recipe ingredients!
For readers looking to expand their culinary palate, other cookbooks in the library collection include: I am a Filipino:  and this is how we cook by Nicole Ponseca, Zahov: a World of Israeli Cooking by Michael Solomonov, or The Malaysian Kitchen by Christina Arokiasamy.
We love helping people find books, movies, and more.
Tell us about your preferences, and our librarians will create a list of titles selected specifically for you.
Try Personal Book Recs