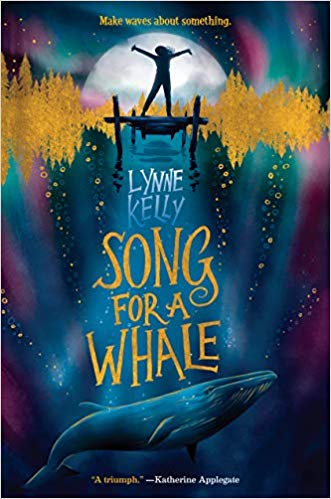 Twelve-year-old Iris understands the loneliness and frustration that come from the inability to communicate. Not only is she the only deaf child in her school, but her own father is not fluent in ASL. When Iris hears about Blue-55, a whale who sings at a different frequency than other whales, she longs to reach him; to let him know that someone hears his song. Iris uses her talent in repairing electronics and her connections at school to create a sound recording that Blue-55 can hear. With the help of her grandmother who is also deaf, Iris embarks on a cruise to meet Blue-55 and bring him her song.
The journey Iris takes to reach the whale is at times suspenseful. She and her grandma, who has lately been in a nursing home, have essentially run away from home against the wishes of Iris's parents. One scene is which Iris has a potentially dangerous and probably unrealistic physical encounter with a whale could bother a reader who likes total realism, but it really doesn't detract from this moving story of a girl's struggle to connect. The author is an experienced sign language interpreter and includes notes at the conclusion of the story that give eye-opening insight into deaf culture and language.
We love helping people find books, movies, and more.
Tell us about your preferences, and our librarians will create a list of titles selected specifically for you.