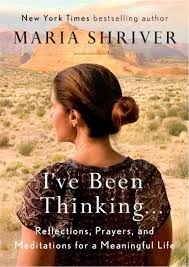 Maria Shriver, journalist, NBC anchorwoman, and author of several books, has shared her most private, in depth thoughts in her recent book I've Been Thinking . . .: Reflections, Prayers, and Meditations for a Meaningful Life She writes a very candid, optimistic, and introspective account of how to confront life's challenges by embarking on your own journey to carve out space and have a significant and worthwhile life.
Tapping into her daily encounters with family, friends, workmates, or her memories growing up, she has compiled a thought-provoking phrase to describe the thoughts or interactions in sixty diverse vignettes. Each contemplative short story is prefaced by a quote, ending with a brief prayer to encourage the reader to reflect with her on the topic.
Overlaying many of the stories is the appeal to cherish people for who they are, regardless of mental health or lifestyle condition, as she intimately feels the sadness of a family member who had Alzheimer's disease. Shriver relates that staying positive, regardless of the circumstance, places a person in a place of power rather than powerless with doubt.
Shriver presents the subtle beauty of this slim volume with the idea that you can read the chapters in any order — all are rich in honesty, subtle suggestion, and passion in thought.
For continued reading, those who enjoy works that focus on personal reflection and positive attitude can consider the classic work "Gift from the Sea" by Anne Morrow Lindbergh or "One Minute Mindfulness" by Donald Altman.
We love helping people find books, movies, and more.
Tell us about your preferences, and our librarians will create a list of titles selected specifically for you.