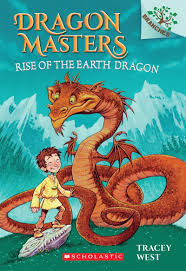 First in the Dragon Masters series by Tracey West, Rise of the Earth Dragon has a fast-paced plot with plenty of adventure to keep a newly independent reader interested. Black and white illustrations by Graham Howells on every page complement the story. These pictures, along with large print and short chapters, provide confidence for the beginning chapter book reader.
The action starts right in the first pages when eight-year-old Drake, chosen by the king to begin training as a dragon master, is abruptly taken from his family's humble farm to the castle. He joins three other children who, under the tutelage of the wizard Griffith, are already in the process of learning how to connect with their dragons to uncover the beasts' special powers. When a dangerous situation puts them to the test, Drake wonders if he has the ability to discover his dragon's talent.
This book and the subsequent books in the series are perfect for the young reader who enjoys fantasy and adventure. This would also make a great read-aloud for the child who is ready to listen to a longer, more complex story, but still appreciates some illustrations. The Dragon Masters books are part of Branches, Scholastic's line of transitional chapter books written just for newly independent readers.