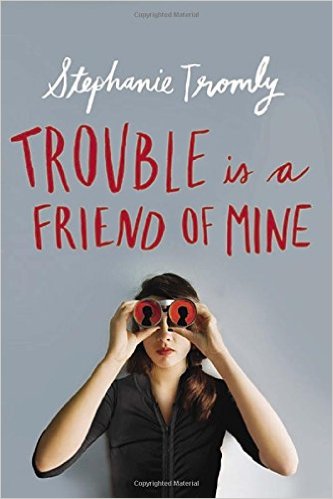 "When there's an end-of-the-world cult living next door to you, make it your business to find out what they're up to," he said. "That's, like, a basic life rule."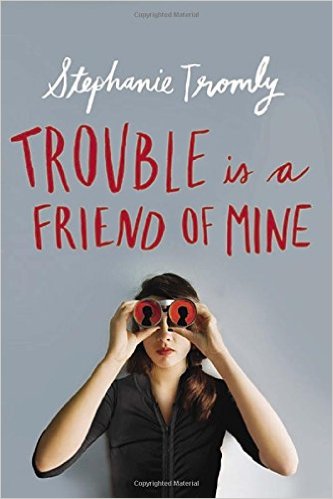 In Stephanie Tromly's debut novel, Trouble is a Friend of Mine, Zoe Webster has just moved to a small town where the only person who really cares she exists is Digby, a boy in an oversized suit with no boundaries. At first, Zoe is not all that fond of Digby: he is too honest, he pays too much attention, and he asks too many questions, but there is a certain charm to his persistence. When Digby convinces Zoe to help him look for a girl who went missing a few months back, their mystery solving skills come together like the Veronica Mars crime-solving squad. Falling through ceilings, working with not-so-clean cops, and breaking and entering just skims the surface of what these detective-esque troublemakers get up to.
Adults and teens alike will love Zoe's kind and curious soul, but Digby is really the shining character of this novel. His quick wit and playful smile will remind you of a young Sherlock Holmes. The layers of his character come apart slowly, and will show readers that he is so much more than just a curious high school sophomore. While the book gives readers a deliciously satisfying ending, the author has promised that a sequel is in the works!
If you like to listen to music while you read, here is a playlist for Trouble is a Friend of Mine:
I Know What You Did Last Summer by Shawn Mendes and Camilla Cabello
I Know Places by Taylor Swift
Good Girls by 5 Seconds of Summer
Runaway by Ed Sheeran
Superstitious by Stevie Wonder
Demons by Imagine Dragons
Spooky by Classics IV
Cups by Anna Kendrick
History by One Direction
Anything Could Happen by Ellie Goulding
Share this post: