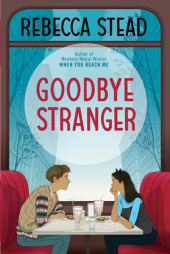 Goodbye Stranger is the newest book by Rebecca Stead, author of the Newbery Award winning book When You Reach Me. Stead has a talent for creating plots that include an air of mystery and keep readers on their toes.
Goodbye Stranger brings to life the story of friends dealing with the changes of life that all teenage girls must go through. The girls make a pact when young never to fight and always to be friends. As they get into middle school, and their bodies and attitudes change, it becomes hard to keep to their childhood promise. The development of these young ladies is seen as they deal with issues of body image, cultural views of women, and what pitfalls lie in associating with boys and even with other girls. Through it all these young ladies remain friends and try to help each other as much as possible.
Throughout the narrative, there is a second story that interconnects with that of our heroines. The second story follows the decisions of an unknown player whose story, though separate, still affects the outcome of the book's final scenes.
In the end, this is a great story about friends, growing up, and saying goodbye to the young person they once were, and hello to the grown ups they will become.
Share this post: