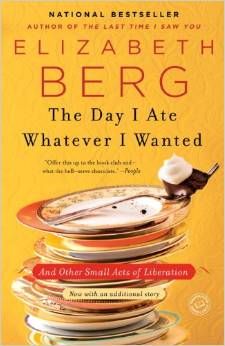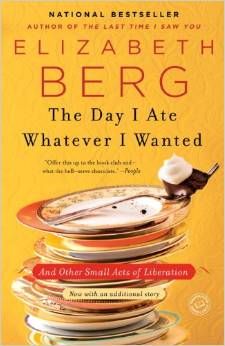 Illinois Reads is a yearly statewide project to promote reading for all Illinois citizens. Established under the Illinois Reading Council, reading is encouraged at all age levels, from babies to adults. A special highlight of this effort is to promote the books by Illinois authors.
In support of this great initiative, Westmont Public Library will be hosting a book discussion on Elizabeth Berg's book, The Day I Ate Whatever I Wanted. Berg's novel delights us with 13 diverse stories about women and, well, society's obsession with food and our body image.
We hope you can join us at noon on Tuesday, July 14, 2015 in the library's meeting room. Please bring your own "brown bag" lunch, and we will provide dessert and light refreshments. As a reader's adviser, I have a few discussion questions for you to ponder as you read the novel. (My thanks to BookBrowse for a few of the questions.) Please visit the library's website to register, or call the library's adult service desk at (630) 969-5625 x215.
Discussion Questions
Elizabeth Berg chose women and their focus on food and their body image for these collection of stories. Why do you think she chose to write on this topic?
What was your favorite story?
Did you gain a new viewpoint that you did not consider before?
Some of the stories touched upon the aging of the individual and their health or that of someone with whom they had a relationship. What did you think about the way Berg brought the story to its conclusion?
Do you think that the Western culture is too focused on food – as a reward, or something that we are stingy about?
Did you particularly relate to any of Berg's characters' actions or thoughts?
What would you do if no one was looking?
How do you think our lifestyles have become more complex due to social media – so much so that we are technologically connected with others but distant in other ways?
What differences would occur if the stories were about men? Do you think it would have the same type of humor or sadness?
If you have read other novels by Berg, what was your favorite?
If you have not read anything by this author, would this novel encourage you to try another title?
To learn more about Illinois Reads, you can go to their website, and find out about other authors chosen for this year. Happy Reading, and I hope to see you at the book discussion!
Share this post: