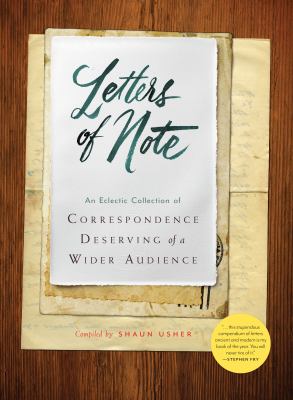 Letters of Note is an irresistible collection of letters (including photos of the originals) written by the famous (and infamous) as well as regular folks. But, oh, what they have to say! A few of my favorites were funny like comedian Steve Martin's "personal" form letter to a fan , Charles Schultz's ominous reply to a complaint and a touching and humorous letter from animator Chuck Jones' uncle to his grieving nieces and nephews relating a "phone call" he received from Teddy, their recently deceased dog.
But if comedy isn't your thing, I'm sure you'll find plenty of other letters to capture your interest such as Queen Elizabeth's recipe for scones sent to President Eisenhower, or a chilling memo of a speech written for President Nixon titled, "In the event of a moon disaster." How about a patriotic plea to President FDR from Hitler's American nephew Patrick (Hitler had a nephew?) or Albert Einstein's reply to the question,"Do scientists pray?" The collection even includes an applicant's cover letter for a job at LucasArts in the form of a text adventure game!
Most of the letters are very short and with so many entertaining letters to read you will not be disappointed!
Share this post: