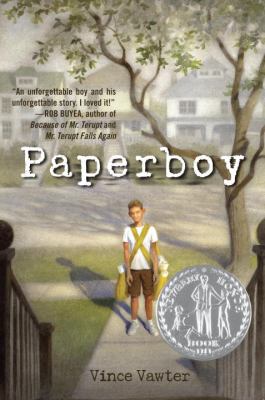 Paperboy, a 2014 Newbery Honor Book, accomplished both.
An 11 year-old boy growing up in Memphis in 1959 takes over his best friend's paper route for a month. While throwing the papers is easy for this star pitcher, the social part of the job is almost impossibly difficult. His severe stutter makes it difficult to speak to anyone, much less strangers.
Collecting money at the end of the week forces him to try to communicate. He encounters a homeless bully, an alcoholic housewife, and Mr. Spiro, an intuitive and patient man who takes the time to listen non-judgmentally. We not only learn the struggles of living with a stutter, but we also get a glimpse into what it was like to live in the segregated south. As a white boy being raised by a beloved black housekeeper, he questions the laws of segregation.
Our temporary paperboy, struggling with having words in his heart that he can't get out, learns to let other people know who he is and what his shortcomings are rather than trying to hide in silence.
It wasn't until I finished the book and read the author's afterword that I learned why the writer was able to speak so honestly and passionately on the subject. Vince Vawter is himself a stutterer and the book is, in his words, "more memoir than fiction" and that while our paperboy "deals with an all-consuming speech difficulty, he also learns that life is about so much more than stuttering." While Vawter has never been cured of his stutter, he has overcome it.
This book is geared toward children in the middle grades, but provides a lesson in humanity for all ages in all times.
Share this post: