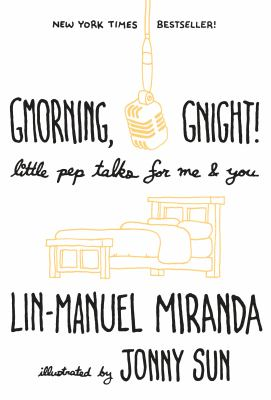 If your household has been recently obsessed with "We Don't Talk About Bruno" from Disney's Encanto or has learned all the words to "Satisfied" from Hamilton before that, you have one man to thank for the songs that live in your head rent-free. His name is Lin-Manuel Miranda. Just an O away from being on the short list of EGOT (Emmy, Grammy, Oscar, Tony) winners, this Puerto Rican composer, lyricist, and performer also added New York Times Bestseller to his list of accomplishments in 2018.
What started out as sharing words of encouragement on Twitter to brighten people's days became a printed collection that Miranda dedicates to you, the reader. It's that perfect little something to make you laugh at, reflect on, and plan for all that happens in this loud, crazy world and also in the quietness of your head.
"Gmorning! Woke up achy and sad? Not alone… Gnight! Headed to bed achy and sad? Not alone."
Beautifully illustrated by Canadian writer Jonny Sun, one of Time's 25 Most Influential People on the Internet in 2017 and one of Forbes 30 Under 30 in 2019, the pages are minimalist, yet mesmerizing, and reminiscent of Canadian poet Rupi Kaur's style. A New York Times and international best-selling author himself, Sun's immersive art is a perfect companion to Miranda's word play.
For fans of poet Amanda Gorman or the musical works of the late Jonathan Larson, these 201 pages are for you.
Not into reading poetry? No problem! Listen to Miranda narrate the audiobook on OverDrive.
"You can teleport to where you're the happiest just by closing your eyes & breathing./ Then come right back to now, check in with/ the present./ You magic thing, you."
We love helping people find books, movies, and more.
Tell us about your preferences, and our librarians will create a list of titles selected specifically for you.