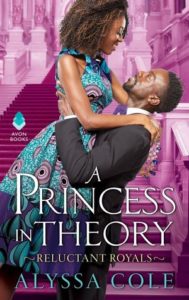 One of my favorite genres to read is romance, especially during the winter. With a guaranteed happily ever after, romance novels are the perfect pick-me-up for dreary days. With so many different kinds of romance available, there's something for everyone.
"Between grad school and multiple jobs, Naledi Smith doesn't have time for fairy tales…or patience for the constant e-mails claiming she's betrothed to an African prince.
Prince Thabiso is the sole heir to the throne of Thesolo, shouldering the hopes of his parents and his people. At the top of their list His marriage. Ever dutiful, he tracks down his missing betrothed. When Naledi mistakes the prince for a pauper, Thabiso can't resist the chance to experience life–and love–without the burden of his crown.
The chemistry between them is instant and irresistible, and flirty friendship quickly evolves into passionate nights. But when the truth is revealed, can a princess in theory become a princess ever after?"
Available formats: Book, Ebook, Audiobook, eAudiobook
---
"Annabelle Archer, the brilliant but destitute daughter of a country vicar, has earned herself a place among the first cohort of female students at the renowned University of Oxford. In return for her scholarship, she must support the rising women's suffrage movement. The cold and calculating Sebastian, Duke of Montgomery is appalled to find a suffragist squad has infiltrated his ducal home, but the real threat is his impossible feelings for green-eyed beauty Annabelle Archer."
Available formats: Book, Ebook
---
"Four years ago, Sylvie Fairchild charmed the world as a contestant on the hit baking show, Operation Cake.
Dominic De Vere is His Majesty the King's favorite baker and a veritable British institution.
When Dominic and Sylvie learn they will be fighting for the once in a lifetime opportunity to bake a cake for the upcoming wedding of Princess Rose, the flour begins to fly as they fight to come out on top.
The bride adores Sylvie's quirky style. The palace wants Dominic's classic perfection.
In this royal battle, can there be room for two?"
Available formats: Book, Ebook
---
"Rachel Rubenstein-Goldblatt is a nice Jewish girl with a shameful secret: she loves Christmas. For a decade she's hidden her career as a Christmas romance novelist from her family. Her talent has made her a bestseller even as her chronic illness has always kept the kind of love she writes about out of reach. But when her diversity-conscious publisher insists she write a Hanukkah romance, her well of inspiration suddenly runs dry. Hanukkah's not magical. It's not merry. It's not Christmas. Desperate not to lose her contract, Rachel's determined to find her muse at the Matzah Ball, a Jewish music celebration on the last night of Hanukkah, even if it means working with her summer camp archenemy–Jacob Greenberg. Though Rachel and Jacob haven't seen each other since they were kids, their grudge still glows brighter than a menorah. But as they spend more time together, Rachel finds herself drawn to Hanukkah–and Jacob–in a way she never expected. Maybe this holiday of lights will be the spark she needed to set her heart ablaze."
Available formats: Book, Ebook, eAudiobook
---
"Niki has always been practical. Despite her love for music and art, she became an analyst. She's always dated guys that seem good on paper, rather than the ones who give her butterflies. When she's laid off, Niki is impulsive for the first time ever and books a last-minute flight for her friend's wedding. Arriving in India to celebrate Diwali, Niki is immediately drawn to London musician Sameer. At the wedding, the champagne flows and their flirtatious banter shows the attraction is mutual. When she gets a job offer back home, Niki must decide what she wants out of the next chapter of life…"
Available formats: Book
---
"Bea Schumacher is a devastatingly stylish plus-size fashion blogger who has amazing friends, a devoted family, legions of Insta followers–and a massively broken heart. Like the rest of America, Bea indulges in her weekly obsession: the hit reality show Main Squeeze . The fantasy dates! The kiss-off rejections! The surprising amount of guys named Chad! But Bea is sick and tired of the lack of body diversity on the show. Since when is being a size zero a prerequisite for getting engaged on television? Just when Bea has sworn off dating altogether, she gets an intriguing call: Main Squeeze wants her to be its next star, surrounded by men vying for her affections. Bea agrees, on one condition–under no circumstances will she actually fall in love. She's in this to supercharge her career, subvert harmful beauty standards, inspire women across America, and get a free hot air balloon ride. That's it. But when the cameras start rolling, Bea realizes things are more complicated than she anticipated. She's in a whirlwind of sumptuous couture, Internet culture wars, sexy suitors, and an opportunity (or two, or five) to find messy, real-life love in the midst of a made-for-TV fairy tale. In this joyful, wickedly observant debut, Bea has to decide whether it might just be worth trusting these men–and herself–for a chance to live happily ever after."
Available formats: Book, eAudiobook
---
"When someone asks you to spend your life with him, it shouldn't come as a surprise–or happen in front of 45,000 people. When freelance writer Nikole Paterson goes to a Dodgers game with her actor boyfriend, his man bun, and his bros, the last thing she expects is a scoreboard proposal. Saying no isn't the hard part–they've only been dating for five months, and he can't even spell her name correctly. The hard part is having to face a stadium full of disappointed fans… At the game with his sister, Carlos Ibarra comes to Nik's rescue and rushes her away from a camera crew. He's even there for her when the video goes viral and Nik's social media blows up–in a bad way. Nik knows that in the wilds of LA, a handsome doctor like Carlos can't be looking for anything serious, so she embarks on an epic rebound with him, filled with food, fun, and fantastic sex. But when their glorified hookups start breaking the rules, one of them has to be smart enough to put on the brakes…"
Available formats: Book, Ebook, eAudiobook
---
"When his mother became President, Alex Claremont-Diaz was promptly cast as the American equivalent of a young royal. Handsome, charismatic, genius–his image is pure millennial-marketing gold for the White House. There's only one problem: Alex has a beef with the actual prince, Henry, across the pond. And when the tabloids get hold of a photo involving an Alex-Henry altercation, U.S./British relations take a turn for the worse. Heads of family, state, and other handlers devise a plan for damage control: staging a truce between the two rivals. What at first begins as a fake, Instragramable friendship grows deeper, and more dangerous, than either Alex or Henry could have imagined. Soon Alex finds himself hurtling into a secret romance with a surprisingly unstuffy Henry that could derail the campaign and upend two nations and begs the question: Can love save the world after all? Where do we find the courage, and the power, to be the people we are meant to be? And how can we learn to let our true colors shine through? "
Available formats: Book, Ebook, eAudiobook
---
Jane Hayes is a young New Yorker with a real romantic problem: no man she meets can compare to her one true love–Mr. Darcy from Jane Austen's Pride and Prejudice . But when a wealthy relative bequeaths her a trip to an English resort for Austen fanatics, Jane's fantasies of meeting the perfect Regency-era gentleman suddenly become realer than she ever could have imagined. Dressed in empire waist gowns and torn between a sexy gardener and an actor playing the brooding Darcy role, Jane finds herself mastering the rules of etiquette and of the resort's flirtatious games. But when it's time to bid Austenland goodbye, can Jane really leave her fantasies–and the two men who've played into them–behind?
Available formats: Book, Ebook , Audiobook, eAudiobook
---
When Sophie, the least interesting of the Talbot sisters, lands her philandering brother-in-law backside-first in a goldfish pond in front of all society, she becomes the target of very public aristocratic scorn. Her only choice is to flee London. Unfortunately, the carriage in which she stows away isn't saving her from ruin . . . it's filled with it.
Kingscote, "King," the Marquess of Eversley, has never met a woman he couldn't charm. When King discovers stowaway Sophie, however, the journey becomes anything but boring.
He thinks she's trying to trick him into marriage. She wouldn't have him if he were the last man on earth. But carriages bring close quarters, dark secrets, and unbearable temptation, making opposites altogether too attractive . . .
Available formats: Book, Ebook, eAudiobook
We love helping people find books, movies, and more.
Tell us about your preferences, and our librarians will create a list of titles selected specifically for you.