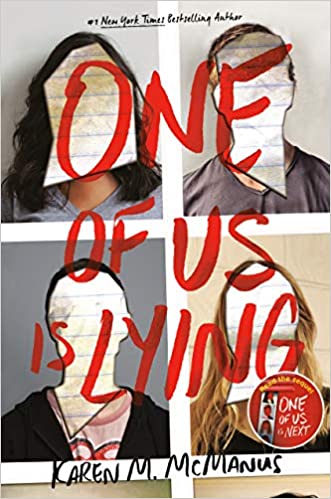 If you like solving mysteries, this book is for you! Five unsuspecting students are given after-school detention because of a weird misunderstanding. During detention, the most horrible thing happens – a classmate dies. Now, these four remaining students with nothing in common are the only suspects in a possible murder case. Is there a reason they may have wanted him dead? Friendships are tested, lost, and unexpected connections are made. Told in four-person point of view, the story follows each of our narrators as they attempt to prove their innocence. 
This story is an incredible page-turner for those readers who absolutely need to know what happens next. Reminiscent of the movie The Breakfast Club (1985), it brings together completely different personalities, interests, and finds a way to keep all of these characters intertwined and dependent on each other. Along the way, McManus drops little nuggets of information that the reader can gather to draw their own conclusions and try to solve the crime before the characters solve it. For fans of audiobooks, this book is read by four different narrators which adds another layer of immersion into the story and helps bring it to life. 
We love helping people find books, movies, and more.
Tell us about your preferences, and our librarians will create a list of titles selected specifically for you.