We hope these selections serve to educate and encourage a dialogue on human rights, which are needs and freedoms considered essential to human flourishing, such as the right to education and the right to equality before the law without discrimination. These books highlight people and communities working, protesting, and fighting for human rights—some in our communities and others around the globe, in the past and continuing today.
---
A gentle introduction to the issue of poverty, On Our Street explores the realities of people living with inadequate resources. Using age-appropriate language, this book addresses mental illness, homelessness and refugee status as they are connected to this issue. Insightful quotes from individuals and organizations such as UNICEF are included throughout to add further perspective on the issue. An invaluable section on how kids can help empowers readers to take what they have learned and use it to make a difference.
Available formats: Book
---
This non-fiction work discusses the questions "What is poverty and hunger? How do they affect people in countries all over the world?" It helps children begin to understand the way others struggle with these issues and learn about ways they can help. Illustrator Hanane Kai uses  has created powerful illustrations that help children visualize the people impacted by poverty on families around the world.
Available formats: Book
---
Based on supermodel Georgie Badiel's childhood, a young girl dreams of bringing clean drinking water to her African village.With its wide sky and warm earth, Princess Gie Gie's kingdom is a beautiful land. But clean drinking water is scarce in her small African village. And try as she might, Gie Gie cannot bring the water closer; she cannot make it run clearer. Every morning, she rises before the sun to make the long journey to the well. Beautiful digital watercolor illustrations capture a community's struggle for access to clean water.
Available formats: Book, eBook (Overdrive Media on Demand)
---
This picture book biography tells Malala Yousafzai's harrowing story of standing up for girls' education against the Taliban, being shot in the head, and surviving to continue the fight.
Available formats: Book, eBook (Hoopla), eBook (Overdrive Media on Demand), Audiobook (Hoopla)
---
This autobiography by Pakistani activist Malala Yousafzai reveals the struggles that still exist for girls to receive an education and the prices some pay to stand up for what they believe in. When Malala spoke out against the regime limiting this accessibility, it almost cost her her life. The book details her recovery from the terrorist attack as well as how family and the power of perseverance can change the world.
Available formats: Book
---
Years before the landmark U.S. Supreme Court ruling Brown v. Board of Education, Sylvia Mendez, an eight-year-old girl of Mexican and Puerto Rican heritage, played an instrumental role in Mendez v. Westminster, the landmark desegregation case of 1946 in California
Available formats: Book
---
This bilingual book captures the story of the 1931 Lemon Grove incident, in which Mexican families in southern California won the first school desegregation case in United States history. Told in Spanish and English, this work of non-fiction, includes a corrido (ballad), and information about the people involved and events leading up to and after the court case ruling.
Available formats: Book
---
The five liberties protected by the First Amendment are explained here in catchy, engaging rhymes. Vivid, kid-friendly examples demonstrate the meaning of freedom of religion, speech, and the press, and the rights to assemble peacefully and to petition the government.
Available formats: Book
---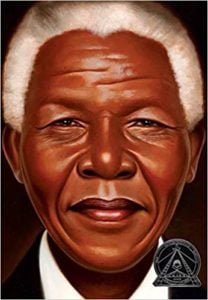 This picture book biography tells the story of global icon and Nobel Peace Prize winner Nelson Mandela in poignant free verse and glorious illustrations. It is the story of a young boy's determination to change South Africa, and of the struggles of a man who eventually became the president of his country. Mandela believed in equality for all people, no matter the color of their skin. Resources in the back include an author's note and a bibliography listing additional sources for readers who want to find out more.
Available formats: Audiobook (Vox)
---
At Grandfather Gandhi's service village, each day is filled, from sunrise to sunset, with work that is done for the good of all. The villagers vow to live simply and non-violently. Arun Gandhi tries very hard to follow these vows, but he struggles with one of the most important rules: not to waste.
Available formats: Book
---
This picture book looks at history of worker's rights in American and the life of Fannie Sellins. Sellins was a union activist who fought and gave her life for equality and labor reform.
Available formats: Book
---
This fun and inspiring guide to making the world a better place and becoming a good citizen is packed with ideas and tips for kids who want to know how to make a difference.  This non-fiction title discusses self-care and kindness and using your skills to create activist campaigns to tackle climate change or social injustice. Some ideas proposed by the author are: creating a neighborhood lending library, and public speaking and  talking about politics.
Available formats: Book
---
From Samuel Adams to the students from Parkland, march through history with the heroic revolutionary protesters who changed America. These heroic protesters were not afraid to stand up for what they believed in. They are among the twenty change-makers in this book who used peaceful protests and brave actions to rewrite American history and work towards equal rights.
Available formats: Book
---
This picture book biography traces the achievements of the celebrated Supreme Court justice through the lens of her many famous acts of civil disagreement against inequality, unfair treatment, and human rights injustice.
Available formats: Book
---
This picture book captures the life of Fannie Lou Hamer. Hamer was a champion of civil rights despite fierce prejudice and abuse, even being beaten to within an inch of her life, she continued to fight for equal rights from the 1950s until her death in 1977. Integral to the Freedom Summer of 1964, Ms. Hamer gave a speech at the Democratic National Convention that, despite President Johnson's interference, aired on national TV news and spurred the nation to support the Freedom Democrats. The story of her life and work is captured in poems and spirituals placed along bright vibrant illustrations.
Available formats: Book
---
We love helping people find books, movies, and more.
Tell us about your preferences, and our librarians will create a list of titles selected specifically for you.