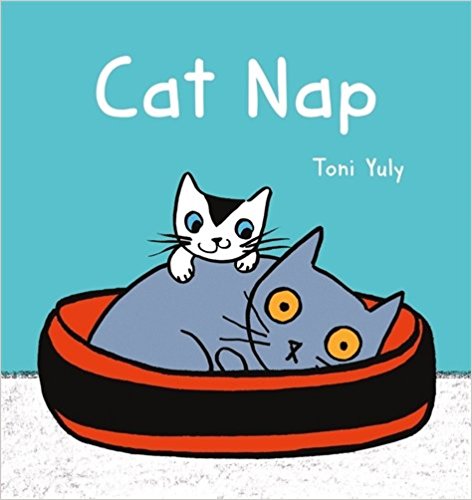 Kitten is up and ready to play, while Cat is ready for his afternoon nap.Will a game of hide-and-seek distract Kitten, so Cat can nap?  Cat tries to hide up high, but Kitten finds him. Cat tries to hide down low. Oh no, Kitten finds him again. Exasperated Cat even tries to hide in the dark; exuberant Kitten just turns on the light.  If you cannot find Cat's hiding place, do not worry, because Kitten can!
Author and Illustrator Toni Yuly delivers a new favorite for animal lovers. Bold graphic illustrations and a vibrant color palette enhance the antics of Kitten and Cat. The palette is modern and matches the font choice. The short sentences standout against the colorful backgrounds. The illustrations are straightforward, but playful details capture the characters' emotions and add to the story.  One such detail is Cat's bright yellow eyes, with subtle shifts in line work, Yuly draws attention to his frustration and surprise over Kitten's friskiness. As Kitten searches for Cat, young readers can try and spot Mouse, who is following the two cats from page to page. Yuly's charming invitation to join in the game of hide-and-seek, will leave young and old readers delighted.
We love helping people find books, movies, and more.
Tell us about your preferences, and our librarians will create a list of titles selected specifically for you.