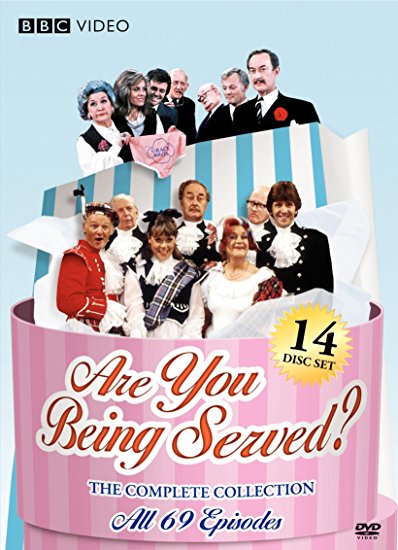 Brace yourself for a hilarious mix of characters in the BBC classic comedy series "Are You Being Served?"  Set in London from 1972-1985, the comedy's premiere episode was at first only meant to be a single production, but it was launched with a great response from British viewers with as many as 2 million tuning in for the intelligent banter and commentary on politics and everyday life.
Not always busy, the employees of the Gentlemen's and Ladies' Departments at the Grace Brothers Store trade harmless innuendos and saucy repartee with their fellow workers. No one at the store is saved from the silly humor as they go about their day-to-day duties, and they constantly inquire of each other "Are You Free?" – a statement to make sure that the salesperson is not busy – but it is asked so frequently that it is absurd.
No one blinks when the Ladies' manager, Mrs. Slocombe, shows up with purple hair, or pays attention to the ramblings of the friendly, but clueless manager, Mr. Rumbold, but the workday goes on with the employees trying their best to sell the merchandise at Grace Brothers, with humorous results.
Catch any episode of "Are you Being Served?" and you will find a new dimension in British comedy that kept pace with the crazy 70s and 80s, during the Thatcher years.  Checkout a copy of this televised treat, a timeless viewing treasure!
We love helping people find books, movies, and more.
Tell us about your preferences, and our librarians will create a list of titles selected specifically for you.