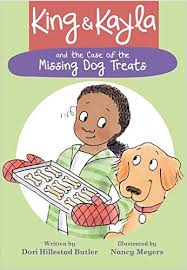 A new crime solving team has arrived to our early readers collection! King and Kayla work together to solve mysteries, demonstrating deductive reasoning skills along the way.
In King and Kayla and the Case of the Missing Dog Treats, the pair works together to figure out who has stolen the peanut butter treats that Kayla has just taken out of the oven. King, who is Kayla's loyal Golden Retriever, narrates the story. The fact that Kayla often has trouble understanding what King is saying adds humor, and Nancy Meyers' charming illustrations clearly depict King's feelings of exasperation and frustration. At first, Kayla accuses King of taking the treats, but with deductive reasoning and teamwork, the true culprit is uncovered.
In just five short chapters, the author has crafted a complete mystery with enough suspense to keep a new reader working to find out who snatched the delicious treats. With illustrations that both support and enhance the story, plenty of white space on the pages, and an engaging plot, this book featuring King and Kayla will appeal to the very young mystery enthusiast who is just getting ready to move up to chapter books.
We love helping people find books, movies, and more.
Tell us about your preferences, and our librarians will create a list of titles selected specifically for you.