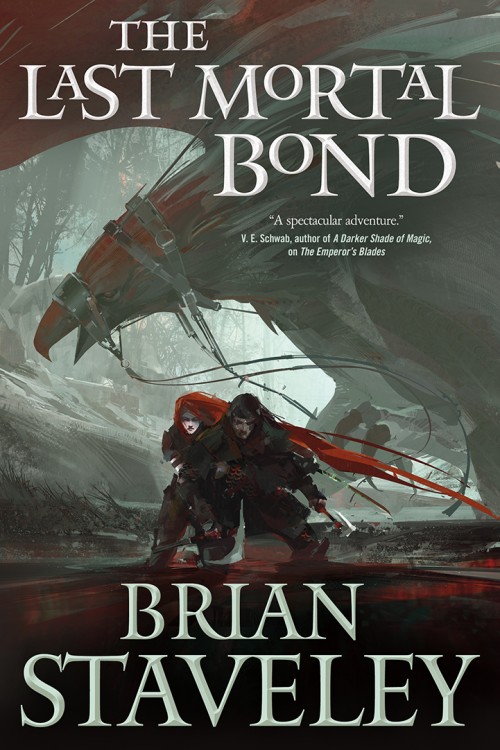 This is the third and final book in Brian Staveley's series "The Chronicle of the Unhewn Throne." The threat of war from the nomadic Urghul people draws closer to the city of Annur, the heart of the Annurian empire. The siblings Adare, Kaden, and Valyn have all realized that more is at stake than just their empire: Gods walk among them, and the leader of the Ccestriim army will stop at nothing to sever their touch on the world. Meshkent the God of pain has entered the body of Longfist, the leader of the Urghul nation. His wife, Ciena the Goddess of Pleasure, has taken up a home inside of Triste. The siblings struggle to stay alive, to keep their empire together, to fend off the Urghul army, and to protect the Gods that seem so untouchable, but could be killed just as easily as the humans they inhabit.
Just as stated in the first two reviews, the world building and language in these novels are beautiful. The way the world deepens with each novel, the reader gets more insights into the inner workings of the empire and glimpses into the lands outside the empire. It is fantastic. Characters continue to grow and learn about themselves. The character development among the female characters (Triste, Adare, and Gwenna) is especially prominent. The three of them have have grown to be incredibly strong and independent women. Around the halfway point of the novel, all of the graphic violence that previously mentioned in both other reviews had gotten to be a little much. On top of that the book is just so hefty, the end of the book was a relief. The story is fantastic, but reading all three books in a marathon run was a little much. A suggestion is that you take them a little at a time rather than all at once.
We love helping people find books, movies, and more.
Tell us about your preferences, and our librarians will create a list of titles selected specifically for you.