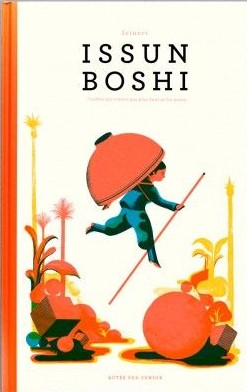 A classic Japanese fairy tale comes to life with vibrant, striking illustrations from Icinori, a duo of French illustrators and printmakers. Issun Bôshi, the one-inch boy, is born to parents who long for a child but he never grows any bigger than one inch tall. Eventually, like any other young hero or heroine, he sets off on adventures. His parents are sad to see him go, but give him gifts to help him on his way – a needle as a sword and a rice bowl strapped to his back that could serve as a boat. Feats of daring, cleverness, and honor abound. Princesses, Ogres, and readers alike will all be charmed by Issun Bôshi who proves that no matter your size, anything is possible.
Though the story itself is entertaining, it is the screen printed illustrations that steal the show. Exclusively made with yellows, oranges, and blues, the limited color palate is instantly recognizable, allowing the precise and delicate detailing to shine. The pacing is good and although it uses many well-known tropes of classic fairy tales, Issun Bôshi avoids being too predictable. The stunning visuals make Issun Bôshi's world easy to love, difficult to put down, and impossible to forget.
We love helping people find books, movies, and more.
Tell us about your preferences, and our librarians will create a list of titles selected specifically for you.