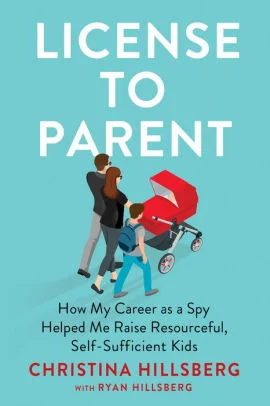 The parenting book you didn't know you needed! Good for parents of toddlers, teens, step children, and wannabe Spy Kids.
Christina Hillsberg did not intend on working for the CIA. In fact, she majored in Linguistics at Indiana University with plans on joining the Peace Corps in Africa. With a successful career right out of college, the next thing she wanted was a man. After a handful of failed relationships, Hillsberg gave up on dating within her profession, that is until she found herself a real-life James Bond. The catch? He was divorced with three kids that he was raising as if they were international super spies.
This book is 15 chapters of funny yet insightful anecdotes on the wins and fails of parenting when you've experienced firsthand how dangerous the world can really be. While Hillsberg eventually left the CIA to be a full-time stay at home mom to five children, she knew her husband's approach to raising kids by exposing them to risky situations in a safety conscious way worked. The "CIA way of parenting" means teaching the power of building relationships, adventure as form of preparation, and exposing your kids to a variety of skills at a young age. With her analytical side and his operational side, the two share ways in which parents should get comfortable with imperfection.
Written along with inserts from her husband for dual perspective, the author gives advice that is valuable for adults without kids as well.  She writes, "when it comes down to it, most humans don't know basic survival skills because we are a culture that relies heavily on modern amenities and technology." From driving without a GPS to practice observational skills to thinking up realistic strategies for how to fight a zombie in the apocalypse, this book has a little bit of everything.
We love helping people find books, movies, and more.
Tell us about your preferences, and our librarians will create a list of titles selected specifically for you.