Anne of Green Gables by L.M. Montgomery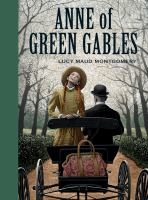 "Eleven-year-old Anne Shirley has never known a real home. Since her parents' deaths, she's bounced around to foster homes and orphanages. When she is sent by mistake to live with Matthew and Marilla Cuthbert at the snug white farmhouse called Green Gables, she wants to stay forever. But Anne is not the sturdy boy Matthew and Marilla were expecting. She's a mischievous, talkative redheaded girl with a fierce temper, who tumbles into one scrape after another. Anne is not like anybody else, the Cuthberts agree; she is special, a girl with an enormous imagination. All she's ever wanted is to belong somewhere. And the longer she stays at Green Gables, the harder it is for anyone to imagine life without her." – Provided by Publisher
Available formats: Book, eAudiobook, eBook
Also check out L.M. Montgomery's Anne of Green Gables: Two Movie Collection on DVD!
---
Scaramouche: A Romance of the French Revolution by Rafael Sabatini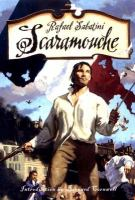 "Once he was André-Louis Moreau, a lawyer raised by nobility, unconcerned with the growing discontent among France's lower class—until his friend was mercilessly struck down by a member of the aristocracy.
Now he is Scaramouche. Speaking out against the unjust French government, he takes refuge with a nomadic band of actors and assumes the role of the clown Scaramouche—a comic figure with a very serious message…
Set during the French Revolution, this novel of swashbuckling romance is also a thought-provoking commentary on class, inequality, and the individual's role in society—a story that has become Rafael Sabatini's enduring legacy." – Provided by GoodReads.com
Available formats: eAudiobook, eBook
---
The Curious Case of Benjamin Button by F. Scott Fitzgerald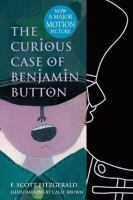 "Today, F. Scott Fitzgerald is known for his novels, but in his lifetime, his fame stemmed from his prolific achievement as one of America's most gifted story writers. "The Curious Case of Benjamin Button," a witty and fantastical satire about aging, is one of his most memorable stories.
In 1860 Benjamin Button is born an old man and mysteriously begins aging backward. At the beginning of his life he is withered and worn, but as he continues to grow younger he embraces life — he goes to war, runs a business, falls in love, has children, goes to college and prep school, and, as his mind begins to devolve, he attends kindergarten and eventually returns to the care of his nurse.
This strange and haunting story embodies the sharp social insight that has made Fitzgerald one of the great voices in the history of American literature." – Provided by GoodReads.com
Available formats: eAudiobook, eBook
Also check out The Curious Case of Benjamin Button  on DVD directed by David Fincher!
---
Monday or Tuesday by Virginia Woolf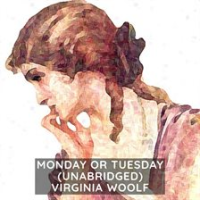 "One of the most distinguished critics and innovative authors of the twentieth century, Virginia Woolf published two novels before this collection appeared in 1921. However, it was these early stories that first earned her a reputation as a writer with "the liveliest imagination and most delicate style of her time." Influenced by Joyce, Proust, and the theories of William James, Bergson, and Freud, she strove to write a new fiction that emphasized the continuous flow of consciousness, time's passage as both a series of sequential moments and a longer flow of years and centuries, and the essential indefinability of character.
Readers can discover these and other aspects of her influential style in the eight stories collected here, among them a delightful, feminist put-down of the male intellect in "A Society" and a brilliant and sensitive portrayal of nature in "Kew Gardens." Also included are "An Unwritten Novel," "The String Quartet," "A Haunted House," "Blue & Green," "The Mark on the Wall," and the title story." – Provided by Amazon
Available formats: eAudiobook, eBook
---
The Outline of History: Being a Plain History of Life and Mankind by H.G. Wells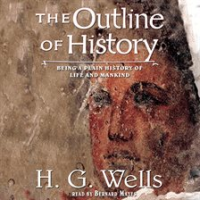 "Having coined the phrase "the war that will end war," H. G. Wells was disillusioned by the World War I peace settlement. Convinced that humanity needed to awaken to the instability of the world order and remember lessons from the past, the author of numerous science fiction classics set out to write about history. Wells hoped to remind mankind of its common past, provide it with a basis for international patriotism, and guide it to renounce war. The work became immensely popular, earning him world renown and solidifying his reputation as one of the most influential voices of his time. Topics range from the world before man and the first living things to civilizations, religions, wars, and everything in between. Wells truly covers the whole of human history." – Provided by Publish
Available formats: eAudiobook, eBook
Also check out Mr. Belloc Objects to "The Outline of History" in eBook format in which writer Hilaire Belloc fights back!
---
Tractatus Logico-Philosophicus by Ludwig Wittgenstein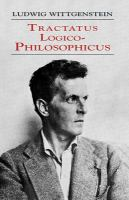 "Philosophy is not a theory," asserted Austro-British philosopher Ludwig Wittgenstein (1889-1951), "but an activity." In this 1921 opus, his only philosophical work published during his lifetime, Wittgenstein defined the object of philosophy as the logical clarification of thoughts and proposed the solution to most philosophic problems by means of a critical method of linguistic analysis. In proclaiming philosophy as a matter of logic rather than of metaphysics, Wittgenstein created a sensation among intellectual circles that influenced the development of logical positivism and changed the direction of 20th-century thought. Beginning with the principles of symbolism and the necessary relations between words and objects, the author applies his theories to various branches of traditional philosophy, illustrating how mistakes arise from inappropriate use of symbolism and misuses of language. After examining the logical structure of propositions and the nature of logical inference, he discusses the theory of knowledge as well as principles of physics and ethics and aspects of the mystical. Supervised by the author himself, this translation from the German by C. K. Ogden is regarded as the definitive text. A magisterial introduction by the distinguished philosopher Bertrand Russell hails Wittgenstein's achievement as extraordinarily important, "one which no serious philosopher can afford to neglect." Introduction by Bertrand Russell. – Provided by Publisher
Available formats: eAudiobook, eBook
We love helping people find books, movies, and more.
Tell us about your preferences, and our librarians will create a list of titles selected specifically for you.