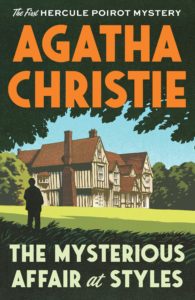 The Mysterious Affair at Styles by Agatha Christie (1920)
"Set in the summer of 1917, the story follows the war-wounded Captain Hastings to the Styles St. Mary estate of his friend John Cavendish. The Cavendish household is wrought with tension due to the marriage of John's widowed mother to a suspicious younger man. In the village, Hastings runs into his old friend Hercule Poirot and, when the estate's trouble turns deadly, the friends unite to solve a most baffling case." – Provided by Publisher
Available Formats: Book, Audiobook, eBook, eAudiobook
---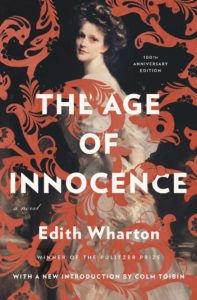 The Age of Innocence by Edith Wharton (1920)
"Dutiful Newland Archer, an eligible young man from New York high society, is about to announce his engagement to May Welland, a suitable match from a good family, when May's cousin, the beautiful and exotic Countess Ellen Olenska, is introduced into their circle. The Countess brings with her an aura of European sophistication and a hint of perceived scandal, having left her husband and claimed her independence. Her worldliness, disregard for society's rules, and air of unapproachability attract the sensitive Newland, despite his enthusiasm about a marriage to May and the societal advantages it would bring. Almost against their will, Newland and Ellen develop a passionate bond, and a classic love triangle takes shape as the three young people find themselves drawn into a poignant and bitter conflict between love and duty. Written in 1920, Edith Wharton's Pulitzer Prize-winning novel about a time and place long gone by–1870s New York City–beautifully captures the complexities of passion, independence, and fulfillment, and how painfully hard it can be for individuals to truly see one another and their place in the world." – Provided by Publisher
Available Formats: Book, Audiobook, eBook, eAudiobook
---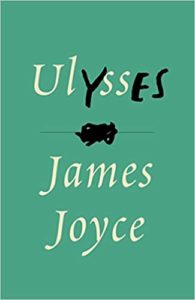 Ulysses by James Joyce (1922)
"A day in the life of Leopold Bloom, whose odyssey through the streets of turn-of-the-century Dublin leads him through trials that parallel those of Ulysses on his epic journey home." – Provided by Publisher
Available Formats: Book, Audiobook, eBook, eAudiobook
---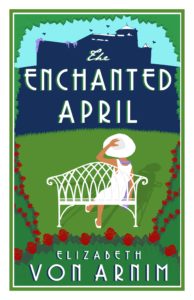 The Enchanted April by Elizabeth von Arnim (1923)
"Escaping dreary London for the sunshine of Italy, four very different women take up an offer advertised in the Times for a "small medieval Italian Castle on the shores of the Mediterranean to be let furnished for the month of April." As each blossoms in the warmth of the Italian spring, quite unexpected changes occur. – Provided by Publisher
Available Formats: Book, Audiobook, eBook, eAudiobook
---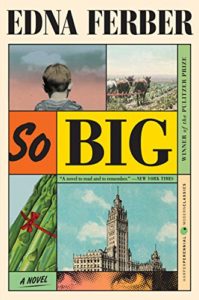 So Big by Edna Ferber (1924)
"Winner of the Pulitzer Prize and widely considered to be Edna Ferber's greatest achievement, So Big is a classic novel of turn-of-the-century Chicago. It is the unforgettable story of Selina Peake Dejong, a gambler's daughter, and her struggles to stay afloat and maintain her dignity and her sanity in the face of marriage, widowhood, and single parenthood. A brilliant literary masterwork from one of the twentieth century's most accomplished and admired writers, the remarkable So Big still resonates with its unflinching view of poverty, sexism, and the drive for success." – Provided by Publisher
Available Formats: Book, Audiobook, eBook, eAudiobook
---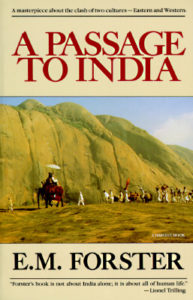 A Passage to India by EM Forster (1924)
"Among the greatest novels of the twentieth century, and the basis for director David Lean's Academy Award-nominated film, A Passage to India turns on a tragic clash of cultures in British India after the turn of the century, at the height of the Indian independence movement. Centering on an ambiguous incident between a young Englishwoman of uncertain stability and an Indian doctor eager to know his conquerors better, Forster's book explores both the historical chasm between peoples and the eternal one between individuals struggling to ease their isolation and make sense of their humanity." — Provided by Publisher.
Available Formats: Book, Audiobook, eBook, eAudiobook
---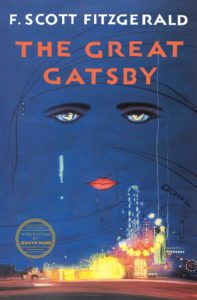 The Great Gatsby by F Scott Fitzgerald (1925)
"Jay Gatsby had once loved beautiful, spoiled Daisy Buchanan, then lost her to a rich boy. Now, mysteriously wealthy, he is ready to risk everything to woo her back." – Provided by Publisher
Available Formats: Book, Audiobook, eBook, eAudiobook
---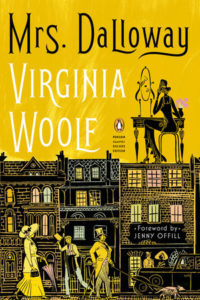 Mrs Dalloway by Virginia Woolf (1925)
"Clarissa Dalloway, elegant and vivacious, is preparing for party and remembering those she once loved. In another part of London, Septimus Warren Smith is shell-shocked and on the brink of madness. Smith's day interweaves with that of Clarissa and her friends, their lives converging as the party reaches it glittering climax." – Provided by Publisher
Available Formats: Book, Audiobook, eBook, eAudiobook
---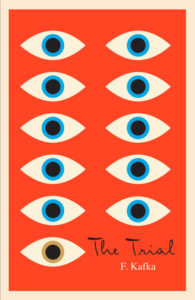 The Trial by Franz Kafka (1925)
"On his thirtieth birthday, Josef K. is arrested by two unidentified agents for an unspecified crime. In The Trial, Kafka brings us a nightmarish vision of the irrationality and blindness of modern bureaucracy in twentieth-century totalitarian regimes as the narrative is driven by a terrifying inevitability, driving the protagist towards a meaningless and helpless demise. The Trial is an existential masterpiece that resonates strongly with modern audiences." – Provided by Publisher
Available Formats: Book, Audiobook, eBook, eAudiobook
---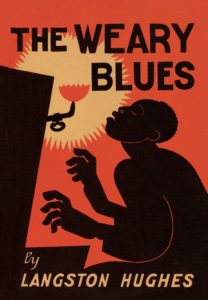 The Weary Blues by Langston Hughes (1926)
"Nearly ninety years after its first publication, this celebratory edition of The Weary Blues reminds us of the stunning achievement of Langston Hughes, who was just twenty-four at its first appearance. Beginning with the opening "Proem" (prologue poem)–"I am a Negro: / Black as the night is black, / Black like the depths of my Africa"–Hughes spoke directly, intimately, and powerfully of the experiences of African Americans at a time when their voices were newly being heard in our literature. As the legendary Carl Van Vechten wrote in a brief introduction to the original 1926 edition, "His cabaret songs throb with the true jazz rhythm; his sea-pieces ache with a calm, melancholy lyricism; he cries bitterly from the heart of his race. Always, however, his stanzas are subjective, personal, " and, he concludes, they are the expression of "an essentially sensitive and subtly illusive nature." That illusive nature darts among these early lines and begins to reveal itself, with precocious confidence and clarity. In a new introduction to the work, the poet and editor Kevin Young suggests that Hughes from this very first moment is "celebrating, critiquing, and completing the American dream, " and that he manages to take Walt Whitman's American "I" and write himself into it. We find here not only such classics as "The Negro Speaks of Rivers" and the great twentieth-century anthem that begins "I, too, sing America, " but also the poet's shorter lyrics and fancies, which dream just as deeply. "Bring me all of your / Heart melodies, " the young Hughes offers, "That I may wrap them / In a blue cloud-cloth / Away from the too-rough fingers / Of the world.""– Provided by publisher.
Available Formats: Book, Audiobook, eBook, eAudiobook
---
Lady Chatterley's Lover by D.H. Lawrence (1928)
"A book which has achieved more notoriety for its sex scenes (shocking in 1930, when the book was written) than for its character studies, Lady Chatterley's Lover focuses on the affair between Constance, the "sturdy" young wife of Clifford Chatterley, and the gamekeeper of the Chatterleys' estate in the remote midlands. Constance, who married Clifford a month before he left for World War I, has become his caretaker since his return from the war, paralyzed from the waist down and impotent. A writer who surrounds himself with intellectual friends, Clifford regards Connie as his hostess and caregiver and does not understand her abject yearning for some life of her own. The distance between Constance and Clifford increases when Mrs. Bolton, a widow from the village, becomes his devoted caretaker, and he becomes increasingly dependent upon her." – Provided by publisher.Available Formats: Book, Audiobook, eBook, eAudiobook
---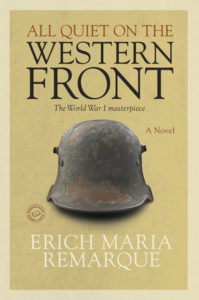 All Quiet on the Western Front by Erich Maria Remarque (1929)
"The testament of Paul Baumer, who enlists with his classmates in the German army of World War I, illuminates the savagery and futility of war." – Provided by publisher
Available Formats: Book, Audiobook, eBook, eAudiobook
---
Passing by Nella Larsen (1929)
"Clare Kendry leads a dangerous life. Fair, elegant, and ambitious, she is married to a white man unaware of her African American heritage, and has severed all ties to her past. Clare's childhood friend, Irene Redfield, just as light-skinned, has chosen to remain within the African American community, but refuses to acknowledge the racism that continues to constrict her family's happiness." – Provided by publisher
Available Formats: Book, Audiobook, eBook, eAudiobook
---
We love helping people find books, movies, and more.
Tell us about your preferences, and our librarians will create a list of titles selected specifically for you.
Try Personal Book Recs
Share this post: