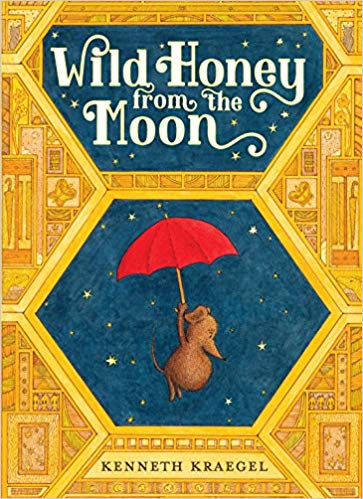 Mother Shrew has a very sick little boy. She will do anything in her power to make him well. The only cure for his illness, according to her handy book of remedies, is a teaspoon of wild honey from the moon. Mother assures her son she'll be back soon, for she absolutely must go on this epic quest. Great peril accompanies her on the journey to meet with the Queen Bee, including a flight to the moon on a great horned owl, an encounter with a herd of Night Mares, and a clash with the Queen Bee's drones. Fortunately, strong parental love and fierce determination keep her steadfast in her goal.
With just seven short chapters and illustrations that cover most of the pages, this is somewhere between a picture book and a chapter book. It would make a wonderful bedtime story for the child who still loves looking at pictures but is ready to listen to or read a longer book. The bright and intricate ink and watercolor illustrations of the shrew's home and surreal moonscapes give wonderful detail and add to the fanciful quality of this adventure of a mother who literally goes to the moon and back for her child.
We love helping people find books, movies, and more.
Tell us about your preferences, and our librarians will create a list of titles selected specifically for you.