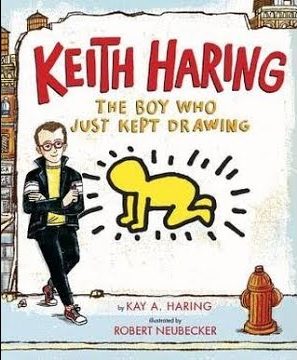 Keith Haring: The Boy Who Just Kept Drawing is the story of the world famous pop artist. Written by his sister Kay Haring, the picture book takes a look at his upbringing, education, and the eventual veer away from his traditional art schooling towards a style all of his own. This is a great book to help encourage any eager young doodler to explore their creativity. 
This story's message reaches to budding young artists all the way to fine art majors. The vivid colors and factual presentation of the late artist's life are engaging enough for any age to enjoy, especially if they appreciate this particular style of art. There are subtle nods to other famous people during the time of Keith Haring's artistic career which provide a good historical context for people reading a bit more closely. As a whole, the figures represented in the book offer a wide range of diversity while also focusing on the artist's life. 
The book also contains a strong theme of community and the power art has to bring people together. The cities and the murals Haring created in them are beautifully illustrated and capture the artist's dedication to the accessibility of art, especially for children. 
The last few pages offer great resources and information for continuing research on the artist.
We love helping people find books, movies, and more.
Tell us about your preferences, and our librarians will create a list of titles selected specifically for you.