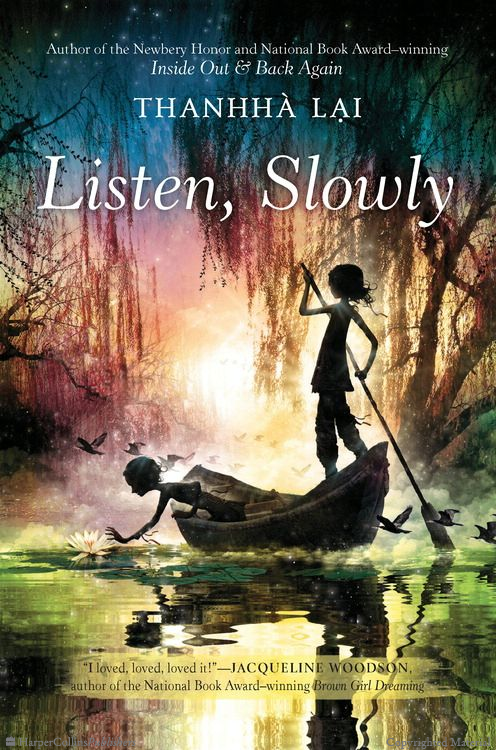 Twelve year-old Mai is not looking forward to summer vacation. Why? Her parents are forcing her to spend it accompanying her grandmother, Ba, to Vietnam, to visit family Mai has never met in a place she barely speaks the language. Ba wants to find out what happened to her husband during the Vietnam War, and Mai is supposed to look out for her. It's so not fair.
Listen, Slowly is a poignant examination of the ways we define culture and family. As Mai spends more time in Vietnam and grows to understand more about her family and its roots, she finds herself having unique experiences beyond her previous imaginings. There's plenty of talk about the Vietnam War as well, which may spark additional research interest in readers. Thanhha Lai portrays the ups and frequent downs of culture shock with grace, and her depiction of Mai as a slightly selfish (read: perfectly normal) middle schooler is both charming and funny. In the audiobook version, read by Lulu Lam, Mai's Valley Girl accent shines, and Lai's use of Vietnamese, which grows alongside Mai's acceptance of her heritage, becomes immersive, bringing an already vibrant tale even more color and depth.
Listen, Slowly deserves a read–or listen!–by anyone looking for sharp realistic fiction.
We love helping people find books, movies, and more.
Tell us about your preferences, and our librarians will create a list of titles selected specifically for you.