From monsters to ghosts, spine chilling to thrilling, for all things creepy and gory check out this list of young adult horror books that will leave you on the edge of your seat.
---
Marigold's phantoms of her old life keep haunting her, but a move with her newly blended family from their small California beach town to the embattled Midwestern city of Cedarville might be the fresh start she needs. The renovated picture-perfect home on Maple Street, sitting between dilapidated houses, surrounded by wary neighbors has its . . . secrets. That's only half the problem: household items vanish, doors open on their own, lights turn off, shadows walk past rooms, voices can be heard in the walls, and there's a foul smell seeping through the vents only Mari seems to notice. As the house closes in, Mari learns that the danger isn't limited to Maple Street. Cedarville has its secrets, too. And secrets always find their way through the cracks.
Available formats: Book, Ebook (Hoopla), Ebook (Media on Demand by OverDrive), Audiobook (Hoopla), Audiobook (Media on Demand by OverDrive)
---
Summer 1958. A gruesome killer plagues the Midwest, leaving behind a trail of bodies completely drained of blood. Michael Jensen, an aspiring journalist whose father happens to be the town sheriff, never imagined that the Bloodless Murders would come to his backyard. Not until the night the Carlson family was found murdered in their home. Marie Catherine Hale, a diminutive fifteen-year-old, was discovered at the scene–covered in blood. She is the sole suspect in custody. As Marie recounts her version of the story, it falls to Michael to find the truth: What really happened the night that the Carlsons were killed? And how did one girl wind up in the middle of all these bodies?
Available formats: Book, Ebook (Hoopla), Ebook (Media on Demand by OverDrive), Audiobook (Media on Demand by OverDrive)
---
Ten years after the horrific murders at Freddy Fazbear's Pizza that ripped their town apart, Charlie, whose father owned the restaurant, and her childhood friends reunite on the anniversary of the tragedy and find themselves at the old pizza place which had been locked up and abandoned for years. After they discover a way inside, they realize that things are not as they used to be. The four adult-sized animatronic mascots that once entertained patrons have changed. They now have a dark secret . . . and a murderous agenda.
Available formats: Book, Ebook (Media on Demand by OverDrive), Audiobook (Hoopla), Audiobook (Media on Demand by OverDrive)
---
Andromeda is a debtera–an exorcist hired to cleanse households of the Evil Eye. When a handsome young heir named Magnus Rochester reaches out to hire her, she takes the job without question. Never mind that he's rude and demanding and eccentric, that the contract comes with a number of outlandish rules… and that almost a dozen debtera had quit before her. If Andromeda wants to earn a living, she has no choice. But she quickly realizes this is a job like no other, with horrifying manifestations at every turn, and that Magnus is hiding far more than she has been trained for. Death is the most likely outcome if she stays, the reason every debtera before her quit. But leaving Magnus to live out his curse alone isn't an option because–heaven help her–she's fallen for him.
Available formats: Book, Ebook (Media on Demand by OverDrive), Audiobook (Media on Demand by OverDrive)
---
Extasia by Claire Legrand
Her name is unimportant. All you must know is that today she will become one of the four saints of Haven. The elders will mark her and place the red hood on her head. With her sisters, she will stand against the evil power that lives beneath the black mountain–an evil which has already killed nine of her village's men. She will tell no one of the white-eyed beasts that follow her. Or the faceless gray women tall as houses. Or the girls she saw kissing in the elm grove. Today she will be a saint of Haven. She will rid her family of her mother's shame at last and save her people from destruction. She is not afraid. Are you?
Available formats: Book, Ebook (Media on Demand by OverDrive)
---
When Kylie walks into the gorgeous beach house, it's a dream come true. She still can't believe she talked her parents into letting her spend the weekend down the shore with her boyfriend, Liam, after prom. Kylie, Liam, and their friends have rented the most amazing party house–and it's all theirs. Prom was awesome, but this is going to be even better. Except there's a little problem. A violent storm hits the beach and the power goes out–with no sign that it's coming back anytime soon. Roughing it with candles and camping lanterns isn't the vibe they were going for, but everyone wants to make the most of it. Until people start disappearing . . . and turning up dead.
Available formats: Book
---
New girl Rachel Chavez turns to horror movies for comfort, preferring stabby serial killers and homicidal dolls to the bored rich kids of Manhattan Prep…and to certain memories she'd preferred to keep buried. Then Rachel is recruited by the Mary Shelley Club, a mysterious society of students who orchestrate Fear Tests, elaborate pranks inspired by urban legends and movie tropes. At first, Rachel embraces the power that comes with reckless pranking. But as the Fear Tests escalate, the competition turns deadly, and it's clear Rachel is playing a game she can't afford to lose.
Available formats: Book, Audiobook (Media on Demand by OverDrive)
---
Eleanor Zarrin has been estranged from her wild family for years. When she flees boarding school after a horrifying incident, she goes to the only place she thinks is safe: the home she left behind. But when she gets there, she struggles to fit in with her monstrous relatives, who prowl the woods around the family estate and read fortunes in the guts of birds. Eleanor finds herself desperately trying to hold the family together in order to save them all, Eleanor must learn to embrace her family of monsters and tame the darkness inside her.
Available formats: Book, Ebook (Media on Demand by OverDrive), Audiobook (Media on Demand by OverDrive)
---
Nita doesn't murder supernatural beings and sell their body parts on the internet–her mother does that. Nita just dissects the bodies after they've been "acquired." Until her mom brings home a live specimen and Nita decides she wants out; dissecting a scared teenage boy is a step too far. But when she decides to save her mother's victim, she ends up sold in his place–because Nita herself isn't exactly "human." She has the ability to alter her biology, a talent that is priceless on the black market. Now on the other side of the bars, if she wants to escape, Nita must ask herself if she's willing to become the worst kind of monster.
Available formats: Book, Ebook (Hoopla), Ebook (Media on Demand by OverDrive)
---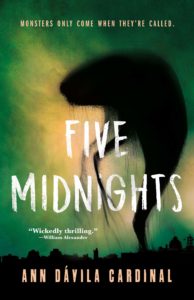 Five friends cursed. Five deadly fates .Five nights of retribución. If Lupe Dávila and Javier Utierre can survive each other's company, together they can solve a series of grisly murders sweeping though Puerto Rico. But the clues lead them out of the real world and into the realm of myths and legends. And if they want to catch the killer, they'll have to step into the shadows to see what's lurking there–murderer, or monster?
Available formats: Book, Audiobook (Hoopla)
---
Finch Chamberlin is the newest transfer student to the ultra-competitive Ulalume Academy. Months before school started, Finch and her parents got into an accident that should have left her dead at the bottom of the river. But something monstrous, and ancient, and terrifying, wouldn't let her drown. Since dying she's felt a constant pull from the school and the surrounding town of Rainwater. Selena St. Clair sees right through Finch, and she knows something is seriously wrong with her. But despite Selena's suspicion, she feels drawn to Finch. One night Finch and Selena accidentally summon a carnivorous creature of immense power in the depths of the school. It promises to grant every desire the girls have in exchange for a human body parts.
Available formats: Book, Ebook (Hoopla), Audiobook (Hoopla)
---
Moon Basin has been haunted for as long as anyone can remember. It started when an explosion in the mine killed sixteen people. The ex-mining town relies on its haunted reputation to bring in tourists, but there's more truth to the rumors than most are willing to admit. Clem and Nina open up their friend circle for a strange girl named Lisey with a knack for training crows, and Piper, whose father is fascinated with the mine in a way that's anything but ordinary. The people of New Basin start experiencing strange phenomena–sleepwalking, night terrors, voices that only they can hear. And no matter how many vans of ghost hunters roll through, nobody can get to the bottom of what's really going on. Which is why the girls decide to enter the mine themselves.
Available formats: Book, Audiobook (Hoopla)
---
All Bram wanted was to disappear–from her old life, her family's past, and from the scandal that continues to haunt her. The only place left to go is Louth, the tiny town on the Hudson River where her uncle, James, has been renovating an old mansion. The manor is creepy, and so are the locals. The people of Louth don't want outsiders like Bram in their town, and with each passing day she's discovering that the rumors they spread are just as disturbing as the secrets they hide. Most frightening of all are the legends they tell about the Dead Girls. Girls whose lives were cut short in the very house Bram now calls home. The terrifying reality is that the Dead Girls may have never left the manor. And if Bram looks too hard into the town's haunted past, she might not either.
Available formats: Book
---
Sixteen-year-old Jake Livingston sees dead people everywhere. But he can't decide what's worse: being a medium forced to watch the dead play out their last moments on a loop or being at the mercy of racist teachers as one of the few Black students at St. Clair Prep. Things at St. Clair start looking up with the arrival of another Black student–the handsome Allister–and for the first time, romance is on the horizon for Jake. Unfortunately, life as a medium is getting worse. Though most ghosts are harmless and Jake is always happy to help them move on to the next place, Sawyer Doon wants much more from Jake. He's a powerful, vengeful ghost and he has plans for Jake. Suddenly, everything Jake knows about dead world goes out the window as Sawyer begins to haunt him.
Available formats: Book
---
Vivian Ellenshaw is fat, but she knows she doesn't need to lose weight, so she's none too happy to find herself forced into a weight-loss camp's van with her ex-best friend, Allie. When they arrive at Camp Featherlite at the start of the worst blizzard in the history of Flagstaff, Arizona, it's clear that something isn't right. Vee barely has a chance to meet the other members of her pod, all who seem as unhappy to be at Featherlite as she does, when a camper goes missing down by the lake. Then she spots something horrifying outside in the snow. Something…that isn't human. It's not long before Camp Featherlite's luxurious bungalows are totally overrun with zombies. What starts out as a mission to unravel the camp's secrets turns into a desperate fight for survival.
Available formats: Book, Ebook (Media on Demand by OverDrive)
We love helping people find books, movies, and more.
Tell us about your preferences, and our librarians will create a list of titles selected specifically for you.