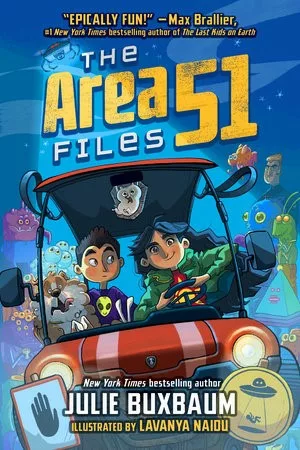 12-year-old orphan Sky Patel-Baum has lived with her grandmother as far back as she can remember. When her grandmother moves to a retirement home, Sky and her pet hedgehog Spike are sent to live with Uncle Anish, whom she has never met. Sky is in for a surprise when she discovers that Uncle Anish is deputy head of the Federal Bureau of Alien Investigations of top secret Area 51. Sky is amazed at the variety of Aliens that reside in Area 51 alongside the humans who work there. She and her new friend Elvis, a shape shifting Alien from Galzoria, are thrown into a mystery when a group of Zdstrammers mysteriously disappear just as Sky and her uncle are entering Area 51. With Uncle Anish as the prime suspect, Sky and Elvis race to prove his innocence.
The Area 51 Files is quick-paced and full of jokes and eccentric characters. Agents Belcher and Fartz and Officer Roidrage play key roles in the mystery. Black and white illustrations by Lavanya Naidu expand and illuminate the text and are included on almost every 2 page spread. Hilarious commentary by Spike the hedgehog and Elvis's dog Pickles add plenty of goofy fun to this science fiction mystery for middle graders.
We love helping people find books, movies, and more.
Tell us about your preferences, and our librarians will create a list of titles selected specifically for you.