We hope these selections serve to educate and encourage a dialogue on topics surrounding gun violence. This list includes titles to support difficult emotions triggered by gun violence with themes of community strength, loss, and trauma.
---
Parkland: Birth of a Movement by Dave Cullen
"The bestselling author of Columbine offers a deeply moving account of the extraordinary teenage survivors of the Parkland shooting who pushed back against the NRA and Congressional leaders and launched the singular grassroots March for Our Lives movement. Emma González called BS. David Hogg called out Adult America. The uprising had begun. Cameron Kasky immediately recruited a colorful band of theatre kids and rising activists and brought them together in his living room to map out a movement. Four days after escaping Marjory Stoneman Douglas High School, two dozen extraordinary kids announced the audacious March for Our Lives. A month later, it was the fourth largest protest in American history.
Dave Cullen, who has been reporting on the epidemic of school shootings for two decades, takes us along on the students' nine-month odyssey, from the shooting to the midterm elections and beyond. With unrivaled access to their friends and families, meetings and homes, he pulls back the curtain to reveal intimate portraits of the quirky, playful organizers who have taken the nation by storm. Cullen brings us onto the bus for the Road to Change tour, showing us how these kids seized an opportunity. They hit the highway to organize the young activist groups mushrooming across America in their image. Rattled but undeterred, they pressed on in gun country even as adversaries armed with assault weapons tailed them across Texas and Utah trying to scare them off. The Parkland students are genuinely candid about their experiences. We see them cope with shattered friendships and PTSD, along with the normal day-to-day struggles of school, including AP exams and college acceptances.
Yet, with the idealism of youth they refuse victimhood, and continue to devise clever new tactics to stir their generation to action. Their goal is to build a powerhouse network to match that of the NRA. Parkland is a staggering story of empowerment and hope, told through the wildly creative and wickedly funny voices of a group of remarkable kids. This spellbinding book is a testament to change and a perceptive examination of a pivotal moment in American culture. After two decades of adult hand-wringing, the MFOL kids are mapping a way out. They see a long road ahead, a generational struggle to save every kid of every color from the ravages of gun violence in America." – Provided by publisher
Available Formats: Book, eBook, Audiobook, eAudiobook
---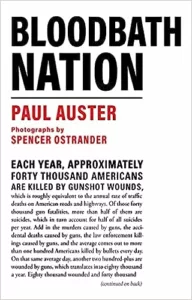 Bloodbath Nation by Paul Auster
"Like most American boys of his generation, Paul Auster grew up playing with toy six-shooters and mimicking the gun-slinging cowboys in B Westerns. A skilled marksman by the age of ten, he also lived through the traumatic aftermath of the murder of his grandfather by his grandmother when his father was a child and knows, through firsthand experience, how families can be wrecked by a single act of gun violence.
In this short, searing book, Auster traces centuries of America's use and abuse of guns, from the violent displacement of the native population to the forced enslavement of millions, to the bitter divide between embattled gun control and anti-gun control camps that has developed over the past 50 years and the mass shootings that dominate the news today. Since 1968, more than one and a half million Americans have been killed by guns. The numbers are so large, so catastrophic, so disproportionate to what goes on elsewhere, that one must ask why. Why is America so different—and why are we the most violent country in the Western world?
Interwoven with Spencer Ostrander's haunting photographs of the sites of more than thirty mass shootings in all parts of the country, Bloodbath Nation presents a succinct but thorough examination of America at a crossroads, and asks the central, burning question of our moment: What kind of society do we want to live in?" – Provided by publisher
Available Formats: Book, eBook
---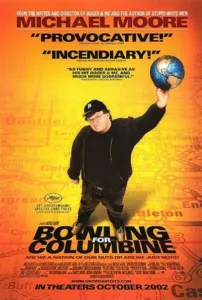 Bowling for Columbine
The United States of America is notorious for its astronomical number of people killed by firearms for a developed nation without a civil war. With his signature sense of angry humor, activist filmmaker Michael Moore sets out to explore the roots of this bloodshed. Provided by publisher.
Available Formats: DVD, eVideo
---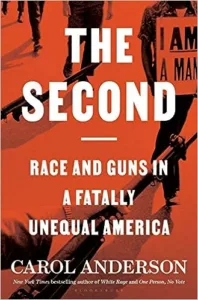 The Second: Race and Guns in a Fatally Unequal America by Carol Anderson
"In The Second, historian and award-winning author Carol Anderson powerfully illuminates the history and impact of the Second Amendment, how it was designed and how it has consistently been constructed to keep African Americans powerless and vulnerable. The Second is neither a 'pro-gun' nor an 'anti-gun' book; the lens is the citizenship rights and human rights of African Americans.
From the 17th century, when it was encoded into law that the enslaved could not own, carry or use a firearm whatsoever, until today, with measures to expand and curtail gun ownership aimed disproportionately at the African-American population, the right to bear arms has been consistently used as a weapon to keep African Americans powerless – revealing that armed or unarmed, Blackness, it would seem, is the threat that must be neutralized and punished.
Throughout American history to the 21st century, regardless of the laws, court decisions and changing political environment, the Second has consistently meant this: that the second a Black person exercises this right, the second they pick up a gun to protect themselves (or the second that they don't), their life – as surely as Philando Castile's, Tamir Rice's, Alton Sterling's – may be snatched away in that single, fatal second. Through compelling historical narrative merging into the unfolding events of today, Anderson's penetrating investigation shows that the Second Amendment is not about guns but about anti-Blackness, shedding shocking new light on another dimension of racism in America." – Provided by publisher.
Available Format: Book
---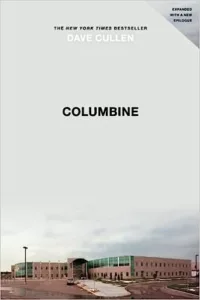 Columbine by Dave Cullen
"On April 20, 1999, two boys left an indelible stamp on the American psyche. Their goal was simple: to blow up their school and to leave 'a lasting impression on the world.' Their bombs failed, but the ensuing shooting defined a new era of school violence … Dave Cullen delivers a profile of teenage killers that goes to the heart of psychopathology. He lays bare the callous brutality of mastermind Eric Harris and the quavering, suicidal Dylan Klebold, who went to the prom three days earlier and obsessed about love in his journal. The result is an account of two good students with lots of friends, who were secretly stockpiling a basement cache of weapons, recording their raging hatred, and manipulating every adult who got in their way. They left signs everywhere. Drawing on hundreds of interviews, thousands of pages of police files, FBI psychologists, and the boys' tapes and diaries, he gives a complete account of the Columbine tragedy … A close-up portrait of violence, a community rendered helpless, and police blunders and cover-ups, it is a human portrait of two killers"–From publisher description.
Available Formats: Book, eBook, Audiobook, eAudiobook
---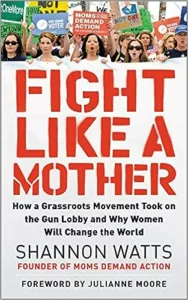 Fight Like a Mother: How a Grassroots Movement Took on the Gun Lobby and Why Women Will Change the World by Shannon Watts
"Shannon Watts was a stay-at-home mom folding laundry when news of the tragic shooting at Sandy Hook Elementary flashed across the television screen. In one moment, she went from outraged to engaged and decided to do something about it. What started as a simple Facebook group to connect with other frustrated parents grew into Moms Demand Action, a national movement with millions of supporters and a powerful grassroots network of local chapters in all 50 states. Shannon has been called "the NRA's worst nightmare"—and her army of moms have bravely gone up against the gun lobby, showing up in their signature red shirts, blocking the hallways of congress with their strollers, electing gun sense candidates and running for office themselves, proving that if the 80 million moms in this country come together, they can put an end to gun violence.
Fight Like a Mother is the incredible account how one mother's cry for change became the driving force behind gun safety progress. Along with stories of perseverance, courage, and compassion, Watts shines a light on the unique power of women—starting with what they have, leading with their maternal strengths, and doubling down instead of backing down. While not everyone can be on the front lines lobbying congress, every mom is already a multi-tasking organizer, and Shannon explains how to go from amateur activist to having a real impact in your community and beyond. Fight Like a Mother will inspire everyone—mothers and fathers, students and teachers, lawmakers, and anyone motivated to enact change—to get to work transforming hearts and minds, and passing laws that save lives." – Provided by publisher
Available Formats: Book, eBook
---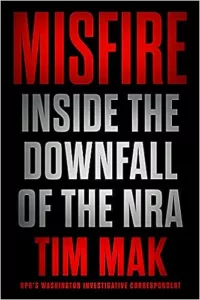 Misfire: Inside the Downfall of the NRA by Tim Mak
"The NRA once compelled respect—even fear—from Republicans and Democrats alike. Once a grassroots club dedicated to gun safety, the NRA ballooned into a powerful lobbyist organization that maintained an iron hold on gun legislation in America. This influential nonprofit raised millions in small fees from members across the country, which funded hidden, lavish lifestyles of designer suits, private jets and yachts, martini lunches and Champagne dinners—while the group manipulated legislators and flirted with a Russian spy.
Yet in 2012, the NRA's grip on Washington began to loosen in the wake of the massacre at Sandy Hook Elementary. Facing nationwide outrage, NRA CEO Wayne LaPierre gave a speech claiming the solution was not fewer guns, but more guns, in schools. The group's rhetoric only escalated from there, a misstep that sparked a backlash and invited the scrutiny of the government.
Unveiled here for the first time ever are surprising, revelatory details spotlighting decades of poor leadership and mismanagement by LaPierre; the NRA's long association with marketing firm Ackerman-McQueen; NRA executives' 2015 trip to Moscow, a by-invitation affair packed with meetings with Russian government officials, diplomats, and oligarchs seeking influence in American politics; as well as the power struggle between LaPierre and former NRA president Oliver North that fractured the organization.
Misfire is the result of a four-year investigation by journalist Tim Mak, who scoured thousands of pages of never-before-publicized documents and cultivated dozens of confidential sources inside the NRA's orbit to paint a vivid picture of the gun group's rampant corruption and slow decline, marking a sea change in the battle over gun rights and control in America." – Provided by publisher
Available Formats: Book
---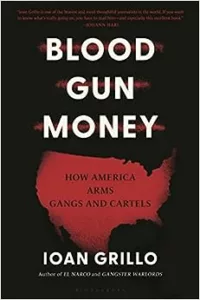 Blood Gun Money: How America Arms Gangs and Cartels by Ioan Grillo
"The gun control debate is revived with every mass shooting. But far more people die from gun deaths on the street corners of inner city America and across the border as Mexico's powerful cartels battle to control the drug trade. Guns and drugs aren't often connected in our heated discussions of gun control-but they should be. In Ioan Grillo's groundbreaking new work of investigative journalism, he shows us this connection by following the market for guns in the Americas and how it has made the continent the most murderous on earth.
Grillo travels to gun manufacturers, strolls the aisles of gun shows and gun shops, talks to federal agents who have infiltrated biker gangs, hangs out on Baltimore street corners, and visits the ATF gun tracing center in West Virginia. Along the way, he details the many ways that legal guns can cross over into the black market and into the hands of criminals, fueling violence here and south of the border. Simple legislative measures would help close these loopholes, but America's powerful gun lobby is uncompromising in its defense of the hallowed Second Amendment. Perhaps, however, if guns were seen not as symbols of freedom, but as key accessories in our epidemics of addiction, the conversation would shift. Blood Gun Money is that conversation shifter." – Provided by publisher
Available Formats: Book, eBook
---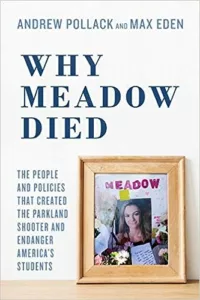 Why Meadow Died: The People and Policies That Created The Parkland Shooter and Endanger America's Students by Andrew Pollack
"After my sister Meadow was murdered at Marjory Stoneman Douglas High School, the media obsessed for months about the type of rifle the killer used. It was all clickbait and politics, not answers or justice. That wasn't good enough for us. My dad is a real tough guy, but Meadow had him wrapped around her little finger. He would do anything she wanted, and she would want him to find every answer so that this never happens again.
My dad teamed up with one of America's leading education experts to launch his own investigation. We found the answers to the questions the media refused to ask. Questions about school safety that go far beyond the national gun debate. And the answers to those questions matter for parents, teachers, and schoolchildren nationwide.
If one single adult in the Broward County school district had made one responsible decision about the Parkland shooter, then my sister would still be alive. But every bad decision they made makes total sense once you understand the district's politically correct policies, which started here in Broward and have spread to thousands of schools across America." – Provided by publisher
Available Formats: Book, eAudiobook
---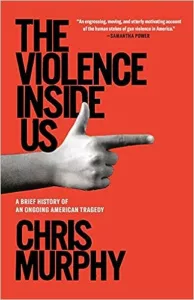 The Violence Inside Us: A Brief History of an Ongoing American Tragedy by Chris Murphy
"In many ways, the United States sets the pace for other nations to follow. Yet on the most important human concern—the need to keep ourselves and our loved ones safe from physical harm—America isn't a leader. We are disturbingly laggard. To confront this problem, we must first understand it. In this carefully researched and deeply emotional book, Senator Chris Murphy dissects our country's violence-filled history and the role that our unique obsession with firearms plays in this national epidemic.
Murphy tells the story of his profound personal transformation in the wake of the mass murder at Newtown, and his subsequent immersion in the complicated web of influences that drive American violence. Murphy comes to the conclusion that while America's relationship to violence is indeed unique, America is not inescapably violent. Even as he details the reasons we've tolerated so much bloodshed for so long, he explains that we have the power to change. Murphy takes on the familiar arguments, obliterates the stale talking points, and charts the way to a fresh, less polarized conversation about violence and the weapons that enable it—a conversation we urgently need in order to transform the national dialogue and save lives." – Provided by publisher
Available Formats: Book
---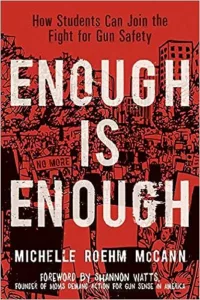 Enough Is Enough: How Students Can Join the Fight for Gun Safety by Michelle Roehm McCann
"Young people are suffering the most from the epidemic of gun violence—as early as kindergarten students are crouching behind locked doors during active shooter drills. Teens are galvanizing to speak up and fight for their right to be safe. They don't just want to get involved, they want to change the world. Enough Is Enough is a call to action for teens ready to lend their voices to the gun violence prevention movement. This handbook deftly explains America's gun violence issues—myths and facts, causes and perpetrators, solutions and change-makers—and provides a road map for effective activism.
Told in three parts, Enough Is Enough also explores how America got to this point and the obstacles we must overcome, including historical information about the Second Amendment, the history of guns in America, and an overview of the NRA. Informative chapters include interviews with teens who have survived gun violence and student activists who are launching their own movements across the country. Additionally, the book includes a Q&A with gun owners who support increased gun safety laws." – Provided by Publisher
Available Formats: Book
---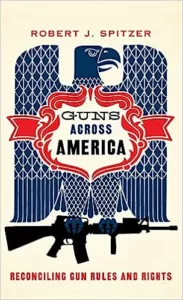 Guns across America: Reconciling Gun Rules and Rights by Robert Spitzer
"In vast swathes of America, the sacredness of the Second Amendment has become a political third rail, never to be questioned. Gun rights supporters wear tri-cornered hats, wave the stars and stripes, and ask what would have happened if the revolutionaries had been unarmed when the British were coming. They have had great success in conflating unfettered gun ownership with the Founding Fathers, the Constitution, and all things American, even in an era of repeated mass shootings. Yet the all-too-familiar narrative of America's gun past, echoed in the Supreme Court's Heller gun rights decision, is not only mythologized, but historically wrong.
As Robert J. Spitzer demonstrates in Guns across America, gun ownership is as old as the nation, but so is gun regulation. Drawing on a vast new dataset of early gun laws reflecting every imaginable type of regulation, Spitzer reveals that firearms were actually more strictly regulated in the country's first three centuries than in recent years. The first "gun grabbers" were not 1960's Chablis-drinking liberals, but seventeenth century rum-guzzling pioneers, and their legacy continued through strict gun regulations in the 1920s and beyond. Spitzer examines interpretations of the Second Amendment, the assault weapons controversy, modern "stand your ground" laws, and the so-called "right of rebellion" to show that they play out in America's contemporary political landscape in ways that bear little resemblance to our imagined past. And as gun rights proponents seek to roll back gun laws and press as many guns into as many hands as possible, warning that gun rights are endangered, they sidestep the central question: are stricter gun laws incompatible with robust gun rights? Spitzer answers this question by examining New York State's tough gun laws, where his political analysis is complemented by his own quest for a concealed carry handgun permit and construction of a legal AR-15 assault weapon.
Not only can gun rights and rules coexist, but they have throughout American history. Guns across America reveals the long-hidden truth: that gun regulations are in fact as American as apple pie" – Provided by publisher
Available Formats: Book
---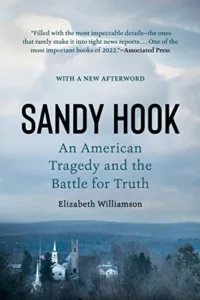 Sandy Hook: An American Tragedy and the Battle for Truth by Elizabeth Williamson
"On December 14, 2012, a gunman killed twenty first-graders and six educators at Sandy Hook Elementary School in Newtown, Connecticut. Ten years later, Sandy Hook has become a foundational story of how false conspiracy narratives and malicious misinformation have gained traction in society.
One of the nation's most devastating mass shootings, Sandy Hook was used to create destructive and painful myths. Driven by ideology or profit, or for no sound reason at all, some people insisted it never occurred, or was staged by the federal government as a pretext for seizing Americans' firearms. They tormented the victims' relatives online, accosted them on the street and at memorial events, accusing them of faking their loved ones' murders. Some family members have been stalked and forced into hiding. A gun was fired into the home of one parent.
Present at the creation of this terrible crusade was Alex Jones's Infowars, a far-right outlet that aired noxious Sandy Hook theories to millions and raised money for the conspiracy theorists' quest to "prove" the shooting didn't happen. Enabled by Facebook, YouTube, and other social media companies' failure to curb harmful content, the conspiracists' questions grew into suspicion, suspicion grew into demands for more proof, and unanswered demands turned into rage. This pattern of denial and attack would come to characterize some Americans' response to almost every major event, from mass shootings to the coronavirus pandemic to the 2020 presidential election, in which President Trump's false claims of a rigged result prompted the January 6, 2021, assault on a bastion of democracy, the U.S. Capitol.
The Sandy Hook families, led by the father of the youngest victim, refused to accept this. Sandy Hook is the story of their battle to preserve their loved ones' legacies even in the face of threats to their own lives. Through exhaustive reporting, narrative storytelling, and intimate portraits, Sandy Hook is the definitive book on one of the most shocking cultural ruptures of the internet era." – Provided by Publisher
Available Formats: Book, eBook
---
We love helping people find books, movies, and more.
Tell us about your preferences, and our librarians will create a list of titles selected specifically for you.