Celebrate Pride Month with books highlighting LGBTQ+ characters, experiences, histories, and voices. We hope these selections serve to educate and encourage a dialogue on topics of gender and sexuality from the personal to political, introduce readers to LGBTQ+ authors, and celebrate the joyful diversity of identities, families, and relationships.
---
Felix Love has never been in love, painful irony that it is. He desperately wants to know why it seems so easy for everyone but him to find someone. He is proud of his identity, but fears that he's one marginalization too many– Black, queer, and transgender. When an anonymous student begins sending him transphobic messages– after publicly posting Felix's deadname alongside images of him before he transitioned– Felix comes up with a plan for revenge. He didn't count on his catfish scenario landing him in a quasi-love triangle.
Available formats: Book, Ebook (OverDrive by Media on Demand), Audiobook (OverDrive by Media on Demand), Audiobook (Hoopla)
---

Competing for a first-prize trip to a Los Angeles film festival, die-hard romantic Emma and her archnemesis, the practical-minded Sophia, find their frequent clashes turning into something more.
Available formats: Book
---

Larissa Bogdan is starting her senior year at Stratford High where she's finally attracted the attention of superstar quarterback Chase Harding. But then Jasmine Killary shows up. Jasmine, who's supposed to be in North Carolina, not the New York City suburbs. Jasmine, who immediately entices Stratford's student body with her glitterig beauty and casual-cool style. Jasmine, who gave Larissa the three most perfect months of her life. But now Jasmine's keeping her distance, not even acknowledging their friendship, much less the hot summer nights they spent together. What was supposed to be a playful fling became something much deeper than she ever could have imagined. If Larissa's finally got the guy, why can't she stop thinking about the girl?
Available formats: Book
---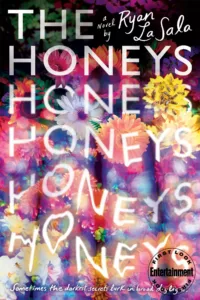 Mars has always been the lesser twin, the shadow to his sister Caroline's radiance. But when Caroline dies under horrific circumstances, Mars is propelled to learn all he can about his once-inseparable sister who'd grown tragically distant. With his grief still fresh, Mars seeks out his sister's old friends: a group of girls dubbed the Honeys. They are beautiful and terrifying–and Mars is certain they're connected to Caroline's death.
Available formats: Book
---
Georgia has parents who are still in love, two sets of grandparents that are still together, and a brother who married his girlfriend, but at eighteen she has never even kissed someone (not even her lesbian best friend, Felipa) or particularly even wanted to; at the prom afterparty she is surrounded by couples making out, and she really does not know what is wrong–but in college she comes to understand herself as asexual/aromantic, and to capture the part of her identity that has always eluded her.
Available formats: Book, Audiobook (Hoopla), Ebook (OverDrive by Media on Demand)
---
On boy band Kiss & Tell's first major tour, lead singer Hunter Drake grapples with a painful breakup with his first boyfriend, his first rebound, and the stress of what it means to be queer in the public eye.
Available formats: Book
---
Wyatt, a transgender witch, hides in the human world after he loses control of his magic, but his fiancé, Emyr, a fae prince, is at risk of losing his throne if he does not find and marry Wyatt.
Available formats: Book, Ebook (OverDrive by Media on Demand), Audiobook (Hoopla)
---
Living in a small town where magic is frowned upon, Sam needs his friends James and Delia. But as soon as senior year starts, little cracks in their group begin to show. Sam may or may not be in love with James. Delia is growing more frustrated with their amateur magic club. And James reveals that he got mixed up with some sketchy magickers over the summer, putting a target on all their backs. With so many fault lines threatening to derail his hopes for the year, Sam is forced to face the fact that the very love of magic that brought his group together is now tearing them apart and there are some problems that no amount of magic can fix.
Available formats: Book, Ebook (Hoopla), Ebook (OverDrive by Media on Demand), Audiobook (Hoopla), Audiobook (OverDrive by Media on Demand)
---
London, 1885. Gabriel Utterson, a 17-year-old law clerk, has returned to London for the first time since his life was derailed by a scandal. Whispers about the true nature of Gabriel and Henry's relationship have followed the boys for two years, and now Gabriel has a chance to start again. But Gabriel doesn't want to move on, not without Henry. His friend has become distant and cold since the disastrous events of the prior spring. Desperate to discover what's become of him, Gabriel takes to watching the Jekyll house. In doing so, Gabriel meets Hyde, a strangely familiar young man with white hair and a magnetic charisma. He claims to be friends with Henry, and Gabriel can't help but begin to grow jealous at their apparent closeness, especially as Henry continues to act like Gabriel means nothing to him. But the secret behind Henry's apathy is only the first part of a deeper mystery that has begun to coalesce. Monsters of all kinds prowl within the London fog–and not all of them are out for blood.
Available formats: Book
---
Bloom by Kevin Panetta
Now that high school is over, Ari is dying to move to the big city if he can just persuade his dad to let him quit his job at their struggling family bakery. Though he loved working there as a kid, Ari cannot fathom a life wasting away over rising dough and hot ovens. But while interviewing candidates for his replacement, Ari meets Hector, an easygoing guy who loves baking as much as Ari wants to escape it. As they become closer over batches of bread, love is ready to bloom…that is, if Ari doesn't ruin everything.
Available formats: Book, Ebook (OverDrive by Media on Demand)
---
Eric Bittle may be a former junior figure skating champion, vlogger extraordinaire, and very talented amateur pâtissier, but being a freshman on the Samwell University hockey team is a whole new challenge. It is nothing like co-ed club hockey back in Georgia! First of all? There's checking (anything that hinders the player with possession of the puck, ranging from a stick check all the way to a physical sweep). And then, there is Jack — his very attractive but moody captain.
Available formats: Book, Ebook (OverDrive by Media on Demand)
---
High-school senior and notorious wallflower Hawkins finally works up the courage to remove her mascot mask and ask out her longtime crush: Regina Moreno, head cheerleader, academic overachiever, and all-around popular girl. There's only one teensy little problem: Regina is already dating Chloe Kitagawa, athletic all-star … and middling English student. Regina sees a perfectly self-serving opportunity here, and asks the smitten Hawkins to tutor Chloe free of charge, knowing Hawkins will do anything to get closer to her.
Available formats: Book
---
Fence by C.S. Pacat
Nicholas, the illegitimate son of a retired fencing champion, is a scrappy fencing wunderkind, and dreams of getting the chance and the training to actually compete. After getting accepted to the prodigious Kings Row private school, Nicholas is thrust into a cut-throat world, and finds himself facing not only his golden-boy half-brother, but the unbeatable, mysterious Seiji Katayama… Through clashes, rivalries, and romance between teammates, Nicholas and the boys of Kings Row will discover there's much more to fencing than just foils and lunges.
Available formats: Book
---
Spinning by  Tillie Walden
For ten years, figure skating was Tillie Walden's life. She woke before dawn for morning lessons, went straight to group practice after school, and spent weekends competing at ice rinks across the state. But as she switched schools, got into art, and fell in love with her first girlfriend, she began to question how the close-minded world of figure skating fit in with the rest of her life, and whether all the work was worth it given the reality: that she, and her friends on the team, were nowhere close to Olympic hopefuls. The more Tillie thought about it, the more Tillie realized she'd outgrown her passion–and she finally needed to find her own voice.
Available formats: Book, Ebook (OverDrive by Media on Demand)
---
This book addresses the hows and whys of coming out, as well as potential concerns teenagers may have–including how to know when you're ready to come out, who to tell first, and how to deal with unsupportive people.
Available formats: Book
---
Out! covers questions big and small: How to stay safe when coming out in a toxic environment, what to do if you don't feel comfortable with your birth name, what style haircut best suits your identity, and how to find your chosen family. Miles offers readers coming-out conversation starters, a recipe for a very gay cake, and a guide to mastering the masculine haircut. You'll find resources for finding a gender therapist and pointers for being a queer ally.
Available formats: Book, Audiobook (Hoopla)
---
Voices4 Founder and LGBTQIA+ activist Adam Eli offers a candid and compassionate introduction to queer responsibility. Eli calls on his Jewish faith to underline how kindness and support within the queer community can lead to a stronger global consciousness. More importantly, he reassures us that we're not alone. In fact, we never were.
Available formats: Book, Ebook (OverDrive by Media on Demand)
---
Covering essential topics like sexuality, gender identity, coming out, and navigating relationships, this guide explains the spectrum of human experience through informative comics, interviews, worksheets, and imaginative examples. A great starting point for anyone curious about queer and trans life, and helpful for those already on their own journeys!
Available formats: Book, Ebook (Hoopla)
---
Here and Queer is a helpful, friendly guide full of support and advice about living your best queer life, written for girls. This vibrant, inclusive guide, designed for all kinds of girls, is designed to help you be the strongest, proudest, happiest version of yourself! A celebration of the gift of queerness, it's packed full of heartfelt advice, comforting stories, and stylish illustrations, and will give you the tools you need to explore your own identity, on your own terms.
Available formats: Book, Ebook (Hoopla)
---
Additional Resources:
Trevor Support Center is where LGBTQ youth and their allies can find answers to frequently asked questions, and explore resources related to sexual orientation, gender identity and more.
PFLAG provides confidential peer support, education, and advocacy to LGBTQ+ people, their parents and families, and allies.
GLSEN strives to ensure that each member of every school community is valued and respected regardless of sexual orientation, gender identity, and/or expression.
Pride Flags – A brief history and description of some different pride flags. This is list does not include all LGBTQ+ flags.
We love helping people find books, movies, and more.
Tell us about your preferences, and our librarians will create a list of titles selected specifically for you.