Celebrate Pride Month with books highlighting LGBTQ+ characters, experiences, histories, and voices. We hope these selections serve to educate and encourage a dialogue on topics of gender and sexuality from the personal to political, introduce readers to LGBTQ+ authors, and celebrate the joyful diversity of identities, families, and relationships.
---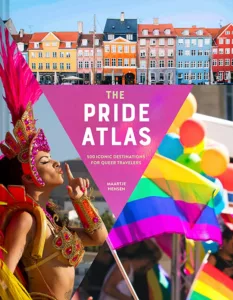 The Pride Atlas: 500 Iconic Destinations for Queer Travelers by Maartje Hensen
"Welcome to the ultimate guidebook for LGBTQ+ travelers! Whether you're looking for relaxation, romance, or adventure, The Pride Atlas will help you plan your next gaycation. This colorful catalog spans the globe, taking you from metropolitan must-sees, like the birthplace of Pride in New York, or the world's first gayborhood in Berlin, to lesser-known gems, like a trans designer's clothing store in Sao Paulo or the first LGBTQ+ bar in Nepal. Maartje Hensen and a diverse team of international travel writers have put together information on the best pride parades and nightlife hotspots, LGBTQ+ memorials, and queer-owned businesses all around the world-as well as the scoop on alluring natural escapes where LGBTQ+ visitors can unwind among friends. Also included are resources regarding laws, restrictions, and cultural attitudes, ensuring that you can safely enjoy your sojourns and find community wherever you go" – Provided by publisher.
Available Formats: Book, eBook
---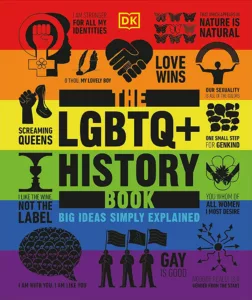 The LGBTQ+ History Book by DK and Willow Heath
Discover the rich and complex history of LGBTQ+ people around the world—their struggles, triumphs, and cultural contributions.
Exploring and explaining the most important ideas and events in LGBTQ+ history and culture, this book showcases the breadth of the LGBTQ+ experience. This diverse, global account explores the most important moments, movements, and phenomena, from the first known lesbian love poetry of Sappho to Kinsey's modern sexuality studies, and features biographies of key figures from Anne Lister to Audre Lorde.
The LGBTQ+ History Book celebrates the victories and untold triumphs of LGBTQ+ people throughout history, such as the Stonewall Riots and first gender affirmation surgeries, as well as commemorating moments of tragedy and persecution, from the Renaissance Italian "Night Police" to the 20th century "Don't Ask Don't Tell" policy. The book also includes major cultural cornerstones—the secret language of polari, Black and Latine ballroom culture, and the many flags of the community—and the history of LGBTQ+ spaces, from 18th-century "molly houses" to modern "gayborhoods".
Using the "Big Ideas" series' trademark combination of authoritative, accessible text and bold graphics, The LGBTQ+ History Book celebrates the long, proud—and often hidden—history of LGBTQ+ people, cultures, and places from around the world. – Provided by publisher.
Available Formats: Book
---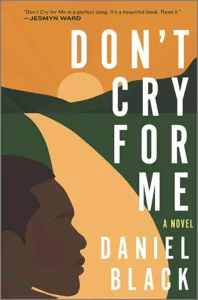 Don't Cry for Me: A Novel by Daniel Black
"A Black father makes amends with his gay son through letters written on his deathbed in this wise and penetrating novel of empathy and forgiveness, for fans of Ta-Nehisi Coates, Robert Jones Jr. and Alice Walker. As Jacob lies dying, he begins to write a letter to his only son, Isaac. They have not met or spoken in many years, and there are things that Isaac must know. Stories about his ancestral legacy in rural Arkansas that extend back to slavery. Secrets from Jacob's tumultuous relationship with Isaac's mother and the shame he carries from the dissolution of their family. Tragedies that informed Jacob's role as a father and his reaction to Isaac's being gay. But most of all, Jacob must share with Isaac the unspoken truths that reside in his heart. He must give voice to the trauma that Isaac has inherited. And he must create a space for the two to find peace. With piercing insight and profound empathy, acclaimed author Daniel Black illuminates the lived experiences of Black fathers and queer sons, offering an authentic and ultimately hopeful portrait of reckoning and reconciliation. Spare as it is sweeping, poetic as it is compulsively readable, Don't Cry for Me is a monumental novel about one family grappling with love's hard edges and the unexpected places where hope and healing take flight."– Provided by publisher.
Available Formats: Book, Audiobook, eBook, eAudiobook
---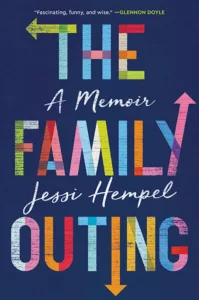 The Family Outing: A Memoir by Jessi Hempel
Jessi Hempel was raised in a seemingly picture-perfect, middle-class American family. But the truth was far from perfect. Her father was constantly away from home, traveling for work, while her stay-at-home mother became increasingly lonely and erratic. Growing up, Jessi and her two siblings struggled to make sense of their family, their world, their changing bodies, and the emotional turmoil each was experiencing. And each, in their own way, was hiding their true self from the world.
By the time Jessi reached adulthood, everyone in her family had come out: Jessi as gay, her sister as bisexual, her father as gay, her brother as transgender, and her mother as a survivor of a traumatic experience with an alleged serial killer. Yet coming out was just the beginning, starting a chain reaction of other personal revelations and reckonings that caused each of them to question their place in the world in new and ultimately liberating ways. – Provided by Publisher
Available Formats: Book, Audiobook, eBook, eAudiobook
---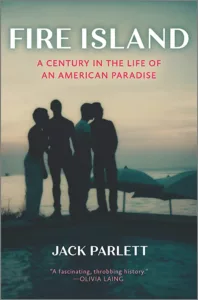 Fire Island: A Century in the Life of an American Paradise by Jack Parlett
Fire Island, a thin strip of beach off the Long Island coast, has long been a vital space in the queer history of America. Both utopian and exclusionary, healing and destructive, the island is a locus of contradictions, all of which coalesce against a stunning ocean backdrop.
Now poet and scholar Jack Parlett tells the story of this iconic destination—its history, its meaning and its cultural significance—through the lens of the artists and creators who sought refuge on its shores. Together, figures as divergent as Walt Whitman, Oscar Wilde, James Baldwin, Carson McCullers, Frank O'Hara, Patricia Highsmith and Jeremy O. Harris tell the story of a queer space in constant evolution. Transporting, impeccably researched and gorgeously written, Fire Island is a fond and fierce portrait of an iconic American destination and an essential contribution to queer history. – Provided by Publisher
Available Formats: Book, eBook
---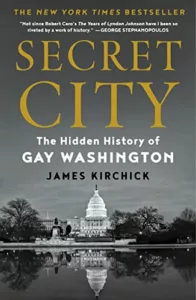 Secret City: the Hidden History of Gay Washington by James Kirchick
"For decades, the specter of homosexuality haunted Washington. The mere suggestion that a person might be gay destroyed reputations, ended careers, and ruined lives. At the height of the Cold War, fear of homosexuality became intertwined with the growing threat of international communism, leading to a purge of gay men and lesbians from the federal government. In the fevered atmosphere of political Washington, the secret "too loathsome to mention" paradoxically held enormous, terrifying power. Utilizing thousands of pages of declassified documents, interviews with over one hundred people, and material unearthed from presidential libraries and archives around the country, Secret City: The Hidden History of Gay Washington, from FDR through Clinton is a chronicle of American politics like no other. Beginning with the tragic story of Sumner Welles, Franklin Delano Roosevelt's brilliant diplomatic advisor and the man at the center of "the greatest national scandal since the existence of the United States," award-winning journalist and author James Kirchick illuminates how the idea of homosexuality shaped each successive presidential administration, impacting everything from the creation of America's earliest civilian intelligence agency to the rise and fall of McCarthyism, the struggle for African American civil rights, and the conservative movement. Celebrating the men and women who courageously decided that the source of their private shame could instead be galvanized for public pride, Kirchick offers a reinterpretation of American history told from the perspective of the citizens who lived in its shadows. Sweeping in scope and intimate in detail, Secret City will forever transform our understanding of American history"– Provided by Publisher
Available Formats: Book, eBook
---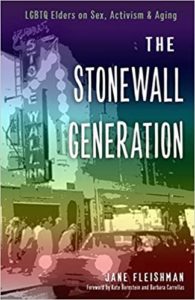 The Stonewall Generation: LGBTQ Elders on Sex, Activism, and Aging by Jane Fleishman
Sexuality researcher Jane Fleishman shares the stories of nine fearless elders in the LGBTQ community who came of age around the time of Stonewall. In candid interviews, they lay bare their struggles, their strengths, their activism, and their sexual liberation in the context of the political movements of the 1960s and 1970s and today"– Provided by publisher.
Available Formats: Book
---
Trixie and Katya's Guide to Modern Womanhood by Trixie Mattel and Katya
"The RuPaul's Drag Race legends, stars of UNHhhh, and expert biological women share the secrets of their feminine mystique in this satirical guide to beauty and homemaking. Drag superstars Trixie Mattel and Katya have long captivated fans with their stunning looks, onscreen chemistry, and signature wit. In Trixie and Katya's Guide to Modern Womanhood, the pair channel that energy into an old-school etiquette guide for ladies. In essays and how-to sections peppered with hilarious, gorgeous photos, Trixie and Katya will advise readers on beauty and fashion and tackle other vital components of a happy home, such as money, entertaining, and friendship; sharing advice and personal stories in high-concept fashion. Informative, humorous, and heartwarming, Trixie and Katya's Guide to Modern Womanhood is the book that their fans have been waiting for"– Provided by publisher.
Available Formats: Book, aAudiobook
---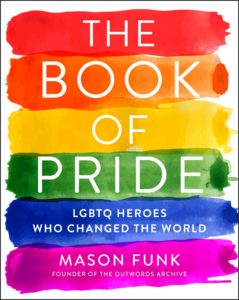 The Book of Pride: LGBTQ Heroes Who Changed The World by Mason Funk
"The testimonies in The Book of Pride were collected by the OUTWORDS Archive, the first project to crisscross America recording high-definition interviews reflecting the full diversity of the LGBTQ community…Captures the true story of the LGBTQ civil rights movement from the 1960s to the present through richly detailed, stunning interviews with the leaders, activists, and ordinary people who witnessed the revolution and made it happen"–Page 2 of cover.
Available Formats: Book
---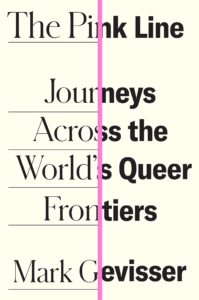 The Pink Line: Journeys Across the World's Queer Frontiers by Mark Gevisser
"More than seven years in the making, Mark Gevisser's The Pink Line: Journeys Across the World's Queer Frontiers is an exploration of how the conversation around sexual orientation and gender identity has come to divide—and describe—the world in an entirely new way over the first two decades of the twenty-first century. No social movement has brought change so quickly and with such dramatically mixed results. While same-sex marriage and gender transition are celebrated in some parts of the world, laws are being strengthened to criminalize homosexuality and gender nonconformity in others. As new globalized queer identities are adopted by people across the world—thanks to the digital revolution—fresh culture wars have emerged. A new Pink Line, Gevisser argues, has been drawn across the globe, and he takes readers to its frontiers." – Provided by Publisher
Available Formats: Book
---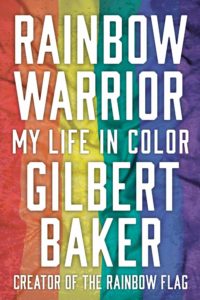 Rainbow Warrior: My Life in Color by Gilbert Baker
"The never-published memoir of the visual artist and social justice activist who created the Rainbow Flag, which became an international emblem of the modern LGBTQ+ movement"– Provided by publisher.
Available Formats: Book
---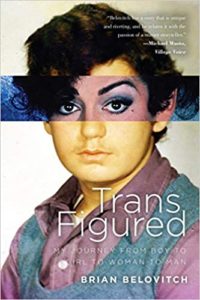 Trans Figured: My Journey from Boy to Girl to Woman to Man by Brian Belovitch
"Imagine experiencing life not as the gender dictated by birth but as one of your own design. In Trans Figured, Brian Belovitch shares his true story of life as a gender outlier and his dramatic journey through the jungle of gender identity.
Brian has the rare distinction of coming out three times: first as a queer teenager; second as a glamorous transgender woman named Tish, and later, Natalia Gervais; and finally as an HIV-positive gay man surviving the AIDS crisis in the 1980s. From growing up in a barely-working-class first-generation immigrant family in Fall River, Massachusetts, to spinning across the disco dance floor of Studio 54 in New York City . . . from falling into military lock-step as the Army wife of a domineering GI in Germany to having a brush with fame as Natalia, high-flying downtown darling of the boozy and druggy pre-Giuliani New York nightclub scene, Brian escaped many near-death experiences.
Trans Figured chronicles a life lived on the edge with an unforgettable cast of characters during a dangerous and chaotic era. Rich with drama and excitement, this no-holds-barred memoir tells it all. Most importantly, Brian's candid and poignant story of recovery shines a light on the perseverance of the human spirit." – Provided by Publisher
Available Formats: Book, eBook
---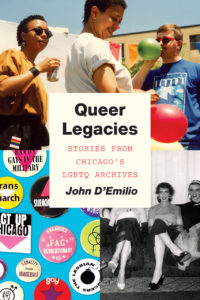 Queer Legacies: Stories from Chicago's LGBTQ Archives by John D'Emilio
"There is no single archive of gay life in Chicago. But since 1981, the Gerbert-Hart Library and Archives has been collecting records of lesbian, gay, bisexual, transgender, and queer-identified individuals and organizations. In this book, legendary scholar John D'Emilio draws on those archives to illuminate the scope of people and groups that literally made history. These include publishers, lawyers, athletes, artists, performers, transvestites, bisexuals, and Latinx organizers, to name a few overlapping constituencies. They also include institutions like Dignity, long the primary organization giving voice to LGBTQ Catholics, as well as the Gay Academic Union. In that last case, D'Emilio takes the first steps toward a full history of how scholarly research, writing, and teaching developed and how a visible LGBTQ presence became institutionalized in American higher education. D'Emilio's casual and enthusiastic essays range from politics to culture, from social life to institutions. And though the milieu is Chicago, many of the essays reach beyond to illuminate national events. Overall, this is a kaleidoscopic look at the diverse flavors of organizing and community-making that have been pursued by gay men and women over the decades"– Provided by publisher.
Available Formats: Book
---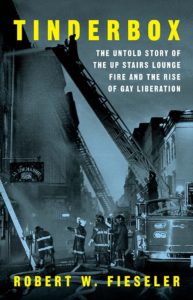 Tinderbox: The Untold Story of the Up Stairs Lounge Fire and the Rise of Gay Liberation by Robert W. Fieseler
"An essential work of American civil rights history, Tinderbox mesmerizingly reconstructs the 1973 fire that devastated New Orleans' subterranean gay community. Buried for decades, the Up Stairs Lounge tragedy has only recently emerged as a catalyzing event of the gay liberation movement. In revelatory detail, Robert W. Fieseler chronicles the tragic event that claimed the lives of thirty-one men and one woman on June 24, 1973, at a New Orleans bar, the largest mass murder of gays until 2016. Relying on unprecedented access to survivors and archives, Fieseler creates an indelible portrait of a closeted, blue-collar gay world that flourished before an arsonist ignited an inferno that destroyed an entire community. The aftermath was no less traumatic–families ashamed to claim loved ones, the Catholic Church refusing proper burial rights, the city impervious to the survivors' needs–revealing a world of toxic prejudice that thrived well past Stonewall. Yet the impassioned activism that followed proved essential to the emergence of a fledgling gay movement. Tinderbox restores honor to a forgotten generation of civil-rights martyrs." – Provided by Publisher
Available Formats: Book
---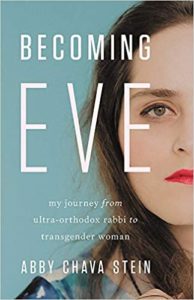 Becoming Eve: My Journey from Ultra-Orthodox Rabbi to Transgender Woman by Abby Stein
"Abby Stein was raised in a Hasidic Jewish community in Brooklyn, profoundly isolated in a culture that lives according to the laws and practices of an eighteenth-century Eastern European enclave, speaking only Yiddish and Hebrew and shunning modern life. Stein was born as the first son in a rabbinical dynastic family, poised to become a leader of the next generation of Hasidic Jews. But Stein felt certain at a young age that she was a girl. Without access to TV or the internet, and never taught English, she suppressed her desire for a new body while looking for answers wherever she could find them, from forbidden religious texts to smuggled secular examinations of faith. Finally, she orchestrated a personal exodus from ultra-Orthodox manhood into mainstream femininity–a radical choice that forced her to leave her home, her family, and her way of life"– Provided by publisher.
Available Formats: Book
---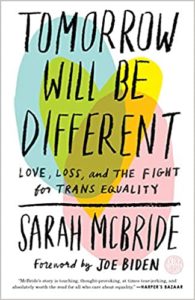 Tomorrow Will Be Different: Love, Loss, and the Fight for Trans Equality by Sarah McBride
"A captivating memoir that will change the way we look at identity and equality in this country. Before she became the first transgender person to speak at a national political convention in 2016 at the age of twenty-six, Sarah McBride struggled with the decision to come out–not just to her family but to the students of American University, where she was serving as student body president. She'd known she was a girl from her earliest memories, but it wasn't until the Facebook post announcing her truth went viral that she realized just how much impact her story could have on the country. Four years later, McBride was one of the nation's most prominent transgender activists, walking the halls of the White House, advocating inclusive legislation, and addressing the country in the midst of a heated presidential election. She had also found her first love and future husband, Andy, a trans man and fellow activist, who complemented her in every way … until cancer tragically intervened. Informative, heartbreaking, and profoundly empowering, Tomorrow Will Be Different is McBride's story of love and loss and a powerful entry point into the LGBTQ community's battle for equal rights and what it means to be openly transgender. From issues like bathroom access to health care to gender in America, McBride weaves the important political and cultural milestones into a personal journey that will open hearts and change minds. As McBride urges: 'We must never be a country that says there's only one way to love, only one way to look, and only one way to live.' The fight for equality and freedom has only just begun"–Dust jacket.
Available Formats: Book
---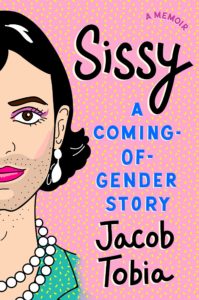 Sissy: A Coming-of-Gender Story by Jacob Tobia
"As a young child in North Carolina, Jacob Tobia wasn't the wrong gender, they just had too much of the stuff. Barbies? Yes. Playing with bugs? Absolutely. Getting muddy? Please. Princess dresses? You betcha. Jacob wanted it all, but because they were "a boy," they were told they could only have the masculine half. Acting feminine labelled them "a sissy" and brought social isolation.
It took Jacob years to discover that being "a sissy" isn't something to be ashamed of. It's a source of pride. Following Jacob through bullying and beauty contests, from Duke University to the United Nations to the podiums of the Methodist church–not to mention the parlors of the White House–this unforgettable memoir contains multitudes. A deeply personal story of trauma and healing, a powerful reflection on gender and self-acceptance, and a hilarious guidebook for wearing tacky clip-on earrings in today's world, Sissy guarantees you'll never think about gender–both other people's and your own–the same way again." – Provided by Publisher
Available Formats: Book
---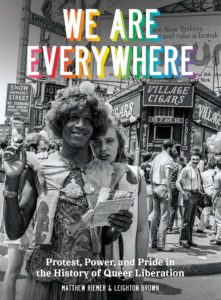 We Are Everywhere: Protest, Power, and Pride in the History of Queer Liberation by Leighton Brown and Matthew Riemer
"Through the lenses of protest, power, and pride, We Are Everywhere is an essential and empowering introduction to the history of the fight for queer liberation. Combining exhaustively researched narrative with meticulously curated photographs, the book traces queer activism from its roots in late-nineteenth-century Europe–long before the pivotal Stonewall Riots of 1969–to the gender warriors leading the charge today. Featuring more than 300 images from more than seventy photographers and twenty archives, this inclusive and intersectional book enables us to truly see queer history unlike anything before, with glimpses of activism in the decades preceding and following Stonewall, family life, marches, protests, celebrations, mourning, and Pride. By challenging many of the assumptions that dominate mainstream LGBTQ+ history, We Are Everywhere shows readers how they can–and must–honor the queer past in order to shape our liberated future." – Provided by Publisher
Available Formats: Book
---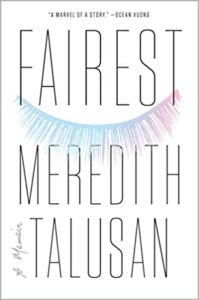 Fairest: A Memoir by Meredith Talusan
"Fairest is a memoir about a precocious boy with albinism, a "sun child" from a rural Philippine village, who would grow up to become a woman in America. Coping with the strain of parental neglect and the elusive promise of U.S. citizenship, Talusan found childhood comfort from her devoted grandmother, a grounding force as she was treated by others with special preference or public curiosity. As an immigrant to the United States, Talusan came to be perceived as white. An academic scholarship to Harvard provided access to elite circles of privilege but required Talusan to navigate through the complex spheres of race, class, sexuality, and her place within the gay community. She emerged as an artist and an activist questioning the boundaries of gender. Talusan realized she did not want to be confined to a prescribed role as a man, and transitioned to become a woman, despite the risk of losing a man she deeply loved. Throughout her journey, Talusan shares poignant and powerful episodes of desirability and love that will remind readers of works such as Call Me By Your Name and Giovanni's Room. Her evocative reflections will shift our own perceptions of love, identity, gender, and the fairness of life." – Provided by Publisher
Available Formats: Book
---
Boy Erased: A Memoir by Garrard Conley
"The son of a Baptist pastor and deeply embedded in church life in small town Arkansas, as a young man Garrard Conley was terrified and conflicted about his sexuality. When Garrard was a nineteen-year-old college student, he was outed to his parents, and was forced to make a life-changing decision: either agree to attend a church-supported conversion therapy program that promised to "cure" him of homosexuality; or risk losing family, friends, and the God he had prayed to every day of his life. Through an institutionalized Twelve-Step Program heavy on Bible study, he was supposed to emerge heterosexual, ex-gay, cleansed of impure urges and stronger in his faith in God for his brush with sin. Instead, even when faced with a harrowing and brutal journey, Garrard found the strength and understanding to break out in search of his true self and forgiveness. By confronting his buried past and the burden of a life lived in shadow, Garrard traces the complex relationships among family, faith, and community. At times heart-breaking, at times triumphant, this memoir is a testament to love that survives despite all odds."– Publisher's website.
Available Formats:Book, Audiobook, eBook
---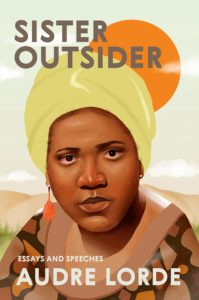 Sister Outsider: Essays and Speeches by Audre Lorde
"In this charged collection of fifteen essays and speeches, Lorde takes on sexism, racism, ageism, homophobia, and class, and propounds social difference as a vehicle for action and change. Her prose is incisive, unflinching, and lyrical, reflecting struggle but ultimately offering messages of hope. This commemorative edition includes a new foreword by Lorde-scholar and poet Cheryl Clarke, who celebrates the ways in which Lorde's philosophies resonate more than twenty years after they were first published. " – Provided by Publisher
Available Formats:Book
---
We love helping people find books, movies, and more.
Tell us about your preferences, and our librarians will create a list of titles selected specifically for you.