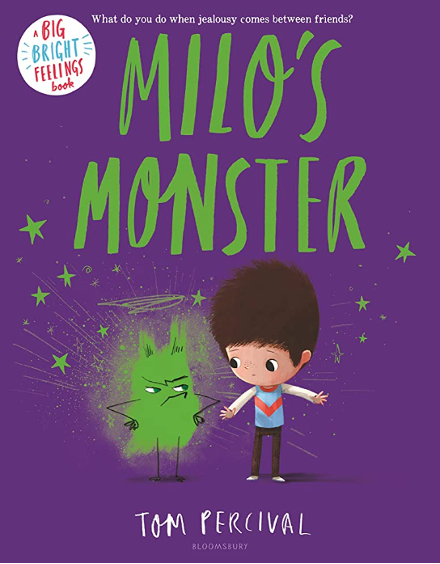 The latest in the Big Bright Feelings series by Tom Percival deals with the feelings of jealousy.
Milo and his best friend Jay were always together but when the new neighbor Suzi moves in, things start to change. Jay and Suzi play and laugh together, and Milo feels left out. Milo develops a weird, squirmy feeling inside that turns into a little green monster. The monster invades Milo's thoughts and makes him feel angry, sad, and isolated. Eventually, Suzi helps Milo overcome his jealousy by asking him to open up about his feelings. Milo learns how to quiet his jealousy monster and becomes friends with Jay and Suzy.
This picture book can help kids identify and name their feelings. The book also includes tips at the end for how to handle these difficult feelings. Check out the other books in the Big Bright Feelings series by Tom Percival which address a range of social emotional topics such as worry, anger, friendship, differences, and change.
We love helping people find books, movies, and more.
Tell us about your preferences, and our librarians will create a list of titles selected specifically for you.