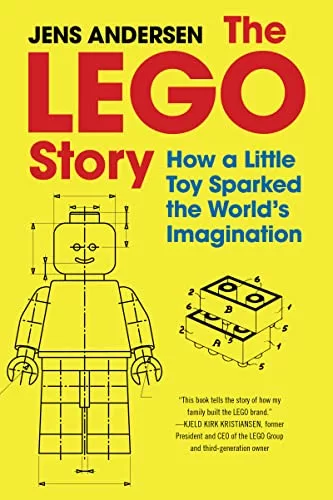 From character mini figs to the 7,541 piece Millennium Falcon, LEGO has something for everyone!
The Danish toy company was not always the well-known brand it is today. Going through many trials and tribulations over the course of its developing years, including multiple factory fires and the loss of his wife, founder Ole Kirk Kristiansen never gave up on the idea that play is important. So much so that he named his company after the Danish words leg godt meaning "play well". What started out as wooden cars and yoyos during the Great Depression became plastic bricks that became theme parks, movie franchises, and play for people of all ages around the world.
As a LEGO fanatic, reading The LEGO Story was like diving into family stories that you had heard about, but never quite knew all the details to. Written with intermittent anecdotes from Kjeld Kirk Kristiansen, former President and CEO of the LEGO Group and grandson of its founder, this is the most personal LEGO history book out there! The never-before-seen pictures from the family's private collection add a special touch to an already incredible story. From old advertisements showcasing collaborations with McDonald's to the behind the scenes photos of workers in the original factories, each layer of the story is carefully constructed.
The structure of the book is broken down by decade and by a milestone in the company's history. For example, "Turning Point, The Early 2000s" chronicles the start of the long process for the LEGO group to change its patriarchal foundation after appointing a woman as executive vice president in 2006, the first time in the company's seventy-years in existence that a woman was hired for the boardroom. Piece by piece, the company continues to strive for more representation in its staff and with its toys.
There is an astonishing amount of information in this 409 page book from award-winning author Jens Andersen! Adult LEGO fans and collectors will be left in excited anticipation of what ideas the company will have before it's 100th anniversary.
We love helping people find books, movies, and more.
Tell us about your preferences, and our librarians will create a list of titles selected specifically for you.