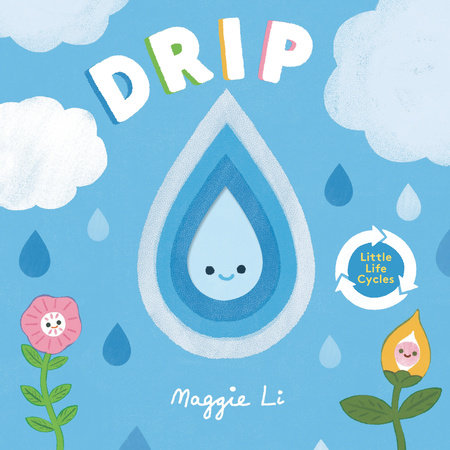 Even the youngest child can begin to learn the important scientific concept of the water cycle with this beautifully illustrated board book. The story opens with a sad little gardener whose flowers are longing for water. Unfortunately, only one drip of water comes out of the faucet. Drip follows the solitary drop of water from a faucet, down the drain, through the pipes, into the river, and all the way to the ocean. The concept of evaporation is introduced, although not named, when the sun warms the ocean and drip rises up with other drops to become a cloud, and the water cycle continues on. Fortunately, the cloud is blown all the way back to the little gardener and their flowers.
The colorful and cheerful illustrations, along with a drip-shaped die cut throughout the book, enchant the youngest listener. The factual information contained in short, simple sentences interests the older toddler and preschooler. A close look at illustrations that contain interesting details can inspire the reader to wonder how that set of keys ended up in the pipes! This is a great book for the young child who has many questions about how the natural world works.
We love helping people find books, movies, and more.
Tell us about your preferences, and our librarians will create a list of titles selected specifically for you.