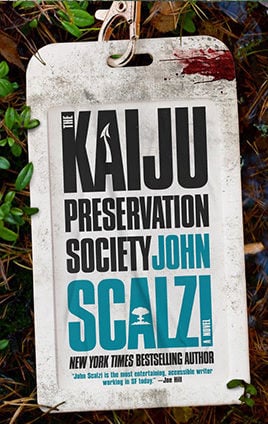 When COVID-19 sweeps through New York City, Jamie Gray is stuck as a dead-end food delivery driver. That is, until Jamie makes a delivery to an old acquaintance, Tom. Tom works for what he calls "an animal rights organization" and his team needs a last-minute grunt to handle things on their next field visit. Jamie, eager to do anything, immediately signs on. What Tom doesn't tell Jamie is that the animals his team cares for are not here on Earth. Well, not our Earth, anyways. In an alternate dimension, massive dinosaur-like creatures named Kaiju roam a warm, human-free world. They're the universe's largest and most dangerous panda and they're in trouble. It's not just the Kaiju Preservation Society who have found their way to the alternate world. Others have, too. And their carelessness could cause millions back on our Earth to die.
In the author's note John Scalzi has, in my opinion, the perfect encapsulation of why I loved this book. He says, "KPS is not, and I say this with absolutely no slight intended, a brooding symphony of a novel. It's a pop song. It's meant to be light and catchy, with three minutes of hooks and choruses for you to sing along with, and then you're done and you go on with your day, hopefully with a smile on your face." 
This book is everything that I love about old-school kaiju movies. The good guys save the day, the villains get some comeuppance, and some really big monsters stomp around and say RAWR. 
KPS is perfect for readers who enjoy sci-fi and monsters and just want to have a good, fun romp through an alternate dimension. The characters are entertaining, the monsters are nifty, and there's just enough conflict and attempted world domination to keep the plot moving along at a nice pace. A quick read that's sure to leave you satisfied. 
Perfect for fans of All Systems Red by Martha Wells, the InCryptid series by Seanan McGuire, A Long Way to a Small Angry Planet by Becky Chambers, Stardust by Neil Gaiman, and Year Zero by Rob Reid. 
We love helping people find books, movies, and more.
Tell us about your preferences, and our librarians will create a list of titles selected specifically for you.