The #ownvoices hashtag was created by author Corinne Duyvis to spotlight books about characters with marginalized identities created by authors who share the same marginalized identity (or identities). The character and creator may share a common disability, sexuality, gender identity, race, immigration status, or other identity. We hope these selections serve to educate and encourage a dialogue on topics of representation, as well as provide a starting point for readers seeking stories written from an "own voices" perspective.
---
Black Cake by Charmaine Wilkerson
"In present-day California, Eleanor Bennett's death leaves behind a puzzling inheritance for her two children, Byron and Benny: a black cake, made from a family recipe with a long history, and a voice recording. In her message, Eleanor shares a tumultuous story about a headstrong young swimmer who escapes her island home under suspicion of murder. The heartbreaking tale Eleanor unfolds, the secrets she still holds back, and the mystery of a long-lost child challenge everything the siblings thought they knew about their lineage and themselves. Can Byron and Benny reclaim their once-close relationship, piece together Eleanor's true history, and fulfill her final request to "share the black cake when the time is right"? Will their mother's revelations bring them back together or leave them feeling more lost than ever? Charmaine Wilkerson's debut novel is a story of how the inheritance of betrayals, secrets, memories, and even names can shape relationships and history. Deeply evocative and beautifully written, Black Cake is an extraordinary journey through the life of a family changed forever by the choices of its matriarch."
Available Formats: Book, eBook
---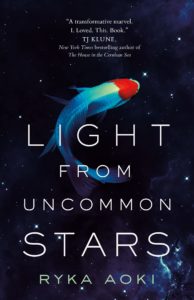 Light from Uncommon Stars by Ryka Aoki
" Shizuka Satomi made a deal with the devil: to escape damnation, she must entice seven other violin prodigies to trade their souls for success. She has already delivered six. When Katrina Nguyen, a young transgender runaway, catches Shizuka's ear with her wild talent, Shizuka can almost feel the curse lifting. She's found her final candidate. But in a donut shop off a bustling highway in the San Gabriel Valley, Shizuka meets Lan Tran, retired starship captain, interstellar refugee, and mother of four. Shizuka doesn't have time for crushes or coffee dates, what with her very soul on the line, but Lan's kind smile and eyes like stars might just redefine a soul's worth. And maybe something as small as a warm donut is powerful enough to break a curse as vast as the California coastline. As the lives of these three women become entangled by chance and fate, a story of magic, identity, curses, and hope begins, and a family worth crossing the universe for is found."
Available Formats: Book, eBook
---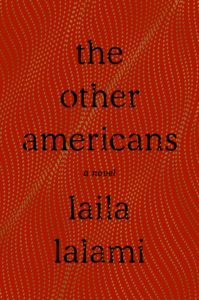 The Other Americans by Laila Lalami
"Late one spring night in California, Driss Guerraoui–father, husband, business owner, Moroccan immigrant–is hit and killed by a speeding car. The aftermath of his death brings together a diverse cast of characters: Guerraoui's daughter Nora, a jazz composer returning to the small town in the Mojave she thought she'd left for good; her mother, Maryam, who still pines for her life in the old country; Efraín, an undocumented witness whose fear of deportation prevents him from coming forward; Jeremy, an old friend of Nora's and an Iraqi War veteran; Coleman, a detective who is slowly discovering her son's secrets; Anderson, a neighbor trying to reconnect with his family; and the murdered man himself. As the characters–deeply divided by race, religion, and class–tell their stories, each in their own voice, connections among them emerge. Driss's family confronts its secrets, a town faces its hypocrisies, and love–messy and unpredictable–is born. Timely, riveting, and unforgettable, The Other Americans is at once a family saga, a murder mystery, and a love story informed by the treacherous fault lines of American culture."
Available Formats: Book
---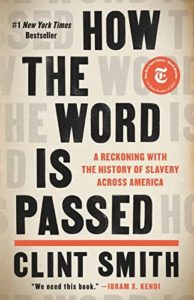 How the Word Is Passed: A Reckoning with the History of Slavery Across America by Clint Smith
"his compelling #1 New York Times bestseller examines the legacy of slavery in America–and how both history and memory continue to shape our everyday lives. Beginning in his hometown of New Orleans, Clint Smith leads the reader on an unforgettable tour of monuments and landmarks–those that are honest about the past and those that are not–that offer an intergenerational story of how slavery has been central in shaping our nation's collective history, and ourselves. It is the story of the Monticello Plantation in Virginia, the estate where Thomas Jefferson wrote letters espousing the urgent need for liberty while enslaving more than four hundred people. It is the story of the Whitney Plantation, one of the only former plantations devoted to preserving the experience of the enslaved people whose lives and work sustained it. It is the story of Angola, a former plantation-turned-maximum-security prison in Louisiana that is filled with Black men who work across the 18,000-acre land for virtually no pay. And it is the story of Blandford Cemetery, the final resting place of tens of thousands of Confederate soldiers. A deeply researched and transporting exploration of the legacy of slavery and its imprint on centuries of American history, How the Word Is Passed illustrates how some of our country's most essential stories are hidden in plain view–whether in places we might drive by on our way to work, holidays such as Juneteenth, or entire neighborhoods like downtown Manhattan, where the brutal history of the trade in enslaved men, women, and children has been deeply imprinted. Informed by scholarship and brought to life by the story of people living today, Smith's debut work of nonfiction is a landmark of reflection and insight that offers a new understanding of the hopeful role that memory and history can play in making sense of our country and how it has come to be."
Available Formats: Book, Audiobook, eBook, eAudiobook
---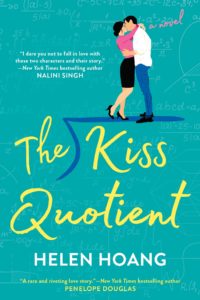 The Kiss Quotient by Helen Hoang
" A heartwarming and refreshing debut novel that proves one thing: there's not enough data in the world to predict what will make your heart tick. Stella Lane thinks math is the only thing that unites the universe. She comes up with algorithms to predict customer purchases–a job that has given her more money than she knows what to do with, and way less experience in the dating department than the average thirty-year-old. It doesn't help that Stella has Asperger's and French kissing reminds her of a shark getting its teeth cleaned by pilot fish. Her conclusion: she needs lots of practice–with a professional. Which is why she hires escort Michael Phan. The Vietnamese and Swedish stunner can't afford to turn down Stella's offer, and agrees to help her check off all the boxes on her lesson plan–from foreplay to more-than-missionary position… Before long, Stella not only learns to appreciate his kisses, but crave all of the other things he's making her feel. Their no-nonsense partnership starts making a strange kind of sense. And the pattern that emerges will convince Stella that love is the best kind of logic…"
Available Formats: Book, Audiobook, eBook, eAudiobook
---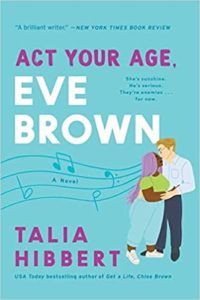 Act Your Age, Eve Brown by Tallia Hibbert
"Eve Brown is a certified hot mess. No matter how hard she strives to do right, her life always goes horribly wrong. So she's given up trying. But when her personal brand of chaos ruins an expensive wedding (someone had to liberate those poor doves), her parents draw the line. It's time for Eve to grow up and prove herself–even though she's not entirely sure how…
Jacob Wayne is in control. Always. The bed and breakfast owner's on a mission to dominate the hospitality industry and he expects nothing less than perfection. So when a purple-haired tornado of a woman turns up out of the blue to interview for his open chef position, he tells her the brutal truth: not a chance in hell. Then she hits him with her car–supposedly by accident. Yeah, right.
Now his arm is broken, his B&B is understaffed, and the dangerously unpredictable Eve is fluttering around, trying to help. Before long, she's infiltrated his work, his kitchen–and his spare bedroom. Jacob hates everything about it. Or rather, he should. Sunny, chaotic Eve is his natural-born nemesis, but the longer these two enemies spend in close quarters, the more their animosity turns into something else. Like Eve, the heat between them is impossible to ignore… and it's melting Jacob's frosty exterior."
Available Formats: Book, Audiobook, eBook, eAudiobook
---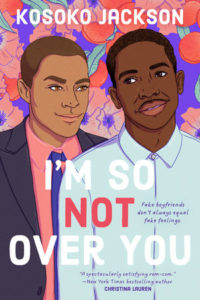 I'm So Not Over You by Kosoko Jackson
"It's been months since aspiring journalist Kian Andrews has heard from his ex-boyfriend, Hudson Rivers, but an urgent text has them meeting at a cafe. Hudson has a favour to ask – he wants Kian to pretend to be his boyfriend while his parents are in town, and Kian reluctantly agrees. The dinner doesn't go exactly as planned, and suddenly Kian is Hudson's plus one to Georgia's wedding of the season. Soon their fake relationship is starting to feel like it might be more than a means to an end, and it's time for both men to fact-check their feelings."
Available Formats: Book, eBook
---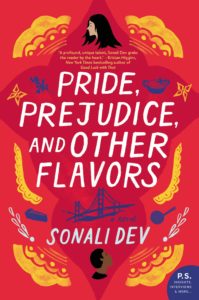 Pride Prejudice and Other Flavors by Sonali Dev
"It is a truth universally acknowledged that only in an overachieving Indian American family can a genius daughter be considered a black sheep.
Dr. Trisha Raje is San Francisco's most acclaimed neurosurgeon. But that's not enough for the Rajes, her influential immigrant family who's achieved power by making its own non-negotiable rules:
· Never trust an outsider
· Never do anything to jeopardize your brother's political aspirations
· And never, ever, defy your family
Trisha is guilty of breaking all three rules. But now she has a chance to redeem herself. So long as she doesn't repeat old mistakes.
Up-and-coming chef DJ Caine has known people like Trisha before, people who judge him by his rough beginnings and place pedigree above character. He needs the lucrative job the Rajes offer, but he values his pride too much to indulge Trisha's arrogance. And then he discovers that she's the only surgeon who can save his sister's life.
As the two clash, their assumptions crumble like the spun sugar on one of DJ's stunning desserts. But before a future can be savored there's a past to be reckoned with…
A family trying to build home in a new land.
A man who has never felt at home anywhere.
And a choice to be made between the two."
Available Formats: Book, Audiobook, eBook, eAudiobook
---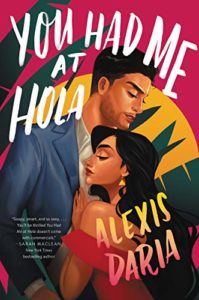 You Had Me At Hola by Alexis Daria
"Leading Ladies do not end up on tabloid covers.
After a messy public breakup, soap opera darling Jasmine Lin Rodriguez finds her face splashed across the tabloids. When she returns to her hometown of New York City to film the starring role in a bilingual romantic comedy for the number one streaming service in the country, Jasmine figures her new "Leading Lady Plan" should be easy enough to follow–until a casting shake-up pairs her with telenovela hunk Ashton Suárez.
Leading Ladies don't need a man to be happy.
After his last telenovela character was killed off, Ashton is worried his career is dead as well. Joining this new cast as a last-minute addition will give him the chance to show off his acting chops to American audiences and ping the radar of Hollywood casting agents. To make it work, he'll need to generate smoking-hot on-screen chemistry with Jasmine. Easier said than done, especially when a disastrous first impression smothers the embers of whatever sexual heat they might have had.
Leading Ladies do not rebound with their new costars.
With their careers on the line, Jasmine and Ashton agree to rehearse in private. But rehearsal leads to kissing, and kissing leads to a behind-the-scenes romance worthy of a soap opera. While their on-screen performance improves, the media spotlight on Jasmine soon threatens to destroy her new image and expose Ashton's most closely guarded secret."
Available Formats: Book, Audiobook, eBook, eAudiobook
---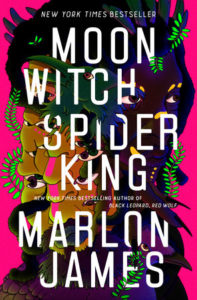 Moon Witch, Spider King by Marlon James
" In Black Leopard, Red Wolf , Sogolon the Moon Witch proved a worthy adversary to Tracker as they clashed across a mythical African landscape in search of a mysterious boy who disappeared. In Moon Witch, Spider King , Sogolon takes center stage and gives her own account of what happened to the boy, and how she plotted and fought, triumphed and failed as she looked for him. It's also the story of a century-long feud–seen through the eyes of a 177-year-old witch–that Sogolon had with the Aesi, chancellor to the king. It is said that Aesi works so closely with the king that together they are like the eight limbs of one spider. Aesi's power is considerable–and deadly. It takes brains and courage to challenge him, which Sogolon does for reasons of her own. Both a brilliant narrative device–seeing the story told in Black Leopard, Red Wolf from the perspective of an adversary and a woman–as well as a fascinating battle between different versions of empire, Moon Witch, Spider King delves into Sogolon's world as she fights to tell her own story. Part adventure tale, part chronicle of an indomitable woman who bows to no man, it is a fascinating novel that explores power, personality, and the places where they overlap."
Available Formats: Book, Audiobook, eBook, eAudiobook
---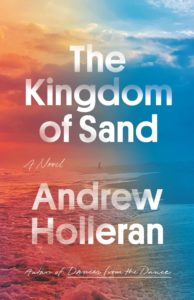 The Kingdom of Sand by Andrew Holleran
"The Kingdom of Sand is a poignant tale of desire and dread―Andrew Holleran's first new book in sixteen years. The nameless narrator is a gay man who moved to Florida to look after his aging parents―during the height of the AIDS epidemic―and has found himself unable to leave after their deaths. With gallows humor, he chronicles the indignities of growing old in a small town.
At the heart of the novel is the story of his friendship with Earl, whom he met cruising at the local boat ramp. For the last twenty years, he has been visiting Earl to watch classic films together and critique the neighbors. Earl is the only person in town with whom he can truly be himself. Now Earl's health is failing, and our increasingly misanthropic narrator must contend with the fact that once Earl dies, he will be completely alone. He distracts himself with sexual encounters at the video porn store and visits to Walgreens. All the while, he shares reflections on illness and death that are at once funny and heartbreaking.
Holleran's first novel, Dancer from the Dance, is widely regarded as a classic work of gay literature. Reviewers have described his subsequent books as beautiful, exhilarating, seductive, haunting, and bold. The Kingdom of Sand displays all of Holleran's considerable gifts; it's an elegy to sex and a stunningly honest exploration of loneliness and the endless need for human connection, especially as we count down our days."
Available Formats: Book
---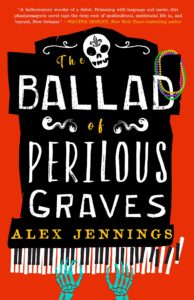 The Ballad of Perilous Graves by Alex Jennings
"Nola is a city full of wonders. A place of sky trolleys and dead cabs, where haints dance the night away and Wise Women help keep the order. To those from Away, Nola might seem strange. To Perilous Graves, it's simply home.
In a world of everyday miracles, Perry might not have a talent for magic, but he does know Nola's rhythm as intimately as his own heartbeat. So when the city's Great Magician starts appearing in odd places and essential songs are forgotten, Perry realizes trouble is afoot.
Nine songs of power have escaped from the piano that maintains the city's beat, and without them, Nola will fail. Unwilling to watch his home be destroyed, Perry will sacrifice everything to save it. But a storm is brewing, and the Haint of All Haints is awake. Nola's time might be coming to an end."
Available Formats: Book
---
We love helping people find books, movies, and more.
Tell us about your preferences, and our librarians will create a list of titles selected specifically for you.