Celebrate Pride Month with this collection of stories from and about LGBTQ+ community members.
---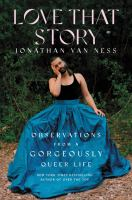 "This follow-up to the wildly successful Over the Top features thoughtful essays in Jonathan Van Ness's signature voice, with topics including body positivity, healing and grief, personal style, tales from the hair salon, overcoming imposter syndrome, and issues surrounding systemic racism, cannabis reform, LGBTQ rights and HIV/AIDS awareness.
In this candid and curious essay collection, Jonathan takes a thoughtful, in-depth look at timely topics through the lens of his own personal experience–instances that have required him to learn, grow, and back handspring layout to a better understanding of the world around him. He dives deeply and widely–from a poignant reflection on grief and embracing body neutrality to an examination of the HIV safety net and white privilege–to share the ways in which he has learned to embrace change. These stories speak to doing the work to challenge internalized beliefs, finding compassion and confidence, and learning more about what makes us all so messy and gorgeous." – Provided by publisher.
Available format(s): Book, eBook
---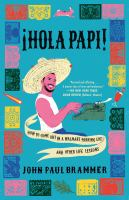 "The first time someone called John Paul (JP) Brammer "Papi" was on the gay hookup app Grindr. At first, it was flattering; JP took this as white-guy speak for "hey, handsome." But then it happened again and again…and again, leaving JP wondering: Who the hell is Papi? Soon, this racialized moniker became the inspiration for his now wildly popular advice column "¡Hola Papi!," launching his career as the Cheryl Strayed for young queer people everywhere–and some straight people too. JP had his doubts at first–what advice could he really offer while he himself stumbled through his early twenties? Sometimes the best advice comes from looking within, which is what JP does in his column and book–and readers have flocked to him for honest, heartfelt wisdom, and more than a few laughs.
In this hilarious, tenderhearted book, JP shares his story of growing up biracial and in the closet in America's heartland, while attempting to answer some of life's most challenging questions: How do I let go of the past? How do I become the person I want to be? Is there such a thing as being too gay ? Should I hook up with my grade school bully now that he's out of the closet? Questions we've all asked ourselves, surely. ¡Hola Papi! is "a warm, witty compendium of hard-won life lessons," ( Harper's Bazaar ) for anyone–gay, straight, and everything in between–who has ever taken stock of their unique place in the world." – Provided by publisher.
Available format: eAudiobook
---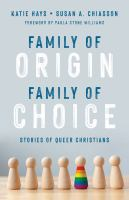 "First-person testimonies from LGBTQ+ Christians about coming out and navigating their family dynamics
What happens in a family when one member comes out? How does LGBTQ+ identity affect relationships with parents and grandparents, siblings and cousins? What does Christian love require and make possible for families moving forward together? A social scientist and a pastor, both from Galileo Church on the outskirts of Fort Worth, Texas, asked their LGBTQ+ friends from church to help them understand how they navigate relationships with their affirming, non-affirming, and affirming- ish families of origin, even as they also find belonging in other families of choice. The resulting stories, crafted from interviews with fifteen queer Christians and family members, kept anonymous at their request, are as varied as the colors of the rainbow. Over the years, some grew closer to their families of origin; others grew more distant. Some were surprised by the hardness of heart they encountered; others were amazed by the breadth of their family's love. Most all describe a trajectory, a journey, from the coming-out moment till now and beyond, as their families of origin, like all families, remain a work in progress." – Provided by publisher.
Available format(s): Book, eBook
---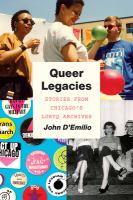 "The variety of LGBTQ life in Chicago is too abundant and too diverse to be contained in a single place. But since 1981, the Gerber/Hart Library and Archives has striven to do just that, amassing a wealth of records related to the city's gay, lesbian, bisexual, transgender, and queer-identified people and organizations. In Queer Legacies , John D'Emilio–a pioneering scholar in the field–digs deep into Gerber/Hart's collection to unearth a kaleidoscopic look at the communities built by generations of LGBTQ people. Excavated from one of the country's most important, yet overlooked, LGBTQ archives, D'Emilio's entertaining and enthusiastic essays range in focus from politics and culture to social life, academia, and religion. He gives readers an inclusive and personal look at fifty years of a national fight for visibility, recognition, and equality led by LGBTQ Americans who, quite literally, made history. In these troubled times, it will surely inspire a new generation of scholars and activists." -Provided by publisher.
Available format: Book
---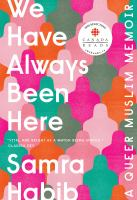 "Samra Habib has spent most of her life searching for the safety to be herself. The men in her life wanted to police her, the women had only shown her the example of pious obedience, and her body was a problem to be solved. A triumphant memoir of forgiveness and family, both chosen and not, We Have Always Been Here is a rallying cry for anyone who has ever felt out of place and a testament to the power of fearlessly inhabiting one's truest self." – Provided by publisher.
Available format: Book
---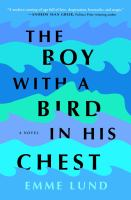 "Perfect for fans of The Perks of Being a Wallflower and The Thirty Names of Night .
Though Owen Tanner has never met anyone else who has a chatty bird in their chest, medical forums would call him a Terror. From the moment Gail emerged between Owen's ribs, his mother knew that she had to hide him away from the world. After a decade spent in hiding, Owen takes a brazen trip outdoors in the middle of a forest fire, and his life is upended forever. Suddenly, Owen is forced to flee the home that had once felt so confining and hide in plain sight with his uncle and cousin in Washington. There, he feels the joy of finding a family among friends; of sharing the bird in his chest and being embraced fully; of falling in love and feeling the devastating heartbreak of rejection before finding a spark of happiness in the most unexpected place; of living his truth regardless of how hard the thieves of joy may try to tear him down. But the threat of the Army of Acronyms is a constant, looming presence, making Owen wonder if he'll ever find a way out of the cycle of fear.
A heartbreaking yet hopeful novel about the things that make us unique and lovable, The Boy with a Bird in His Chest grapples with the fear, depression, and feelings of isolation that come with believing that we will never be loved, let alone accepted, for who we truly are, and learning to live fully and openly regardless." – Provided by publisher.
Available format: Book
---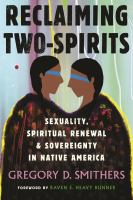 "A sweeping history of Indigenous traditions of gender, sexuality, and resistance that reveals how, despite centuries of colonialism, Two-Spirit people are reclaiming their place in Native nations. Reclaiming Two – Spirits decolonizes the history of gender and sexuality in Native North America. It honors the generations of Indigenous people who had the foresight to take essential aspects of their cultural life and spiritual beliefs underground in order to save them.
Before 1492, hundreds of Indigenous communities across North America included people who identified as neither male nor female, but both. They went by aakíí'skassi , miati , okitcitakwe , or one of hundreds of other tribally specific identities. After European colonizers invaded Indian Country, centuries of violence and systematic persecution followed, imperiling the existence of people who today call themselves Two-Spirits, an umbrella term denoting feminine and masculine qualities in one person. Drawing on written sources, archaeological evidence, art, and oral storytelling, Reclaiming Two-Spirits spans the centuries from Spanish invasion to the present, tracing massacres and inquisitions and revealing how the authors of colonialism's written archives used language to both denigrate and erase Two-Spirit people from history. But as Gregory Smithers shows, the colonizers failed–and Indigenous resistance is core to this story.
Reclaiming Two-Spirits amplifies their voices, reconnecting their history to Native nations in the 21st century." – Provided by publisher.
Available format: Book
---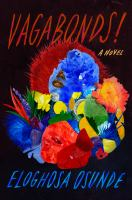 "In the bustling streets and cloistered homes of Lagos, a cast of vivid characters–some haunted, some defiant–navigate danger, demons, and love in a quest to lead true lives. As in Nigeria, vagabonds are those whose existence is literally outlawed: the queer, the poor, the displaced, the footloose and rogue spirits. They are those who inhabit transient spaces, who make their paths and move invisibly, who embrace apparitions, old vengeances and alternative realities.
Eloghosa Osunde's brave, fiercely inventive novel traces a wild array of characters for whom life itself is a form of resistance: a driver for a debauched politician with the power to command life and death; a legendary fashion designer who gives birth to a grown daughter; a lesbian couple whose tender relationship sheds unexpected light on their experience with underground sex work; a wife and mother who attends a secret spiritual gathering that shifts her world. As their lives intertwine–in bustling markets and underground clubs, churches and hotel rooms–vagabonds are seized and challenged by spirits who command the city's dark energy.
Whether running from danger, meeting with secret lovers, finding their identities, or vanquishing their shadowselves, Osunde's characters confront and support one another, before converging for the once-in-a-lifetime gathering that gives the book its unexpectedly joyous conclusion. Blending unvarnished realism with myth and fantasy, Vagabonds! is a vital work of imagination that takes us deep inside the hearts, minds, and bodies of a people in duress–and in triumph." – Provided by publisher.
Available format: Book
---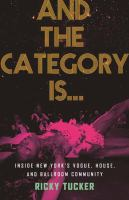 "A love letter to the legendary Black and Latinx LGBTQ underground subculture, uncovering its abundant legacy and influence in popular culture.
What is Ballroom? Not a song, a documentary, a catchphrase, a TV show, or an individual pop star. It is an underground subculture founded over a century ago by LGBTQ African American and Latino men and women of Harlem. Arts-based and intersectional, it transcends identity, acting as a fearless response to the systemic marginalization of minority populations.
Ricky Tucker pulls from his years as a close friend of the community to reveal the complex cultural makeup and ongoing relevance of house and Ballroom, a space where trans lives are respected and applauded, and queer youth are able to find family and acceptance. With each chapter framed as a "category" (Vogue, Realness, Body, et al.), And the Category Is . . . offers an impressionistic point of entry into this subculture, its deeply integrated history, and how it's been appropriated for mainstream audiences. Welcome to the norm-defying realness of Ballroom." – Provided by publisher.
Available format: Book
---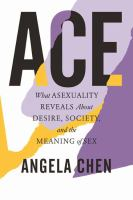 "An engaging exploration of what it means to be asexual in a world that's obsessed with sexual attraction, and what the ace perspective can teach all of us about desire and identity.
What exactly is sexual attraction and what is it like to go through life not experiencing it? What does asexuality reveal about gender roles, about romance and consent, and the pressures of society? This accessible examination of asexuality shows that the issues that aces face-confusion around sexual activity, the intersection of sexuality and identity, navigating different needs in relationships-are the same conflicts that nearly all of us will experience. Through a blend of reporting, cultural criticism, and memoir, Ace addresses the misconceptions around the "A" of LGBTQIA and invites everyone to rethink pleasure and intimacy.
Journalist Angela Chen creates her path to understanding her own asexuality with the perspectives of a diverse group of asexual people. Vulnerable and honest, these stories include a woman who had blood tests done because she was convinced that 'not wanting sex' was a sign of serious illness, and a man who grew up in a religious household and did everything "right," only to realize after marriage that his experience of sexuality had never been the same as that of others. Disabled aces, aces of color, gender-nonconforming aces, and aces who both do and don't want romantic relationships all share their experiences navigating a society in which a lack of sexual attraction is considered abnormal. Chen's careful cultural analysis explores how societal norms limit understanding of sex and relationships and celebrates the breadth of sexuality and queerness." – Provided by publisher.
Available format(s): Book, eBook
---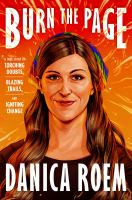 "An inspirational memoir-meets-manifesto by Danica Roem, the nation's first openly trans person elected to US state legislature Danica Roem made national headlines when–as a transgender former frontwoman for a metal band and a political newcomer–she unseated Virginia's most notoriously anti-LGBTQ 26-year incumbent Bob Marshall as state delegate. But before Danica made history, she had to change her vision of what was possible in her own life. Doing so was a matter of storytelling: during her campaign, Danica hired an opposition researcher to dredge up every story from her past that her opponent might seize on to paint her negatively. In wildly entertaining prose, Danica dismantles all the stories her opponents tried to hedge against her, showing how through brutal honesty and loving authenticity, it's possible to embrace the low points, and even transform them into her greatest strengths.
Burn the Page takes readers from Danica's lonely, closeted, and at times operatically tragic childhood to her position as a rising star in a party she's helped forever change. Burn the Page is so much more than a stump speech: it's an extremely inspiring manifesto about how it's possible to set fire to the stories you don't want to be in anymore, whether written by you or about you by someone else–and rewrite your own future, whether that's running for politics, in your work, or your personal life. This book will not just encourage people who think they have to be spotless to run for office, but inspire all of us to own our personal narratives as Danica does." – Provided by publisher
Available format: Book
---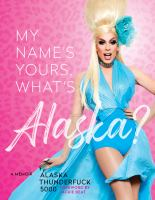 "Alaska Thunderfuck spills the tea on her meteoric rise from timid Pennsylvania kid to drag superstar in this intimate photographic memoir that will appeal to diehard Alaska admirers and broader drag fans alike. Before RuPaul's Drag Race became a worldwide phenomenon, Drag was mostly an underground art form, performed by the daring and the quick-witted, with maximum energy and a minimal budget. This is the story of one of the galaxy's greatest queens, Alaska Thunderfuck 5000, as she transforms from wearing dresses made of trash bags because she has to, to wearing dresses made of trash bags because she wants to. Finally coming clean on her home planet (earth), this dishy, visual memoir tells the stories that shaped Alaska into an All Star: from prom king to the House of Haunt, to the very public breakup that almost destroyed her. Intimate and alluring with exclusive photography throughout, and illustrations by the author, My Name's Yours, What's Alaska? is the ultimate backstage pass." – Provided by publisher.
Available format(s): Book, eBook, eAudiobook
---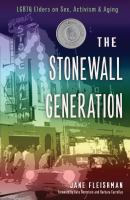 "In The Stonewall Generation: LGBTQ Elders on Sex, Activism, and Aging , sexuality researcher Jane Fleishman shares the stories of fearless elders in the LGBTQ community who came of age around the time of the Stonewall Riots of 1969. In candid interviews, they lay bare their struggles, strengths, activism, and sexual liberation in the context of the political movements of the 1960s and 1970s and today. Each of these inspiring figures has spent a lifetime fighting for the right to live, love, and be free, facing challenges arising from their sexual orientation, gender, race, ethnicity, religion, politics, disabilities, kinkiness, non-monogamy, and other identities. These are the stories of those whose lives were changed forever by Stonewall and who in turn became agents of change themselves. A sex-positive and unapologetic depiction of LGBTQ culture and identity, The Stonewall Generation includes the voices of those frequently marginalized in mainstream tellings of LGBTQ history, lifting up the voices of people of color, transgender people, bisexual people, drag queens, and sex workers. We need to hear these voices, particularly at a time when our country is in the middle of a crisis that puts hard-won civil and human rights at risk, values we've fought for again and again in our nation's history. For anyone committed to intersectional activism and social justice, The Stonewall Generation provides a much-needed resource for empowerment, education, and renewal." – Provided by publisher.
Available format: Book
---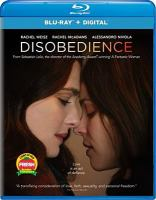 "Ronit (Rachel Weisz) returns to the Orthodox Jewish community that shunned her decades earlier for an attraction to a childhood friend Esti (Rachel McAdams). Once reunited, their passions reignite as they explore the boundaries of faith and sexuality. Winner of Best Supporting Actor (Alessandro Nivola) and nominated for Best British Independent Film at the **British Independent Film Awards.** Official Selection at the **Toronto International Film Festival** and the **Tribeca Film Festival**. "*A beautifully crafted tale that will make your heart ache, thanks to two standout leading performances and a great supporting one.*" – Bruce DeMara, ***The Toronto Star***" – Provided by publisher.
Available format(s): DVD, eVideo
---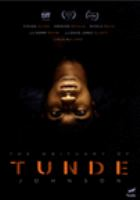 "Well-off Nigerian-American teenager Tunde Johnson (Steven Silver) is driving through his affluent suburb at night, only to be pulled over by suspicious police officers who fatally shoot him. Yet in an inexplicable twist of fate, the teen awakens after the incident. Tunde must then relive the events of his shooting day after day, trapped in a time continuum that drives his burgeoning awareness of his life and the nature of privilege in the United States." – Provided by publisher.
Available format: eVideo
We love helping people find books, movies, and more.
Tell us about your preferences, and our librarians will create a list of titles selected specifically for you.