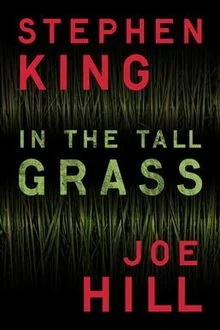 In the Tall Grass is a novella by Stephen King and his son Joe Hill. It was first published in two parts in the Esquire in 2012 and later turned into a Netflix movie.
The novella follows Cal and Becky, inseparable siblings, who are driving out to California over spring break. Becky is a sophomore in college, and recently found out she is pregnant, so at their parents suggestion they go to live with their aunt and uncle out west. They pull over near a field, when they hear a little boy's voice calling out for help. After a few minutes, they not only hear Tobin but his mother, who is screaming at her son to be quiet or 'he will hear you'. Cal runs in the field to find the boy, who sounds only feet away. While he does this, Becky calls 911 and enters the field. Soon after she steps in, her cell phone loses reception, and it sounds like Cal is miles away.
Cal and Becky spend hours trying to find each other in the field. Every time they sound close and start running, they seem to miss each other. They have the idea to jump up at the same time, to see where they are on the field. After two jumps, they realize every time they look, they are somewhere different and the surroundings have moved. When all seems lost, a man crosses Becky's path. It's Tobin's father Ross. He tells her he can get her out of here, she just needs to follow him and see it for herself. From there, Becky and Cal will fight for their lives to try to exit the field, and stand face to face with the mysterious 'thing' that is keeping them trapped.
This horrific and thrilling novella keeps you reading until the last page. It has the true feel of iconic Stephen King horror mixed with the violence and creepiness of Joe Hill's writing. Writing from this father/son duo is a must for anyone who wants to be engrossed in horror, mystery, and typically left with lingering questions. With only around 100 pages in the ebook version, it is a quick afternoon read. Afterwards, check out the Netflix adaptation to see if they did justice by the authors.
We love helping people find books, movies, and more.
Tell us about your preferences, and our librarians will create a list of titles selected specifically for you.