This October, we celebrate and highlight stories of fundamental principles and rights at work.
---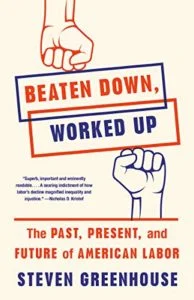 Beaten Down, Worked Up : The Past, Present, and Future of American Labor by Steven Greenhouse
"A page-turning book that spans a century of worker strikes…. Engrossing, character-driven, panoramic." –Zephyr Teachout, The New York Times Book Review We live in an era of soaring corporate profits and anemic wage gains, one in which low-paid jobs and blighted blue-collar communities have become a common feature of our nation's landscape. Behind these trends lies a little-discussed problem: the decades-long decline in worker power. Award-winning journalist and author Steven Greenhouse guides us through the key episodes and trends in history that are essential to understanding some of our nation's most pressing problems, including increased income inequality, declining social mobility, and the concentration of political power in the hands of the wealthy few. He exposes the modern labor landscape with the stories of dozens of American workers, from GM employees to Uber drivers to underpaid schoolteachers. Their fight to take power back is crucial for America's future, and Greenhouse proposes concrete, feasible ways in which workers' collective power can be–and is being–rekindled and reimagined in the twenty-first century. Beaten Down, Worked Up is a stirring and essential look at labor in America, poised as it is between the tumultuous struggles of the past and the vital, hopeful struggles ahead. A PBS NewsHour Now Read This Book Club Pick
Available Formats: Book
---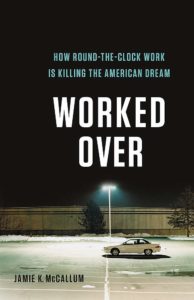 Worked Over: How Round-the-Clock Work Is Killing the American Dream by Jamie K McCallum
"Americans are overworked. After declining for a century through hard-fought labor movement victories, average annual work hours increased approximately 8 percent for all working adults from 1979 to 2016. In Worked Over , sociologist Jamie McCallum reveals how the battle over time on the job has been central to conflicts over capitalism from the beginning, how overwork is at the heart of the inequities and injustices in America's economy today, and why workers must fight to take control of the time they spend working. From Amazon warehouses to Silicon Valley campuses, from late night Uber deliveries to later night strip clubs, from factories in Ohio to retail floors everywhere, McCallum explains how the contemporary American workplace exploits workers' time and constrains their lives. Whether it's the manager's stopwatch, the scheduling algorithm's dispassionate authority, or our own internal clock that pushes us because we're afraid of falling behind or losing our jobs, ordinary people have lost much say over when and how much we work. Work, more than anything else, dictates when we sleep, eat, raise our kids, and live the rest of our lives. Popular discussions of overwork tend to focus on striving professionals, but as McCallum demonstrates, it's the hours of low-wage workers have increased the most, and it's their working lives that remain the most precarious and unpredictable in a service-oriented, on-demand economy. What's needed is not individual solutions but collective struggle. Throughout Worked Over , McCallum offers inspiring stories of how the battle to win back control of time has been renewed today by those most vulnerable to the capitalist society's electronic whip. Combining the rigor of a scholar, the storytelling of a journalist, and the vision of an activist, McCallum shows that winning shorter hours will require a radical break from our current political and economic system. Worked Over is an inside look at why our lives became tethered to work — and how we might regain a greater say over our work time and build a more just society in the process." – Provided by Publisher
Available Formats: Book
---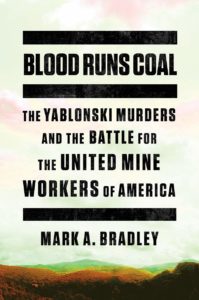 Blood Runs Coal: The Yablonski Murders and the Battle for the United Mine Workers of America by Mark A. Bradley 
"n the early hours of New Year's Eve 1969, in the small soft coal mining borough of Clarksville, Pennsylvania, longtime trade union insider Joseph "Jock" Yablonski and his wife and daughter were brutally murdered in their old stone farmhouse. Seven months earlier, Yablonski had announced his campaign to oust the corrupt president of the United Mine Workers of America (UMWA), Tony Boyle, who had long embezzled UMWA funds, silenced intra-union dissent, and served the interests of Big Coal companies. Yablonski wanted to return the union to the coal miners it was supposed to represent and restore the organization to what it had once been, a powerful force for social good. Boyle was enraged about his opponent's bid to take over–and would go to any lengths to maintain power.The most infamous crimes in the history of American labor unions, the Yablonski murders triggered one of the most intensive and successful manhunts in FBI history–and also led to the first successful rank-and-file takeover of a major labor union in modern U.S. history, one that inspired workers in other labor unions to rise up and challenge their own entrenched, out-of-touch leaders.An extraordinary portrait of one of the nation's major unions on the brink of historical change, Blood Runs Coal comes at a time of resurgent labor movements in the United States and the current administration's attempts to bolster the fossil fuel industry. Brilliantly researched and compellingly written, it sheds light on the far-reaching effects of industrial and socioeconomic change that unfold across America to this day." – Provided by Publisher
Available Formats: Book, eAudiobook
---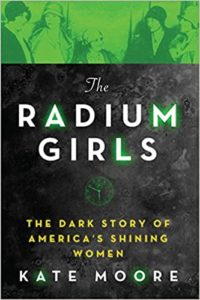 The Radium Girls by Kate Moore
"Explore the unbelievable true story of America's glowing girls and their fight for justice in the young readers edition of the New York Timesand USA Todaybestseller The Radium Girls. This enthralling new edition includes all-new material, including a glossary, timeline, and dozens of bonus photos.
Amid the excitement of the early twentieth century, hundreds of young womenspend their days hard at work painting watch dials with glow-in-the-dark radium paint. The painters consider themselves lucky–until they start suffering from a mysterious illness. As the corporations try to cover up a shocking secret, these shining girls suddenly find themselves at the center of a deadly scandal.
This new edition of the national bestseller is perfect for: Educators looking for history books for kids ages 9 to 12, nonfiction books for kids, biographies for kids, and real stories around the industrial revolution, chemistry, and science Parents, educators, and librarians looking for stories about strong women, inspiring books for girls, children's books about women in history, and famous women books for girls Young readers who want to read one of the most inspiring and shocking narratives of the early 20th century" – Provided by Publisher
Available Formats: Book, eBook, Audiobook, eAudiobook
---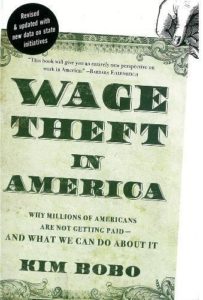 Wage Theft in America by Kim Bobo
"This book will give you an entirely new perspective on work in America." –Barbara Ehrenreich, author of Nickel and Dimed In what has been described as "the crime wave no one talks about," billions of dollars' worth of wages are stolen from millions of workers in the United States every year–a grand theft that exceeds every other larceny category. Even the Economic Policy Foundation, a business-funded think tank, has estimated that companies annually steal an incredible $19 billion in unpaid overtime. The scope of these abuses is staggering, but activists, unions, and policymakers–along with everyday Americans in congregations and towns across the country–have begun to take notice. While the first edition of Wage Theft In America documented the scope of the problem, this new edition adds the latest research on wage theft and tells what community, religious, and labor activists are now doing to address the crisis–from passing state and local wage-theft bills to establishing mayoral task forces and tapping agencies that help low-wage workers in spotting wage theft. Citing hard-hitting statistics and heartbreaking first-person accounts of exploitation at the hands of employers, this updated edition of Wage Theft In America offers concrete solutions and a roadmap for putting an end to this insidious practice." -Provided by Publisher
Available Formats: Book, eBook
---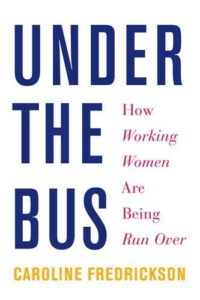 Under the Bus: How Working Women Are Being Run Over by Caroline Frederickson
"Most Americans think that our country has done quite a lot to protect women and ensure gender equity in the workplace. After all, we have banned discrimination against women, required equal pay for equal work, and adopted family-leave legislation. But the fact is that we have a two-tiered system, where some working women have a full panoply of rights while others have few or none at all. We allow blatant discrimination by small employers. Domestic workers are cut out of our wage and overtime laws. Part-time workers, disproportionately women, are denied basic benefits. Laws are written through a process of compromise and negotiation, and in each case vulnerable workers were the bargaining chip that was sacrificed to guarantee the policy's enactment. For these workers, the system that was supposed to act as a safety net has become a sieve-and they are still falling through. Caroline Fredrickson is a powerful advocate and D.C. insider who has witnessed the legislative compromises that leave out temps, farmworkers, employees of small businesses, immigrants, and other workers who fall outside an intentionally narrow definition of "employees." The women in this fast-growing part of the workforce are denied minimum wage, maternity leave, health care, the right to unionize, and protection from harassment and discrimination-all within the bounds of the law. If current trends continue, their fate will be the future of all American workers. "- Provided by Publisher
Available Formats: Book, eBook
---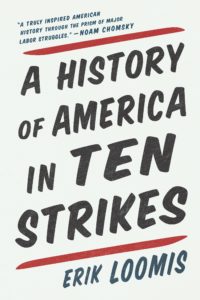 A History of America in Ten Strikes by Erik Loomis
"A thrilling and timely account of ten moments in history when labor challenged the very nature of power in America, by the author called "a brilliant historian" by The Progressive magazine Powerful and accessible, A History of America in Ten Strikes challenges all of our contemporary assumptions around labor, unions, and American workers. In this brilliant book, labor historian Erik Loomis recounts ten critical workers' strikes in American labor history that everyone needs to know about (and then provides an annotated list of the 150 most important moments in American labor history in the appendix). From the Lowell Mill Girls strike in the 1830s to Justice for Janitors in 1990, these labor uprisings do not just reflect the times in which they occurred, but speak directly to the present moment. For example, we often think that Lincoln ended slavery by proclaiming the slaves emancipated, but Loomis shows that they freed themselves during the Civil War by simply withdrawing their labor. He shows how the hopes and aspirations of a generation were made into demands at a GM plant in Lordstown in 1972. And he takes us to the forests of the Pacific Northwest in the early nineteenth century where the radical organizers known as the Wobblies made their biggest inroads against the power of bosses. But there were also moments when the movement was crushed by corporations and the government; Loomis helps us understand the present perilous condition of American workers and draws lessons from both the victories and defeats of the past. In crystalline narratives, labor historian Erik Loomis lifts the curtain on workers' struggles, giving us a fresh perspective on American history from the boots up. Strikes include: Lowell Mill Girls Strike (Massachusetts, 1830–40) Slaves on Strike (The Confederacy, 1861–65) The Eight-Hour Day Strikes (Chicago, 1886) The Anthracite Strike (Pennsylvania, 1902) The Bread and Roses Strike (Massachusetts, 1912) The Flint Sit-Down Strike (Michigan, 1937) The Oakland General Strike (California, 1946) Lordstown (Ohio, 1972) Air Traffic Controllers (1981) Justice for Janitors (Los Angeles, 1990)" Provided by Publisher
Available Formats: Book, eBook
---
""Since its original publication in 1972, no book has done as much as Jeremy Brecher's Strike! to bring American labor history to a wide audience. Strike! narrates the dramatic story of repeated, massive, and sometimes violent revolts by ordinary working people in America. It tells this exciting hidden history from the point of view of the rank-and-file workers who lived it. In this expanded edition, Jeremy Brecher brings the story up to date. Revised chapters covering the forty years since the original edition place the problems faced by working people today in the context of 140 years of labor history. A new chapter, "Beyond One-Sided Class War," presents the American mini-revolts of the twenty-first century, from the Battle of Seattle to Occupy Wall Street and beyond. Strike! is essential reading for anyone interested in the historical or present-day situations of American workers and serves as inspiration for organizers, activists, and educators working to revive the labor movement today" – Provided by Publisher
Available Formats: Book
---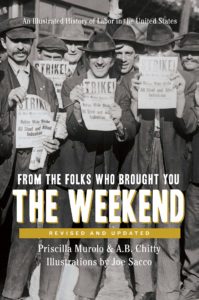 From the Folks Who Brought You the Weekend: An Illustrated History of Labor in the United States by Priscilla Murolo and A.B. Chitty
"A comprehensive look at the history of the United States through the prism of working people. In this fully updated new edition, the authors have added a wealth of fresh analysis of labor's role in American life, and three entirely new chapters on global labor developments, worker activism in immigrant communities, and the 2016 election and unions' relationships to Trump"–Adapted from back cover.
Available Formats: Book, eBook
---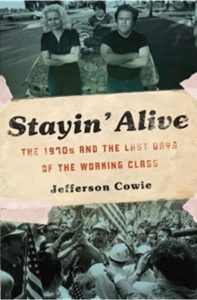 Stayin' Alive: The 1970s and the Last Days of the Working Class by Jefferson Cowie
"Jefferson Cowie's edgy and incisive book makes new sense of the 1970s as a crucial and poorly understood transition from New Deal America, with its large, optimistic middle class, to the widening economic inequalities, poverty and dampened expectations of the 1980s and into the present. Cowie also connects politics to culture, showing how the big screen and the juke box can help understand how the US turned away from the radicalism of the 1960s toward the patriotic promise of Ronald Reagan." – Provided by Publisher
Available Formats: Book, eAudiobook
---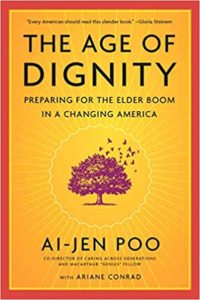 The Age of Dignity: Preparing for the Elder Boom in a Changing America by Ai-jen Poo
" By 2035, 11.5 million Americans will be over the age of eighty-five, more than double today's 5 million, living longer than ever before. To enable all of us to age with dignity and security in the face of this coming Age Wave, our society must learn to value the care of our elders. The process of building a culture that supports care is a key component to restoring the American dream, and, as Ai-Jen Poo convincingly argues, will generate millions of new jobs and breath new life into our national ideals of independence, justice, and dignity. This groundbreaking new book from the director of the National Domestic Workers Alliance offers bold solutions, such as long-term care insurance and cultural change to get all of us to value care, which is already at the heart of a movement transforming what it means to grow old in the United States. At the intersection of our aging population, the fraying safety net, and opportunities for women and immigrants in the workforce, The Age of Dignity maps an integrated set of solutions to address America's new demographic and economic realities." – Provided by Publisher
Available Formats: Book, eBook, eAudiobook
---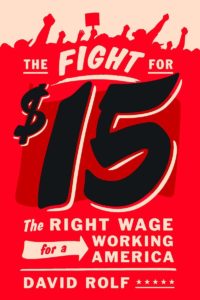 The Fight for Fifteen: The Right Wage for a Working America by David Rolf
" "The fight for a higher minimum wage has become the biggest national labor story in decades. Beginning in November 2012, strikes by fast food workers spread across the country, landing in Seattle in May 2013. Within a year, Seattle had adopted a $15 minimum wage–the highest in the United States–without a bloody political battle. Combining history, economics, and commonsense political wisdom, The Fight for Fifteen makes a deeply informed case for a national $15/hour minimum wage as the only practical solution to reversing America's decades-long slide toward becoming a low-wage nation. Drawing both on new scholarship and on his extensive practical experiences organizing workers and grappling with inequality across the United States, David Rolf, president of SEIU 775–which waged the successful Seattle campaign–offers an accessible explanation of "middle out" economics, an emerging popular economic theory that suggests that the origins of prosperity in capitalist economies lie with workers and consumers, not investors and employers. A blueprint for a different and hopeful American future, The Fight for Fifteen offers concrete tools, ideas, and inspiration for anyone interested in real change in our lifetimes"–  Provided by publisher
Available Formats: Book
---
We love helping people find books, movies, and more.
Tell us about your preferences, and our librarians will create a list of titles selected specifically for you.