Social media has evolved rapidly in the last decade, giving us new and innovative ways to communicate, learn, and entertain.
"Social media has pitfalls: misinformation, pseudoscience, fraud, and irrational beliefs, presented in an attractive, easy-to-share form. It reinforces your biases by tracking your preferences: it sends only filtered newsfeeds, so that you rarely see anything that might challenge your set notions. Harrison demonstrates how critical thinking can enhance the benefits of social media, while giving readers the skills to guard against its dangers. He also suggests ways to protect yourself against privacy invasion, trolls, and the confusion over fake news versus credible journalism."
Available format: Book
---
"A step-by-step guide intended to help readers understand the major social platforms, including Facebook, Twitter, LinkedIn, Instagram, and Snapchat, addresses important moral and behavioral issues."
Available format: Book, Playaway
---
"This updated guide makes it easy to set up a Facebook or Twitter account to catch up with old friends, communicate with your family, and enjoy your online experience. You'll get hands-on guidance to connecting to the Internet with a computer or mobile device, creating social media accounts and profiles, searching for friends, joining groups, sharing photos and videos, and more. It also covers popular sites where you can read and share opinions on entertainment and travel options, view movies and television shows on your computer or mobile device, and even create your own blog."
Available format: Book
---
"Mae Holland is hired to work for the Circle, the world's most powerful internet company. The story of one woman's ambition and idealism becomes a heart-racing novel of suspense, raising questions about memory, history, privacy, democracy, and the limits of human knowledge."
Available format: Book, DVD
---
"Orla Cadden is a budding novelist stuck in a dead-end job, writing clickbait about movie-star hookups and influencer yoga moves. Then Orla meets Floss–a striving, wannabe A-lister–who comes up with a plan for launching them both into the high-profile lives they dream about. So what if Orla and Floss's methods are a little shady–and sometimes people get hurt? Their legions of followers can't be wrong. Thirty-five years later, in a closed California village where government-appointed celebrities live every moment of the day on camera, a woman named Marlow discovers a shattering secret about her past. Despite her massive popularity–twelve million loyal followers–Marlow dreams of fleeing the corporate sponsors who would do anything to keep her on-screen. When she learns that her whole family history is based on a lie, Marlow finally summons the courage to run in search of the truth, no matter the risks. Followers traces the paths of Orla, Floss and Marlow as they wind through time toward each other, and toward a cataclysmic event that sends America into lasting upheaval. At turns wry and tender, bleak and hopeful, this darkly funny story reminds us that even if we obsess over famous people we'll never meet, what we really crave is genuine human connection."
Available format: Book, eBook, eAudiobook, Audiobook CD
---
"A successful media influencer's morally questionable relationship with the truth exposes deep psychological cracks in her marriage at the same time her family is targeted by a violently obsessed fan. To her adoring fans, Emmy Jackson, aka @the_mamabare, is the honest "Instamum" who always tells it like it is. To her skeptical husband, a washed-up novelist who knows just how creative Emmy can be with the truth, she is a breadwinning powerhouse chillingly brilliant at monetizing the intimate details of their family life. To one of Emmy's obsessive followers, she's the woman that has everything but deserves none of it. As Emmy's moral compass veers wildly off course, she becomes vulnerable to a very real danger circling ever closer to her family." — Adapted from jacket.
Available format: Book, eBook, Audiobook CD
---
"Max, a data whiz at the social media company Wren
, has gotten a firsthand glimpse of the dark side of big tech. When he questions what his company does with the data they collect, he's fired…then black-balled across Silicon Valley. With time on his hands and revenge on his mind, Max and his longtime friend (and secretly the love of his life) Akiko, decide to get even by rebooting the internet. After all, in order to fix things, sometimes you have to break them. But when Max and Akiko join forces with a reclusive tech baron, they learn that breaking things can have unintended–and catastrophic–consequences"– Provided by publisher.
Available format: Book, eBook
---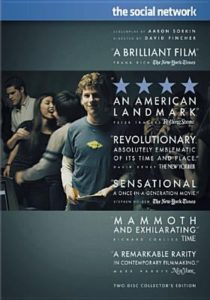 "On a fall night in 2003, Harvard undergrad and computer programming genius Mark Zuckerberg sits down at his computer and heatedly begins working on a new idea. In a fury of blogging and programming, what begins in his dorm room soon becomes a global social network and a revolution in communication. A mere six years and 500 million friends later, Zuckerberg is the youngest billionaire in history, but for this entrepreneur, success leads to both personal and legal complications."
Available format: DVD
---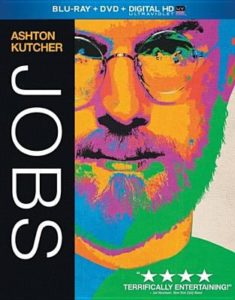 "A riveting story of a true American visionary, a man who let nothing stand in the way of greatness. It chronicles the iconic innovator and entrepreneur's early days. He was a college dropout who co-founded Apple Computer Inc. and was then forced to leave. More than a decade later, Jobs returns and single-handedly sets a course that will turn the once-tiny startup into one of the world's most valuable companies. His epic journey blazes a trail that changes technology-and the world-forever."
Available format: Blu-ray, DVD
---
"In late 2007, filmmakers Ariel Schulman and Henry Joost sensed a story unfolding as they began to film the life of Ariel's brother, Nev. They had no idea that their project would lead to the most exhilarating and unsettling months of their lives. A reality thriller that is a shocking product of our times, Catfish is a riveting story of love, deception and grace within a labyrinth of online intrigue."
Available format: DVD
We love helping people find books, movies, and more.
Tell us about your preferences, and our librarians will create a list of titles selected specifically for you.