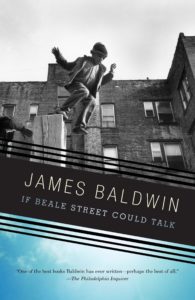 If Beale Street Could Talk by James Baldwin
"Told through the eyes of Tish, a nineteen-year-old girl, in love with Fonny, a young sculptor who is the father of her child, Baldwin's story mixes the sweet and the sad. Tish and Fonny have pledged to get married, but Fonny is falsely accused of a terrible crime and imprisoned. Their families set out to clear his name, and as they face an uncertain future, the young lovers experience a kaleidoscope of emotions–affection, despair, and hope. In a love story that evokes the blues, where passion and sadness are inevitably intertwined, Baldwin has created two characters so alive and profoundly realized that they are unforgettably ingrained in the American psyche." – Provided by Publisher
Available Formats: Book, Audiobook, eBook, eAudiobook
---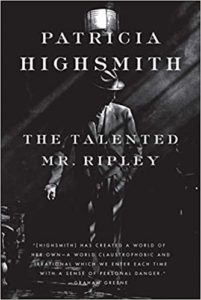 The Talented Mr Ripley by Patricia Highsmith
"It's here, in the first volume of Patricia Highsmith's five-book Ripley series, that we are introduced to the suave Tom Ripley, a young striver seeking to leave behind his past as an orphan bullied for being a "sissy." Newly arrived in the heady world of Manhattan, Ripley meets a wealthy industrialist who hires him to bring his playboy son, Dickie Greenleaf, back from gallivanting in Italy. Soon Ripley's fascination with Dickie's debonair lifestyle turns obsessive as he finds himself enraged by Dickie's ambivalent affections for Marge, a charming American dilettante, and Ripley begins a deadly game. "Sinister and strangely alluring" (Mark Harris, Entertainment Weekly) The Talented Mr. Ripley serves as an unforgettable introduction to this smooth confidence man, whose talent for self-invention is as unnerving―and unnervingly revealing of the American psyche―as ever." – Provided by Publisher
Available Formats: Book, Audiobook, eBook, eAudiobook
---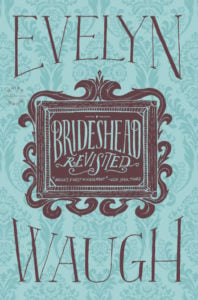 Brideshead Revisited: The Sacred and Profane Memories of Captain Charles Ryder by Evelyn Waugh
Toward the end of World War II, Captain Charles Ryder has fallen out of love with the army. However, when his company is stationed at an old country manor called Brideshead Castle, he becomes overwhelmed with nostalgia. The manor belongs to the Marchmains, the family of his dear friend from Oxford, Lord Sebastian Flyte. Charles remembers his history with the family and how they shaped his life." – Provided by Publisher
Available Formats: Book, Audiobook, eBook, eAudiobook
---
"In this spellbinding exploration of the varieties of love, the author of the bestseller "Call Me by Your Name" revisits its complex and beguiling characters decades after their first meeting. No novel in recent memory has spoken more movingly to contemporary readers about the nature of love." – Provided by Publisher
Available Formats: Book, Audiobook, eBook, eAudiobook
---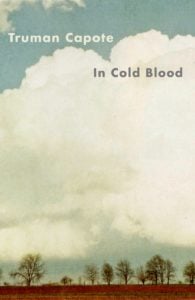 In Cold Blood: A True Account of Multiple Murder and Its Consequences by Truman Capote
"On November 15, 1959, in the small town of Holcomb, Kansas, four members of the Clutter family were savagely murdered by blasts from a shotgun held a few inches from their faces. There was no apparent motive for the crime, and there were almost no clues.
As Truman Capote reconstructs the murder and the investigation that led to the capture, trial, and execution of the killers, he generates both mesmerizing suspense and astonishing empathy. In Cold Blood is a work that transcends its moment, yielding poignant insights into the nature of American violence." – Provided by Publisher
Available Formats: Book, Audiobook, eBook, eAudiobook
---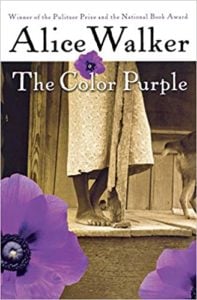 The Color Purple by Alice Walker
"The Color Purple is the story of two sisters — one a missionary to Africa and the other a child wife living in the South — who remain loyal to one another across time, distance, and silence. Beautifully imagined and deeply compassionate, this classic American literature is rich with passion, pain, inspiration, and an indomitable love of life." – Cover
Available Formats: Book, Audiobook, eBook, eAudiobook
---
"Gore Vidal's Narratives of Empire series spans the history of the United States from the Revolution to the post-World War II years. With their broad canvas and large cast of fictional and historical characters, the novels in this series present a panorama of the American political and imperial experience as interpreted by one of its most worldly, knowing, and ironic observers.
To most Americans, Abraham Lincoln is a monolithic figure, the Great Emancipator and Savior of the Union, beloved by all. In Gore Vidal's Lincoln we meet Lincoln the man and Lincoln the political animal, the president who entered a besieged capital where most of the population supported the South and where even those favoring the Union had serious doubts that the man from Illinois could save it. Far from steadfast in his abhorrence of slavery, Lincoln agonizes over the best course of action and comes to his great decision only when all else seems to fail. As the Civil War ravages his nation, Lincoln must face deep personal turmoil, the loss of his dearest son, and the harangues of a wife seen as a traitor for her Southern connections. Brilliantly conceived, masterfully executed, Gore Vidal's Lincoln allows the man to breathe again." – Provided by Publisher
Available Formats: Book
---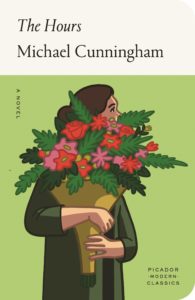 The Hours by Michael Cunningham
"In The Hours, Michael Cunningham, widely praised as one of the most gifted writers of his generation, draws inventively on the life and work of Virginia Woolf to tell the story of a group of contemporary characters struggling with the conflicting claims of love and inheritance, hope and despair. The narrative of Woolf's last days before her suicide early in World War II counterpoints the fictional stories of Samuel, a famous poet whose life has been shadowed by his talented and troubled mother, and his lifelong friend Clarissa, who strives to forge a balanced and rewarding life in spite of the demands of friends, lovers, and family. " – Provided by Publisher
Available Formats: Book, Audiobook, eBook, eAudiobook
---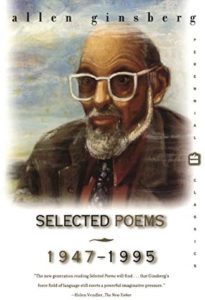 Selected Poems, 1947-1995 by Allen Ginsburg
"Assembled by Allen Ginsberg, Selected Poems 1947-1995 is the definitive collection of the best works of one of the most influential and revolutionary poets of the twentieth century.
Allen Ginsberg, famous for helping catalyze the Beat Generation, wrote poetry for more than fifty years. His innovative verse and provocative attitudes of spiritual, political, and sexual liberation inspired countless poets, musicians, and visual and performance artists worldwide, and helped shape several generations' views of the world.
Selected Poems 1947-1995 commemorates Ginsberg's brilliant career as one of America's most distinguished poets. Here are well-known masterpieces such as the lyric "Howl" and the narrative "Kaddish" — classic works of American literature — as well as more recent gems, including the long dream poem "White Shroud," the visionary "After Lalon," and the political rock lyric "The Ballad of the Skeletons," a song he recorded in 1996 with a stellar band that included Philip Glass, Lenny Kaye, and Paul McCartney." – Provided by Publisher
Available Formats: Book
---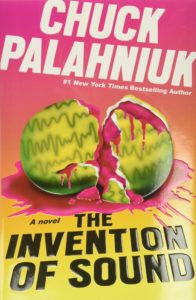 The Invention of Sound by Chuck Palahniuk
"Private detective Gates Foster is a father is in search of his missing daughter, and sound engineer Mitzi harbors a secret that may help him solve the case. It's Mitzi's job to create the dubbed screams used in horror films and action movies. She's the best at what she does. But what no one in Hollywood knows is the screams Mitzi produces are harvested from the real, horror-filled, blood-chilling screams of people in their death throes–a technique first employed by Mitzi's father and one she continues on in his memory–a deeply conflicted serial killer compelled beyond her understanding to honor her father's chilling legacy. Soon Foster finds himself on Mitzi's trail. And in pursuit of her dark art, Mitzi realizes she's created the perfect scream, one that compels anyone who hears it to mirror the sound as long as they listen to it–a highly contagious seismic event with the potential to bring the country to its knees"–Provided by publisher.
Available Formats: Book, Audiobook, eBook, eAudiobook
---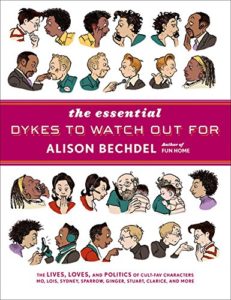 The Essential Dykes to Watch Out For by Alison Bechdel
"For twenty-five years Bechdel's path-breaking Dykes to Watch Out For strip has been collected in award-winning volumes (with a quarter of a million copies in print), syndicated in fifty alternative newspapers, and translated into many languages. Now, at last, The Essential Dykes to Watch Out For gathers a "rich, funny, deep and impossible to put down" (Publishers Weekly) selection from all eleven Dykes volumes. Here too are sixty of the newest strips, never before published in book form.
Settle in to this wittily illustrated soap opera (Bechdel calls it "half op-ed column and half endless serialized Victorian novel") of the lives, loves, and politics of a cast of characters, most of them lesbian, living in a midsize American city that may or may not be Minneapolis." – Provided by Publisher
Available Formats: Book, eBook
---
"Sue Trinder is an orphan, left as an infant in the care of Mrs. Sucksby, a "baby farmer," who raised her with unusual tenderness, as if Sue were her own. Mrs. Sucksby's household, with its fussy babies calmed with doses of gin, also hosts a transient family of petty thieves—fingersmiths—for whom this house in the heart of a mean London slum is home.
One day, the most beloved thief of all arrives—Gentleman, an elegant con man, who carries with him an enticing proposition for Sue: If she wins a position as the maid to Maud Lilly, a naïve gentlewoman, and aids Gentleman in her seduction, then they will all share in Maud's vast inheritance. Once the inheritance is secured, Maud will be disposed of—passed off as mad, and made to live out the rest of her days in a lunatic asylum.
With dreams of paying back the kindness of her adopted family, Sue agrees to the plan. Once in, however, Sue begins to pity her helpless mark and care for Maud Lilly in unexpected ways…But no one and nothing is as it seems in this Dickensian novel of thrills and reversals."
Available Formats: Book, Audiobook, eBook, eAudiobook
---
"Precious Jones, an illiterate sixteen-year-old, has up until now been invisible to the father who rapes her and the mother who batters her and to the authorities who dismiss her as just one more of Harlem's casualties. But when Precious, pregnant with a second child by her father, meets a determined and radical teacher, we follow her on a journey of education and enlightenment as she learns not only how to write about her life, but how to make it truly her own for the first time." – Provided by Publisher
Available Formats: eBook
---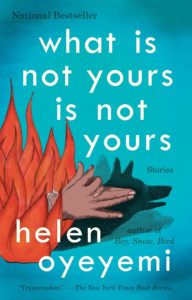 What Is Not Yours Is Not Yours by Helen Oyemi
"The stories collected here are linked by more than the exquisitely winding prose of their creator: Helen Oyeyemi's ensemble cast of characters slip from the pages of their own stories only to surface in another. The reader is invited into a world of lost libraries and locked gardens, of marshlands where the drowned dead live and a city where all the clocks have stopped; students hone their skills at puppet school, the Homely Wench Society commits a guerrilla book-swap, and lovers exchange books and roses on St Jordi's Day. It is a collection of towering imagination, marked by baroque beauty and a deep sensuousness." – Provided by Publisher
Available Formats: Book, Audiobook, eBook, eAudiobook
---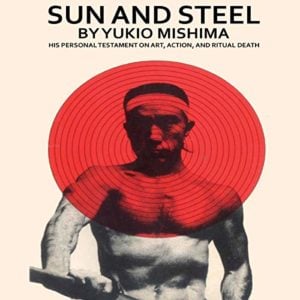 Sun and Steel by Yukio Mishima
"At one level, it may be read as an account of how a puny, bookish boy discovered the importance of his own physical being; the "sun and steel" of the title are themselves symbols respectively of the cult of the open air and the weights used in bodybuilding. At another level, it is a discussion by a
major novelist of the relation between action and art, and his own highly polished art in particular. More personally, it is an account of one individual's search for identity and self-integration. Or again, the work could be seen as a demonstration of how an intensely individual preoccupation can
be developed into a profound philosophy of life.
All these elements are woven together by Mishima's complex yet polished and supple style. The confession and the self-analysis, the philosophy and the poetry combine in the end to create something that is in itself perfect and self-sufficient. It is a piece of literature that is as carefully
fashioned as Mishima's novels, and at the same time provides an indispensable key to the understanding of them as art." – Provided by Publisher
Available Formats: eBook
---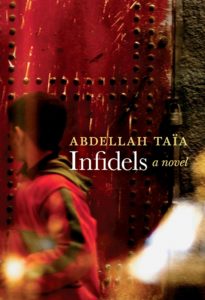 Infidels by Abdellah Taïa
"Set in Salé, Morocco—the hometown Abdellah Taïa fled but to which he returns again and again in his acclaimed fiction and films—Infidels follows the life of Jallal, the son of a prostitute witch doctor—"a woman who knew men, humanity, better than anyone. In sex. Beyond sex." As a ten-year-old sidekick to his mother, Jallal spits in the face of her enemies both real and imagined.
The cast of characters that rush into their lives are unforgettable for their dreams of love and belonging that unravel in turn. Built as a series of monologues that are emotionally relentless—a mix of confession, heart's murmuring, and shouting match—the book follows Jallal out of boyhood on the path to Jihad. It's a path that surprises even him." – Provided by Publisher
Available Formats: Book, eBook
---
We love helping people find books, movies, and more.
Tell us about your preferences, and our librarians will create a list of titles selected specifically for you.