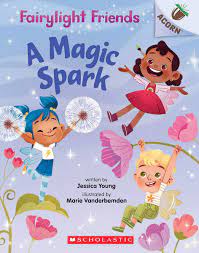 This first book in the Fairylight Friends series from Scholastic Books is aimed at helping beginning readers develop skill, confidence, and joy in reading. The plot follows three best friends with diverse skin colors who attend fairy school together. Ruby loves making art, Iris loves flying fast, and Pip loves growing things. Their teacher encourages them to each find their own unique kind of magic. A spark of fairy dust will help them discover their magical powers. The book falls somewhere between a beginning chapter book and a graphic novel and has bright, friendly, full-color illustrations on each page. The text is part narration and part speech bubbles, all with large, clear font. Each character has a different color speech bubble, making the story line easy to follow.
A Magic Spark is full of gentle fun. The story is positive, happy, and encourages a sense of confidence in one's own unique abilities. Any fairy-obsessed new reader would be enchanted by the simple story and the colorfully detailed illustrations. As a bonus, the last page includes story stretchers that give step-by-step instructions on how to draw Ruby and discussion starters on what kind of magic they would have as a fairy.
We love helping people find books, movies, and more.
Tell us about your preferences, and our librarians will create a list of titles selected specifically for you.