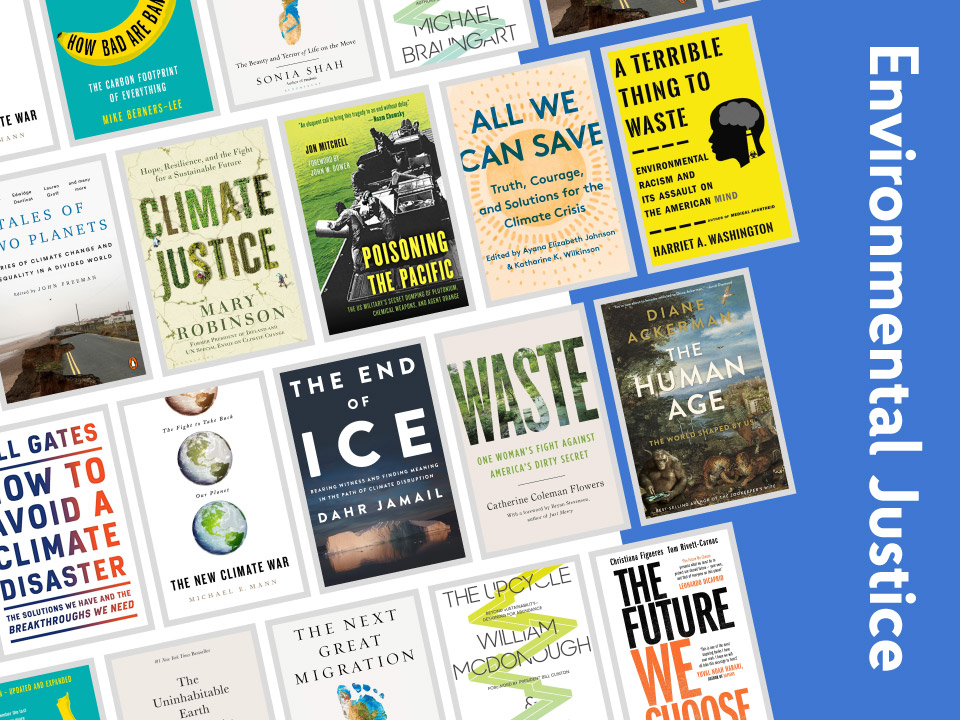 We hope these selections serve to educate and encourage a dialogue on topics of environmental justice, including access to a clean and healthy environment for all people, the disproportionate impact of climate change and pollution on marginalized communities, and collective solutions to environmental issues, from grassroots to global action.
---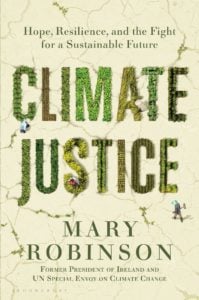 Climate Justice: Hope, Resilience, and the Fight for a Sustainable Future by Mary Robinson
"At the birth of her first grandchild, Robinson's fight for climate change became deeply personal. Her travels led to a heartening revelation: that an irrepressible driving force in the battle for climate justice could be found at the grassroots level, mainly among women, many of them mothers and grandmothers like herself. Now she presents a stirring manifesto on one of the most pressing humanitarian issues of our time, and a lucid, affirmative, and well-argued case for hope." — Provided by Publisher
Available Formats: Book, eAudiobook
---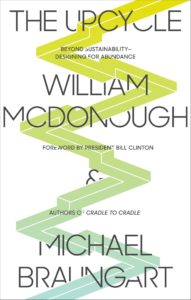 The Upcycle: Beyond Sustainability – Designing for Abundance by William McDonough & Michael Braungart
"In this follow-up to Cradle to Cradle, the authors draw on the lessons gained from ten years of putting the Cradle to Cradle concept into practice with businesses, governments, and ordinary people and envision the next step in the solution to our ecological crisis: we don't just use or reuse resources with greater effectiveness, we actually improve the world as we live, create, and build." – Provided by Publisher
Available Formats: Book, eAudiobook
---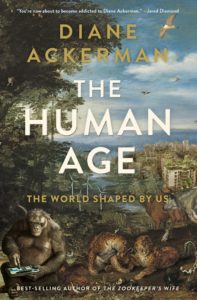 The Human Age: The World Shaped By Us by Diane Ackerman
"Humans have subdued 75 percent of the land surface, concocted a wizardry of industrial and medical marvels, strung lights all across the darkness. We tinker with nature at every opportunity; we garden the planet with our preferred species of plants and animals, many of them invasive; and we have even altered the climate, threatening our own extinction. Yet we reckon with our own destructive capabilities in extraordinary acts of hope-filled creativity … Ackerman [explores] our new reality, introducing us to many of the people and ideas now creating–perhaps saving–our future and that of our fellow creatures"–Amazon.com.
Available Formats: Book, Audiobook, eAudiobook
---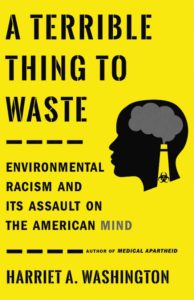 A Terrible Thing to Waste: Environmental Racism and its Assault on the American Mind by Harriet A. Washington
"From injuries caused by lead poisoning to the devastating effects of atmospheric pollution, infectious disease, and industrial waste, Americans of color are harmed by environmental hazards in staggeringly disproportionate numbers. This systemic onslaught of toxic exposure and institutional negligence causes irreparable physical harm to millions of people across the country–cutting lives tragically short and needlessly burdening our health care system. But these deadly environments create another insidious and often overlooked consequence: robbing communities of color, and America as a whole, of intellectual power. The 1994 publication of The Bell Curve and its controversial thesis catapulted the topic of genetic racial differences in IQ to the forefront of a renewed and heated debate. Now, in A Terrible Thing to Waste, award-winning science writer Harriet A. Washington adds her incisive analysis to the fray, arguing that IQ is a biased and flawed metric, but that it is useful for tracking cognitive damage. She takes apart the spurious notion of intelligence as an inherited trait, using copious data that instead point to a different cause of the reported African American-white IQ gap: environmental racism–a confluence of racism and other institutional factors that relegate marginalized communities to living and working near sites of toxic waste, pollution, and insufficient sanitation services. She investigates heavy metals, neurotoxins, deficient prenatal care, bad nutrition, and even pathogens as chief agents influencing intelligence to explain why communities of color are disproportionately affected–and what can be done to remedy this devastating problem. Featuring extensive scientific research and Washington's sharp, lively reporting, A Terrible Thing to Waste is sure to outrage, transform the conversation, and inspire debate."–Dust jacket.
Available Formats: Book
---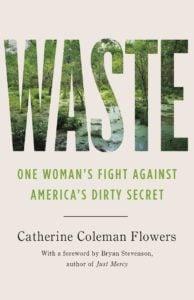 Waste: One Woman's Fight Against America's Dirty Secret by Catherine Coleman Flowers
"Catherine Flowers grew up in Lowndes County, Alabama, a place that's been called "Bloody Lowndes" because of its violent, racist history. Once the epicenter of the voting rights struggle, today it's Ground Zero for a new movement that is Flowers's life's work. It's a fight to ensure human dignity through a right most Americans take for granted: basic sanitation. Too many people, especially the rural poor, lack an affordable means of disposing cleanly of the waste from their toilets, and, as a consequence, live amid filth. Flowers calls this America's dirty secret. In this powerful book she tells the story of systemic class, racial, and geographic prejudice that foster Third World conditions, not just in Alabama, but across America, in Appalachia, Central California, coastal Florida, Alaska, the urban Midwest, and on Native American reservations in the West. Flowers's book is the inspiring story of the evolution of an activist, from country girl to student civil rights organizer to environmental justice champion at Bryan Stevenson's Equal Justice Initiative. It shows how sanitation is becoming too big a problem to ignore as climate change brings sewage to more backyards, and not only those of poor minorities"– Provided by publisher.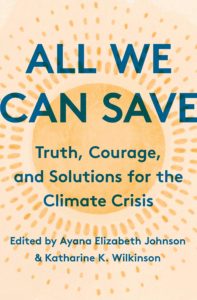 All We Can Save: Truth, Courage, and Solutions for the Climate Crisis by Ayana Elizabeth Johnson
"Two powerful phenomena are simultaneously unfolding on Earth: the rise of the climate movement and the rise of women and girls. The People's Climate March and the Women's March. School strikes for climate and the #MeToo movement. Rebellions against extinction and declarations that time's up. More than concurrent, the two trends are deeply connected. From sinking islands to drought-ridden savannas, the global warming crisis places an outsized burden on women, largely because of gender inequalities. In many parts of the world, women hold traditional roles as the primary caregivers in families and communities, and as the main providers of food and fuel, they are more vulnerable when flooding and drought occur; the U.N. estimates 80% of those who have been displaced by climate change are women. Women are on the front line of the climate-change battle, and are uniquely situated to be agents of change–to find ways to mitigate the causes of global warming and adapt to its impacts on the ground. Today, across the world, from boardrooms and policy positions to local communities, from science to activism, women everywhere are using their voices to take leadership and call for action on climate change. This anthology is a collection and celebration of these diverse voices, asking critical questions and providing invaluable insight and solutions. Curated by two climate leaders, this book leads us away from the brink and toward the possibility of a life-giving future"– Provided by publisher.
Available Formats: Book
---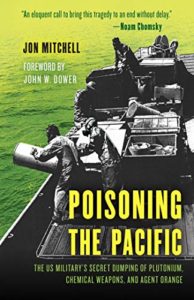 Poisoning the Pacific: The US Military's Secret Dumping of Plutonium, Chemical Weapons, and Agent Orange by Jon Mitchell
"For decades, the US military has been contaminating the Pacific region with toxic substances. Thousands of service members, their families, and local residents have been exposed-but the US has hidden the damage and refused to help victims. This book reveals the enormous extent of contamination and the lengths the Pentagon will go to conceal it"– Provided by publisher.
Available Formats: Book
---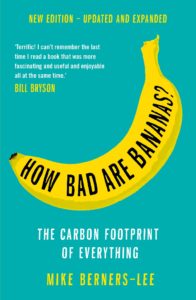 How Bad Are Bananas? The Carbon Footprint of Everything by Mike Berners-Lee
"Discusses the carbon footprint–the carbon emissions used to manufacture and transport–everyday items, including paper bags and imported produce, and provides information to help build carbon considerations into everyday purchases." – Provided by Publisher
Available Formats: Book, eBook
---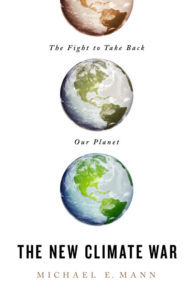 The New Climate War: The Fight to Take Back Our Planet by Michael Mann
"Recycle. Fly less. Eat less meat. These are some of the tactics that we've been told can slow climate change. But most of these recommendations are a result of a multi-pronged marketing campaign that has succeeded in placing the responsibility for fixing climate change squarely on the shoulders of individuals. Fossil fuel companies have followed the example of other industries deflecting blame (think "guns don't kill people, people kill people") or greenwashing (think of the beverage industry's "Crying Indian" commercials of the 1980s). Meanwhile, they've blocked efforts to regulate or price carbon emissions, run PR campaigns aimed at discrediting viable alternatives, and have abdicated their responsibility in fixing the problem they've created. The result has been disastrous for our planet. In The New Climate War, Mann argues that all is not lost. He draws the battle lines between the people and the polluters–fossil fuel companies, right-wing plutocrats, and petrostates. And he outlines a plan for forcing our governments and corporations to wake up and make real change, including: a common-sense, attainable approach to carbon tax– an overhaul of the flawed Green New Deal; allowing renewable energy to compete fairly against fossil fuels debunking the false narratives and arguments that have worked their way into the climate debate and driven a wedge between even those who support climate change solutions how to combat climate doomism With immensely powerful vested interests aligned in defense of the fossil fuel status quo, the societal tipping point won't happen without the active participation of citizens everywhere aiding in the collective push forward. This book will reach, inform, and enable citizens everywhere to join this battle for our planet"– Provided by publisher.
Available Formats: Book
---
The Future We Choose: Surviving the Climate Crisis by Christiana Figueres and Tom Rivett-Carnac
"In this cautionary but optimistic book, Figueres and Rivett-Carnac–the architects of the 2015 Paris Climate Change Agreement–tackle arguably the most urgent and consequential challenge humankind has ever faced: the world's changing climate and the fate of humanity. In The Future We Choose, the authors outline two possible scenarios for the planet. In one, they describe what life on Earth will be like by 2050 if we fail to meet the Paris targets for carbon dioxide emission reduction. In the other, they describe what it will take to create and live in a carbon neutral, regenerative world. They argue for confronting the climate crisis head on, with determination and optimism. How we all of us address the climate crisis in the next thirty years will determine not only the world we will live in but also the world we will bequeath to our children and theirs. The Future We Choose presents our options and tells us, in no uncertain terms, what governments, corporations, and each of us can and must do to fend off disaster"– Provided by publisher.
Available Formats: Book
---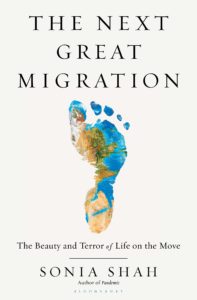 The Next Great Migration: The Beauty and Terror of Life on the Move by Sonia Shah
"A prize-winning journalist upends our centuries-long assumptions about migration through science, history, and reporting–predicting its lifesaving power in the face of climate change. The news today is full of stories of dislocated people on the move. Wild species, too, are escaping warming seas and desiccated lands, creeping, swimming, and flying in a mass exodus from their past habitats. News media presents this scrambling of the planet's migration patterns as unprecedented, provoking fears of the spread of disease and conflict and waves of anxiety across the Western world. On both sides of the Atlantic, experts issue alarmed predictions of millions of invading aliens, unstoppable as an advancing tsunami, and countries respond by electing anti-immigration leaders who slam closed borders that were historically porous. But the science and history of migration in animals, plants, and humans tell a different story. Far from being a disruptive behavior to be quelled at any cost, migration is an ancient and lifesaving response to environmental change, a biological imperative as necessary as breathing. Climate changes triggered the first human migrations out of Africa. Falling sea levels allowed our passage across the Bering Sea. Unhampered by barbed wire, migration allowed our ancestors to people the planet, catapulting us into the highest reaches of the Himalayan mountains and the most remote islands of the Pacific, creating and disseminating the biological, cultural, and social diversity that ecosystems and societies depend upon. In other words, migration is not the crisis–it is the solution. Conclusively tracking the history of misinformation from the 18th century through today's anti-immigration policies, The Next Great Migration makes the case for a future in which migration is not a source of fear, but of hope"– Provided by publisher.
Available Formats: Book
---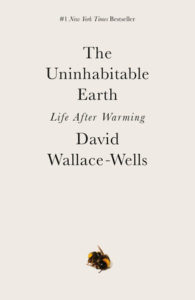 The Uninhabitable Earth: Life After Warming by David Wallace-Wells
"It is worse, much worse, than you think. If your anxiety about global warming is dominated by fears of sea-level rise, you are barely scratching the surface of what terrors are possible. In California, wildfires now rage year-round, destroying thousands of homes. Across the US, "500-year" storms pummel communities month after month, and floods displace tens of millions annually. This is only a preview of the changes to come. And they are coming fast. Without a revolution in how billions of humans conduct their lives, parts of the Earth could become close to uninhabitable, and other parts horrifically inhospitable, as soon as the end of this century. In his travelogue of our near future, David Wallace-Wells brings into stark relief the climate troubles that await — food shortages, refugee emergencies, and other crises that will reshape the globe. But the world will be remade by warming in more profound ways as well, transforming our politics, our culture, our relationship to technology, and our sense of history. It will be all-encompassing, shaping and distorting nearly every aspect of human life as it is lived today. Like An Inconvenient Truth and Silent Spring before it, The Uninhabitable Earth is both a meditation on the devastation we have brought upon ourselves and an impassioned call to action. For just as the world was brought to the brink of catastrophe within the span of a lifetime, the responsibility to avoid it now belongs to a single generation"– Provided by publisher.
Available Formats: Book
---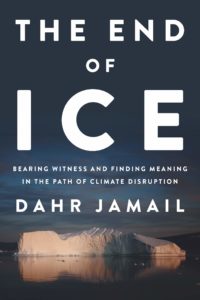 The End of Ice: Bearing Witness and Finding Meaning in the Path of Climate Disruption by Dahr Jamail
"A firsthand chronicle of the catastrophic reality of our planet's changing ecosystems and the necessity of relishing this vulnerable, fragile Earth while we still can"– Provided by publisher.
Available Formats: Book
---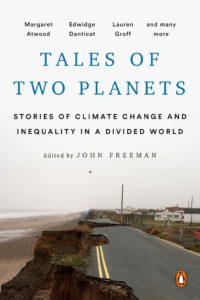 Tales of Two Planets: Stories of Climate Change and Inequality in a Divided World by John Freeman
"Building from his acclaimed anthology Tales of Two Americas, beloved writer and editor John Freeman draws together some of our greatest writers from around the world to help us see how the environmental crisis is hitting some of the most vulnerable communities where they live. In the past five years, John Freeman, previously editor of Granta, has launched a celebrated international literary magazine, Freeman's, and compiled two acclaimed anthologies that deal with income inequality as it is experienced, first in New York and then throughout the United States. In the course of this work, one major theme has come up repeatedly: how climate change is making already dire inequalities much worse, devastating further the already devastated. The effects of global warming are especially disruptive in less well-off nations, sending refugees to the US and elsewhere in the wealthier world, where they often encounter the problems that perennially face outsiders: lack of access to education, health care, decent housing, employment, and even basic nutrition. But the problems of climate change are not restricted to those from the less developed world. American citizens are suffering too, as the stories of distress resulting from recent hurricanes testify: People who can't sell their home because the building is on a flood plain, people who get displaced and cannot find work, and more. And this doesn't even take on board the situation in much of the Caribbean, or south of the Rio Grande in Mexico and Central America. Galvanized by his conversations with writers and activists around the world, Freeman has engaged with some of today's most eloquent writers, many of whom hail from the places under the most acute stress. The response has been extraordinary: a literary all-points bulletin of fiction, essays, poems, and reportage. Margaret Atwood conjures with a dystopian future in three remarkable poems. Lauren Groff takes us to Florida; Edwidge Danticat to Haiti; Tahmima Anim to Bangladesh. Valeria Luiselli probes the refugee crisis at the US-Mexico border, while Tash Aw takes us to Indonesia, Chinelo Okparanta to Nigeria, and Arundhati Roy to India. As the anthology unfolds, clichés fall away and we are brought closer to the real, human truth of what is happening to our world, and the dystopia to which we are heading. These are news stories with the emphasis on story, about events that should be found in the headlines but often are not, about the most important crisis of our times. LITERATURE'S BIGGEST STARS: TALES OF TWO PLANETS features work from some of the most important writers working today including Arundhati Roy, Edwidge Danticat, Margaret Atwood, and Lauren Groff. NEW WORK, NEW VOICES: All but two of the pieces in this collection of fiction, essays, and poems were commissioned by John Freeman exclusively for this book, and he presents some of the world's most exciting young voices including Daisy Johnson, Valeria Luiselli, Kayo Chingonyi, and Sayaka Murata. A GLOBAL VIEW OF OUR EXISTENTIAL CRISIS: Freeman brings together an international cast of brilliant writers to give readers a globe-spanning view of the climate crisis. Whether it's Sayaka Murata in Japan, Sjon in Iceland, Yasmine El Rashidi in Egypt, or Eka Kurniawan in Indonesia, we get an exhilarating range of experiences"– Provided by publisher.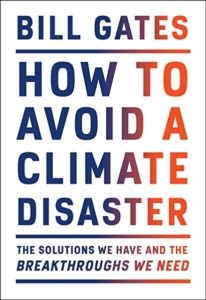 How to Avoid a Climate Disaster: The Solutions We Have and the Breakthroughs We Need by Bill Gates
"Bill Gates shares what he's learned in more than a decade of studying climate change and investing in innovations to address the problems, and sets out a vision for how the world can build the tools it needs to get to zero greenhouse gas emissions. Bill Gates explains why he cares so deeply about climate change and what makes him optimistic that the world can avoid the most dire effects of the climate crisis. Gates says, "We can work on a local, national, and global level to build the technologies, businesses, and industries to avoid the worst impacts of climate change." His interest in climate change is a natural outgrowth of the efforts by his foundation to reduce poverty and disease. Climate change, according to Gates, will have the biggest impact on the people who have done the least to cause it. As a technologist, he has seen firsthand how innovation can change the world. By investing in research, inventing new technologies, and by deploying them quickly at large scale, Gates believes climate change can be addressed in meaningful ways. According to Gates, "to prevent the worst effects of climate change, we have to get to net-zero emissions of greenhouse gases. This problem is urgent, and the debate is complex, but I believe we can come together to invent new carbon-zero technologies, deploy the ones we have, and ultimately avoid a climate catastrophe""– Provided by publisher.
Available Formats: Book
---
We love helping people find books, movies, and more.
Tell us about your preferences, and our librarians will create a list of titles selected specifically for you.
Try Personal Book Recs
Share this post: