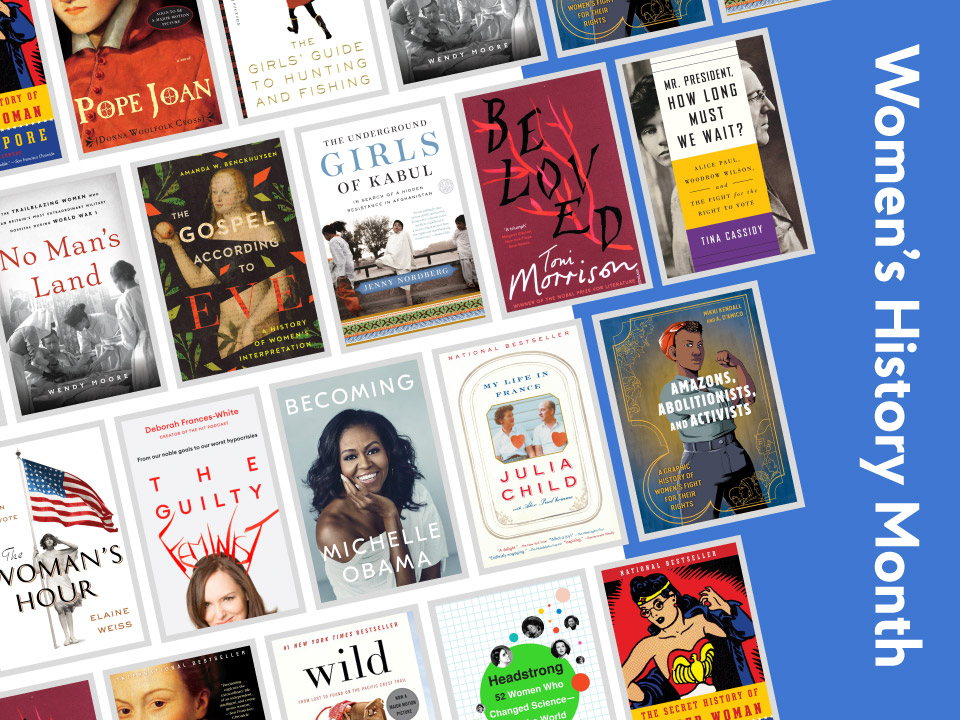 In honor of Women's History Month, we've selected titles focusing on the lives of women and girls throughout the past and into the present day. We hope these selections serve to educate and encourage a dialogue on topics of women's history, rights, and stories.
---
"Staring unflinchingly into the abyss of slavery, this spellbinding novel transforms history into a story as powerful as Exodus and as intimate as a lullaby. Sethe, its protagonist, was born a slave and escaped to Ohio, but eighteen years later she is still not free. She has too many memories of Sweet Home, the beautiful farm where so many hideous things happened. And Sethe's new home is haunted by the ghost of her baby, who died nameless and whose tombstone is engraved with a single word: Beloved. Filled with bitter poetry and suspense as taut as a rope, Beloved is a towering achievement. After the Civil War ends, Sethe longingly recalls the two-year-old daughter whom she killed when threatened with recapture after escaping from slavery 18 years before."
Available Formats: Book, Audiobook
---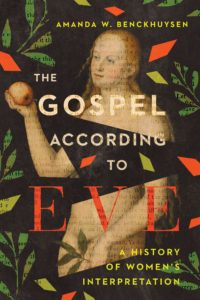 The Gospel According to Eve : A History of Women's Interpretation by Amanda Joyce Benckhuysen
"Do women and men have different intellectual, spiritual, moral, or emotional capacities? Over the centuries, women have read and interpreted the story of Eve, scrutinizing the details of the text to discern God's word for them. Biblical scholar Amanda Benckhuysen traces the history of women's interpretation of Genesis 1-3, allowing the voices of women to speak of Eve's story and its implications for life today"– Provided by publisher.
Available Formats: Book
---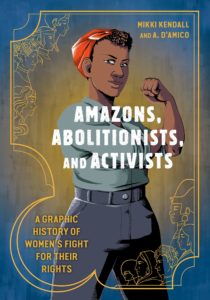 Amazons, Abolitionists, and Activists : A Graphic History of Women's Fight for Their Rights by Mikki Kendall
"A bold and gripping graphic history of the fight for women's rights. The ongoing struggle for women's rights has spanned human history, touched nearly every culture on Earth, and encompassed a wide range of issues, such as the right to vote, work, get an education, own property, exercise bodily autonomy, and beyond. Amazons, Abolitionists, and Activists is a fun and fascinating graphic novel-style primer that covers the key figures and events that have advanced women's rights from antiquity to the modern era. In addition, this compelling book illuminates the stories of notable women throughout history–from queens and freedom fighters to warriors and spies–and the progressive movements led by women that have shaped history, including abolition, suffrage, labor, civil rights, LGBTQ liberation, reproductive rights, and more. Examining where we've been, where we are, and where we're going, Amazons, Abolitionists, and Activists is an indispensable resource for people of all genders interested in the fight for a more liberated future"– Provided by publisher.
Available Formats: Graphic Novel
---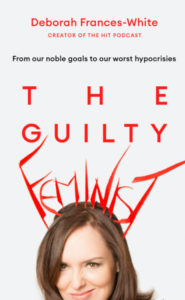 The Guilty Feminist : You Don't Have to Be Perfect to Overthrow the Patriarchy by Deborah Frances-White
"In The Guilty Feminist, Deborah Fraser-White defines a new brand of feminists alongside the mainstream and the radical: the guilty. Those who subscribe to the core of feminism but…fill in the blank. But you got distracted trying face creams at a department store in the middle of a Women's March, or you've imagined a future of winning the lottery more often than a future without the patriarchy — all of the caveats that leave many women feeling a little bit guilty. An instant bestseller in the UK, the book incorporates this idea of constant guilt into a modern primer on the state of feminism and the future of the movement. Frances-White starts with the basics of feminism: a bit of history and the main tenets. From there, she delves into big issues of identity, equality, and how we can really make change in today's climate. She also includes interviews with really fabulous thought-leaders like yoga teacher and body positive advocate Jessamyn Stanley. An approachable, voice-driven state of the feminist affairs, The Guilty Feminist will be a rallying cry for those who feel intimidated by the need to be perfect feminists (since there's in fact no such thing)"– Provided by publisher.
Available Formats: Book
---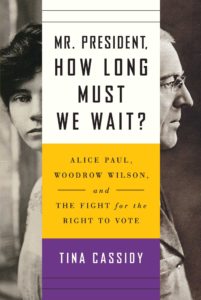 Mr. President, How Long Must We Wait? : Alice Paul, Woodrow Wilson, and the Fight for the Right to Vote by Tina Cassidy
Examines the complex relationship between suffragist leader Alice Paul and President Woodrow Wilson, revealing the life-risking measures that Paul and her supporters endured to gain voting rights for American women. – Provided by publisher
Available Formats: Book
---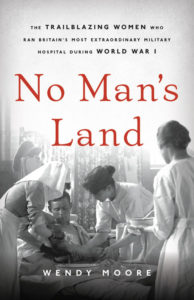 No Man's Land : The Trailblazing Women Who Ran Britain's Most Extraordinary Military Hospital During World War I by Wendy Moore
"The inspiring story of two pioneering suffragette doctors who ran the only military hospital staffed entirely by women during World War I-and who transformed medicine in the process. A month after war broke out in 1914, doctors Flora Murray and Louisa Garrett Anderson set out for Paris, where they opened a hospital in a luxury hotel and treated hundreds of casualties plucked from France's battlefields. Although, prior to the war, female doctors were restricted to treating women and children, Flora and Louisa's work was so successful that the British Army asked them to set up a hospital in the heart of London. Nicknamed the Suffragettes' Hospital, Endell Street soon became known for its lifesaving treatments and lively atmosphere. In No Man's Land, Wendy Moore illuminates this turbulent moment when women were, for the first time, allowed to operate on men. Their fortitude and brilliance serve as powerful reminders of what women can achieve against all odds."– Provided by publisher.
Available Formats: Book
---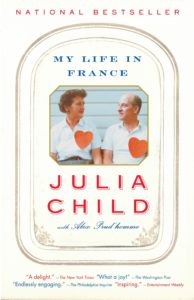 My Life in France by Julia Child
"Here is the captivating story of Julia Child's years in France, where she fell in love with French food and found "her true calling." From the moment she and her husband Paul, who worked for the USIS, arrived in the fall of 1948, Julia had an awakening that changed her life. Soon this tall, outspoken gal from Pasadena, California, who didn't speak a word of French and knew nothing about the country, was steeped in the language, chatting with purveyors in the local markets, and enrolled in the Cordon Bleu. She teamed up with two fellow gourmettes, Simone Beck and Louisette Bertholle, to help them with a book on French cooking for Americans. Filled with her husband's beautiful black-and-white photographs as well as family snapshots, this memoir is laced with wonderful stories about the French character, particularly in the world of food, and the way of life that Julia embraced so wholeheartedly. Bon appétit!"–From publisher description.
Available Formats: Book
---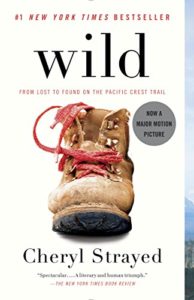 Wild : From Lost to Found on the Pacific Crest Trail by Cheryl Strayed
"At twenty-two, Cheryl Strayed thought she had lost everything. In the wake of her mother's death, her family scattered and her own marriage was soon destroyed. Four years later, with nothing more to lose, she made the most impulsive decision of her life: to hike the Pacific Crest Trail from the Mojave Desert through California and Oregon to Washington State — and to do it alone. She had no experience as a long-distance hiker, and the trail was little more than "an idea, vague and outlandish and full of promise." But it was a promise of piecing back together a life that had come undone. Strayed faces down rattlesnakes and black bears, intense heat and record snowfalls, and both the beauty and loneliness of the trail on a journey that maddened, strengthened, and ultimately healed her." – Provided by Publisher
Available Formats: Book, Audiobook
---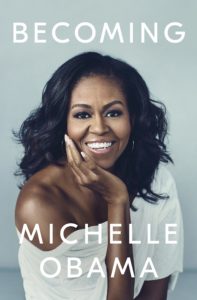 Becoming by Michelle Obama
"An intimate, powerful, and inspiring memoir by the former First Lady of the United States. When she was a little girl, Michelle Robinson's world was the South Side of Chicago, where she and her brother, Craig, shared a bedroom in their family's upstairs apartment and played catch in the park, and where her parents, Fraser and Marian Robinson, raised her to be outspoken and unafraid. But life soon took her much further afield, from the halls of Princeton, where she learned for the first time what if felt like to be the only black woman in a room, to the glassy office tower where she worked as a high-powered corporate lawyer–and where, one summer morning, a law student named Barack Obama appeared in her office and upended all her carefully made plans. Here, for the first time, Michelle Obama describes the early years of her marriage as she struggles to balance her work and family with her husband's fast-moving political career. She takes us inside their private debate over whether he should make a run for the presidency and her subsequent role as a popular but oft-criticized figure during his campaign. Narrating with grace, good humor, and uncommon candor, she provides a vivid, behind-the-scenes account of her family's history-making launch into the global limelight as well as their life inside the White House over eight momentous years–as she comes to know her country and her country comes to know her. [This book] takes us through modest Iowa kitchens and ballrooms at Buckingham Palace, through moments of heart-stopping grief and profound resilience, bringing us deep into the soul of a singular, groundbreaking figure in history as she strives to live authentically, marshaling her personal strength and voice in service of a set of higher ideals. In telling her story with honesty and boldness, she issues a challenge to the rest of us: Who are we and who do we want to become?"–Provided by Publisher.
Available Formats: Book, Audiobook, eBook, eAudiobook
---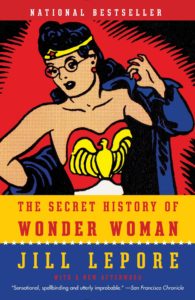 The Secret History of Wonder Woman by Jill Lepore
"A cultural history of Wonder Woman traces the character's creation and enduring popularity, drawing on interviews and archival research to reveal the pivotal role of feminism in shaping her seven-decade story."- Provided by Publisher
Available Formats: Book, eBook
---
The Girls' Guide to Hunting and Fishing by Melissa Bank
"Generous hearted and wickedly insightful, The Girls' Guide to Hunting and Fishing maps the progress of Jane Rosenal as she sets out on a personal spirited through the perilous terrain of sex, love, and relationships, and the treacherous waters of the workplace. With an unfatigued comic tough, Bank skillfully teases out issues of the heart, puts a new spin on the mating dance, and captures in perfect pitch what it's like to be a young woman coming of age in America today." – Provided by Publisher
Available Formats: Book, eBook
---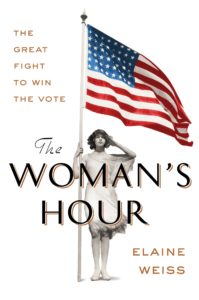 The Woman's Hour: Our Fight For the Right to Vote by Elaine Weiss
An account of the 1920 ratification of the constitutional amendment that granted voting rights to women traces the culmination of seven decades of legal battles and cites the pivotal contributions of famous suffragists and political leaders.
"The nail-biting climax of one of the greatest political battles in American history. Nashville, August 1920. The Nineteenth Amendment to the Constitution, granting all women the vote, is on the verge of ratification–or defeat. Out of the thirty-six states needed, thirty-five have approved it, and one last state is still in play–Tennessee. After a seven-decade crusade to win the ballot, this is the moment of truth for the suffragists, and Nashville becomes a frenzied battleground as the enormous forces allied for and against women's suffrage make their last stand. Elaine Weiss artfully recasts the saga of women's quest for the vote by focusing on the campaign's last six weeks, when it all came down to one ambivalent state. The dauntless–but divided–suffragists confront the 'Antis'–women who oppose their own enfranchisement, fearing suffrage will bring about the moral collapse of the nation. With the 1920 elections looming, the Suffs are also opposed by wary politicians, corporate lobbyists, and blatant racists who don't want black women voting. In the steaming corridors of Nashville's state house and hotels, they stage a vicious face-off replete with dirty tricks, betrayals and bribes, bourbon, bigotry, and the Bible, and at the last moment, a crucial vote of conscience. [This book] has all the color and drama of a great political novel, but Weiss also shows how the core themes of American history–race, class, money, gender, states' rights, power, and democracy–all came into play in Nashville. Rich with vivid characters–and appearances by Susan B. Anthony, Woodrow Wilson, Warren Harding, Frederick Douglass, and Eleanor Roosevelt–The Woman's Hour shows what it took for activists to win their own freedom and how close they came to losing. Unfolding in the lingering shadow of the Civil War, and in the aftermath of the war to 'make the world safe for democracy, ' the drama in Nashville also marks the dawning of the great twentieth-century battles for civil rights." – Provided by Publisher
Available Formats: Book, Audiobook, eBook, eAudiobook
---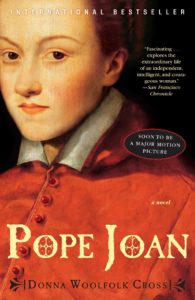 Pope Joan by Donna Woolfolk Cross
In this international bestseller and basis for the 2009 movie of the same name, Donna Woolfolk Cross brings the Dark Ages to life in all their brutal splendor and shares the dramatic story of a woman whose strength of vision led her to defy the social restrictions of her day.
"For a thousand years her existence has been denied. She is the legend that will not die—Pope Joan, the ninth-century woman who disguised herself as a man and rose to become the only female ever to sit on the throne of St. Peter. Now in this riveting novel, Cross paints a sweeping portrait of an unforgettable heroine who struggles against restrictions her soul cannot accept.
Brilliant and talented, young Joan rebels against medieval social strictures forbidding women to learn. When her brother is brutally killed during a Viking attack, Joan takes up his cloak—and his identity—and enters the monastery of Fulda. As Brother John Anglicus, Joan distinguishes herself as a great scholar and healer. Eventually, she is drawn to Rome, where she becomes enmeshed in a dangerous web of love, passion, and politics. Triumphing over appalling odds, she finally attains the highest office in Christendom—wielding a power greater than any woman before or since. But such power always comes at a price." – Provided by Publisher
Available Formats: Book
---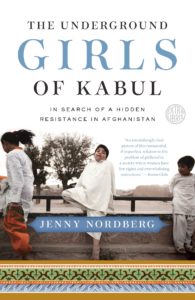 The Underground Girls of Kabul by Jenny Nordberg
"An award-winning foreign correspondent who contributed to a Pulitzer Prize-winning New York Times series reveals the secret Afghan custom of disguising girls as boys to improve their prospects, discussing its political and social significance as well as the experiences of its practitioners." – Provided by Publisher
Available Formats: Book, Audiobook, eBook, eAudiobook
---
"Covering Nobel Prize winners and major innovators, as well as lesser-known but hugely significant scientists who influence our every day, Rachel Swaby's … profiles span centuries of courageous thinkers and illustrate how each one's ideas developed, from their first moment of scientific engagement through the research and discovery for which they're best known" – Provided by Publisher
We love helping people find books, movies, and more.
Tell us about your preferences, and our librarians will create a list of titles selected specifically for you.