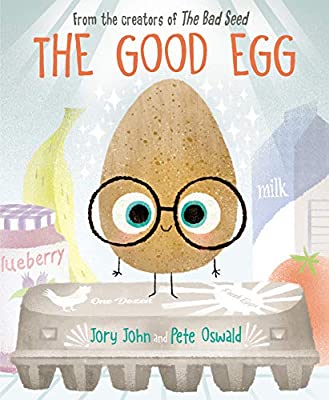 This Good Egg spends his entire time being the only good egg in his little dozen. The stress of keeping everyone in line is so much for him that his shell starts to crack. He goes off on his own, and after some alone time and self-care, he starts to feel better. What will happen the next time he sees the other 11 eggs?
This children's book uses a great metaphor, illustrations, and humor to convey the idea of self-care and acceptance to young readers. The short texts on each page make this excellent for reading aloud as a family, or helping a young reader practice their reading skills. Each page describes the difficult concept of self-love in easy to understand terms, and will leave the reader with a little more compassion for the Good Egg and themselves. The Good Egg reaches his limits and understands the toll it's taking on him. Adult readers will enjoy this book as well, with its beautiful illustrations and its positive message. 
We love helping people find books, movies, and more.
Tell us about your preferences, and our librarians will create a list of titles selected specifically for you.