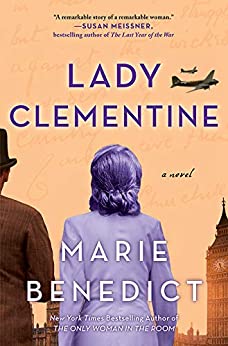 As a beautiful debutante in British society, 19 year old Clementine Hozier was reserved in the company of others. Often disliked due to the notoriety of her aristocratic parents, she learned to reach for what she wanted in life.
Partnered with Winston Churchill at a dinner party given by her great-aunt, Clementine Hozier was intrigued by the politician. She liked Winton's forthright manner, and he actually listened to her – and willingly engaged her in conversations about her viewpoints, which in early 1900, women were not encouraged to voice their opinions!
Clementine's relationship with Winston was perfect: she was able to channel her energy by focusing on his career, acting as a sounding board and confidante. The couple were married after a short courtship, with Winston pursuing his political passions in government positions.
The endless correspondence between them is what kept Winston's bouts with depression ("black dog" moods) at bay, as well as Clementine's insecurities of her position in society, while two world wars raged around them.
Marie Benedict, author of Lady Clementine, has brought the intimate touch to the life story of Clementine, which was often lost in the spotlight on her husband. She was the life force behind many of his decisions that are now recorded history.
For a definitive look at the intimate connection between the dynamic couple, check out Clementine and Winston: The Personal Letters of the Churchills, edited and compiled by their daughter, Mary Soames, or the biography Clementine: The Life of Mrs. Winston Churchill by Sonia Purnell.
We love helping people find books, movies, and more.
Tell us about your preferences, and our librarians will create a list of titles selected specifically for you.