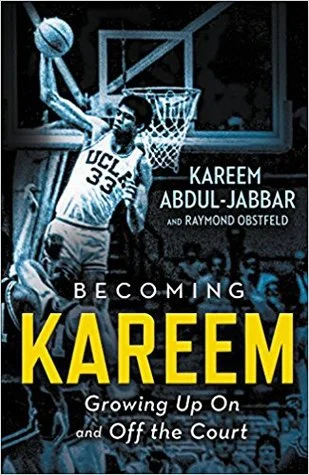 An inspiring memoir for young readers by one of basketball's greatest players, Becoming Kareem is not just for sports fans. This 2021 Rebecca Caudill award nominee and NY Times Bestseller is a look inside the life of a shy and often misunderstood person, and a treatise on finding your own way.
Written in short chapters that follow his life chronologically, the book starts with the childhood of Lewis Alcindor, the boy who would grow up to be a record-smashing NBA basketball player, as well as an activist for social change and advancement. Teens will relate to how he handled issues with coaches and parents, struggled with bullies, and his growing awareness of racial and political issues. Despite facing racism and prejudice throughout his life, he had mentors along the way that taught him right from wrong and influenced his choices and his beliefs.
Kareem Abdul-Jabbar shares his journey to understand his faith, his country, and himself in the hope that the book will provide coaching for young people today. Becoming Kareem offers an unapologetic look at who young Lewis Alcindor became and why, without attacking others for different beliefs. It's about growing up, working hard, learning from others, and discovering who you are as a person. It is also, in effect, a history of the civil rights movement in America.
Sixteen pages of photos illustrate the different periods of his life and the people who had the most impact on him. Written in the first person, Becoming Kareem is an unvarnished account of growing up as a black man in the 1950s and 1960s, and continuing to navigate bias and injustice throughout his life. His ultimate goal: to be "the kindest, gentlest, smartest, lovingest version" of himself. An inspiring read for middle and high school students.
We love helping people find books, movies, and more.
Tell us about your preferences, and our librarians will create a list of titles selected specifically for you.