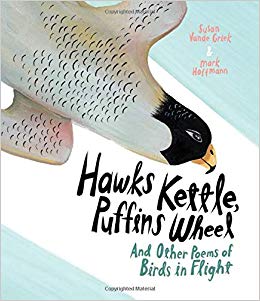 Readers are introduced to unusual avian behavior with free-verse poetry and informative prose in this picture book that begs to be read aloud. Each two page spread features a fanciful poem about a specific type of bird and a brief prose paragraph describing why the birds move in unique ways. 12 species are highlighted, from large geese to tiny hummingbirds.  Gouache illustrations by Mark Hoffman are brushed in an understated palette of golds, browns, greys and blues, and depict movement such as diving, murmurating, and hovering. Back matter includes more information about the birds in the book, a glossary, and identification chart of feathers.
A fantastic combination of language and science, this picture book will inspire and inform children in grades K-5.
We love helping people find books, movies, and more.
Tell us about your preferences, and our librarians will create a list of titles selected specifically for you.