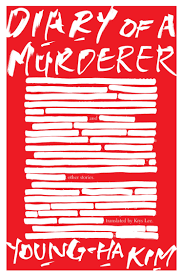 South Korean author Young-ha Kim makes you feel like you're walking on eggshells through his stories that seer with uncertainty, delirium, humor and the mundane.
Of the four stories that make-up this chilling collection, the first is Diary of a Murderer. An undercurrent of dread flows through the life of a former serial killer who now lives with dementia. He is surviving with his adult daughter who has no inkling that her father has killed dozens of people. He is also a poet, often attending poetry classes in his community, where he is encouraged by his teacher –and it's a good thing ("I'd decided that if the class was lame, I would kill the instructor, but thankfully it was interesting"). The narrator continues reading poetry for solace, but unravels more each day, his memory thinning and paranoia mounting as he learns that there is another serial killer loose in the neighborhood that was once his territory. This story is complicated by the narrator's unreliable telling as well as the author's habit of feeding readers selective information. Even so, it's fun to get stuck in a web of doubt and distraction.
Another story in the collection, Missing Child, tells the surreal story of a kidnapped toddler being reunited with his birth parents as a teenager. The three of them are thrown back together with no idea of how to interact with each other. The last story of the collection, The Writer, is an absurdly funny story about a writer with writer's block who decides to pen a bad story to get himself out of his publishing deal. The piece is eccentric and hilarious, if you take your time to enjoy the witty banter and outrageous outcomes.
Young-ha Kim expertly reveals his characters and plot lines at the precise moment you think you know what is going to happen. He makes you feel one way, before giving you all of the information. He has mastered the art of short fiction, pulling no punches and leaving nothing extra. If you're looking for contemporary fiction that slays, treat yourself to the tragicomedy by this award-winning author.
For fans of Dan Chaon, Your Duck is My Duck, Lorrie Moore, and Haruki Murakami.
We love helping people find books, movies, and more.
Tell us about your preferences, and our librarians will create a list of titles selected specifically for you.