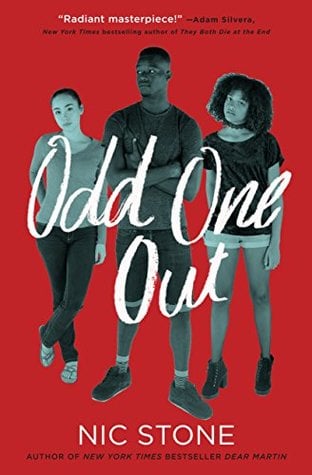 Odd One Out tells the story of three teenagers dealing with sexuality, gender identity,  labels, and the pressures that come with each. Courtney, Rae, and Jupiter all get the opportunity to share their side of a complex story which begins by looking at Courtney and Jupiter's friendship that began when they were children. Courtney, a heterosexual boy, suffers from a classic case of unrequited love for the girl next door – only in this case, that girl is a lesbian. Jupiter is a strong, rebellious feminist who has no clue of the feelings her best friend has for her.  Their relationship gets shaken up when Rae, a new student at school, comes into the picture and begins a flirtatious relationship with both of them. Unsure of how she truly identifies, her presence causes a rift in Courtney and Jupiter's dynamic and starts a conversation about the restrictions on sex and friendship. 
With a diverse character base and representation of both biracial and LGBTQ identities, this book has a lot of very positive themes and offers a great platform to further discuss the social pressures of being a teenager today. There are some negative stereotypes that are brought into play, particularly around sexual identity. Depending on perspective, these could be used as discussion points rather than marks against the book as a whole. This is a good fit for middle to older teenager readers.
We love helping people find books, movies, and more.
Tell us about your preferences, and our librarians will create a list of titles selected specifically for you.